The Pulse Smartpen Explored
Another truly amazing tech gadget reviewed by the UK podcast team at FrequencyCast - The Pulse Smartpen will change the way you write!
What is the Pulse SmartPen?
The Pulse Smartpen has a built-in voice recorder and an infrared camera. It records what it can hear whilst you're writing, and provided instant access at the point of writing by tapping on the page.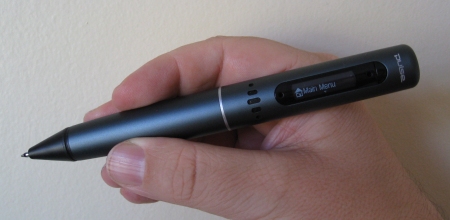 The Pulse Pen
LiveScribe Pulse Smartpen Review
Below, you'll find our review of the Smartpen, from Show 40 of our tech podcast.
Listen to Show 40, where we discuss the Pulse Smartpen:
Carl's Livescribe Pulse Smartpen Review
"The pen is mightier than the sword..."
... and now, more technologically advanced.
Did you know that you can spend up to £1352 on a pen or as little as nothing if you can get a promotional freebie. The average price of a quality pen is about £40 but the 'Pulse' pen is no average pen.
Pens: A brief history
The world of pens has developed reasonably slowly starting with the earliest forms of marking devices: hands, fingers, sticks, leaves etc... utilized by primitive man to the more civilized quill and ink.
More superior versions of this device were established with the development of cartridge pens and then the advent of the ball point pen gave new lease to ever more funky versions including: - Multi-pens (one pen with many different colours), pens you could erase the ink, multi-nib pens (a single pen with more than one style of nib i.e. ball point, fluorescent marker, pencil etc...) watch pens, space pens (that can write in zero gravity and under water on almost anything), sampling pens, pens with lights in, and a host more. Here's a few from my personal collection:


A pen with a clock


The fountain pen


The pen of many colours


Another multi-coloured pen


A pen with a manual calculator
The world of the pen has merely been toying with the whole writing experience now really get your finger on the 'pulse' with the Pulse Smartpen from Livescribe.
Size And Weight Are Important! Or Are They?
Until now, many of the more recent technological advances of the pen have either been gimmicks or mildly useful tools. The 'Pulse' is not another one. What first struck me about this pen is the fact that unlike many other pens I have experienced incorporating science and technology, this was not unreasonably weighted. By this, I mean it was not top heavy or badly weighted in any other way. In fact if anything it was lighter than I anticipated.

It is about the size of various expensive or more sophisticated pens I have seen. By this I mean the sort of pen you would by someone as a gift to celebrate their promotion or, ironically, retirement (why would you need an expensive pen when you're leaving your job?). The Smartpen is a good size, shape and weight, making it a good comfortable writing tool.
All this is very interesting but honestly to say this specification information was 'Rudimentary' would be complimentary as this primary function of this pen is almost redundant in comparison to all its other features.
Take This Down Scribe... Not!
The beauty of this particular pen is that writing with it almost becomes a secondary function, although still essential in its usage. The purpose of the ink is merely useful for taking notes, unless of course you fancy the handwriting approach to your documents. You can in fact write entire documents, which you can then either convert into Word, PDF or image documents as hand written electronic versions ready for distribution via e-mail or online.
This obviously has clear advantages in the world of meetings because not only will you take important notes on key issues that arise but your pen can also make an audio recording which it automatically indexes (time marks) and references to the appropriate notes you made at the time of the recording.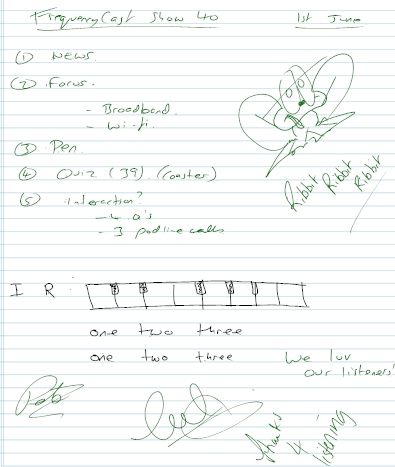 This clever function means that this is effectively the most sophisticated form of Dictaphone I've ever encountered. How many times have you recorded a meeting/event and wanted to reference a particular point and had trouble locating it fast forwarding and rewinding becoming more and more frustrated? This is no longer an issue. Just touch the reference note on your paper and the pen plays back the audio from that point in the meeting.
Not only that, but this can also be sent to friends colleagues etc... as a Pencast.
Want to try our first Pen Cast? We've uploaded a recording of something we put together in Show 40. See us write, and hear the recording quality of what the pen recorded on these two links...
Que? Was? What?
What an interesting feature. The pen actually has the ability to translate from English into other languages including Spanish, Arabic, Swedish and Mandarin. Write a word in English, and it will speak the translation as well as show it onscreen. Sadly though, this is only a demo, and it only installed with approximately 30 words in each language.
You never know though - these could still be helpful words even with that limitation. You never know what might impress that all important international first impression. Just to have your 'pen' say hello to a new client in their native tongue may impress them enough to seal a deal.
Of Course It Does.
Tell the time? The date? Have a calculator? Play mp3? Have a stereo recording facility? Have a screen on it? Yes! Yes! Yes!
The funny thing is when using the calculator you can either used the calculator image printed on the back of all the official Pulse notepads or merely write down the equation and the answer will appear on the pen screen.
Yes It Comes With That And Those
Internal re-chargeable battery? Its own docking station? Pair of small headphones with microphones built in for binaural stereo recording? A little protective sheath for the pen? Oh yes. You also get a 200 page pad to get you started - and there's a good collection of supported pads and notebooks.
The docking station attaches to a standard USB port, and lets you transfer data to your PC and charge the battery.
Still Got Space For Gimmicks
This pen also has a series of monochrome movies on it which incorporate the use of your stereo headphones with surround sound. One of which is a visit to the hair dressers which is very entertaining in context and considering the size of the pen screen the images are very effective in conjunction with the audio.
If that's not enough then there's the music. How innovative you actually draw your keyboard as instructed, by the pen, on a piece of paper and then play it by tapping the paper on the relevant keys to hear the appropriately associated tone. Not only that but you can further develop your keyboard to also include sharps and flats. There are a range of instruments to choose from including a Piano, Flute and Violin to mention a few but if that's not enough it also has a collection of rhythm patterns in a variety of different styles you can play along with.
Tell me more
Ink re-fills cost approximately £6 for 5
Official note pads with 100 sheets - price approx £4.50
In summary, the Pulse Smartpen is a smart looking, well weighted multi-functional pen... Once you get your hands on one of these you'll have your fingers on the 'Pulse'.

Related Pens
We're also fans of the Targus Laser Pen Stylus, a decent ballpoint that also has a handy red laser pointer, and a stylus to keep your tablet touchscreen nice and clean.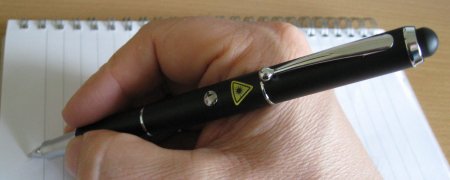 More information