The LV18 Light Vessel - Harwich, Essex
A look at the Trinity House Light Vessel LV18, moored in Harwich, Essex, plus our interview with Tony O'Neil, and some ham radio transmissions
Aboard the LV18:
In March 2012, Pete from FrequencyCast was welcomed aboard the former Trinity Light Vessel, the LV18. Here are a few photos from the day.
LV18 Interview
We caught up with Tony O'Neil, our genial host for the day, and asked him to tell us something about the LV18 and her history. Have a listen to our interview, here:
Interview with Tony O'Neil, aboard the LV18 Light Vessel in Essex (6 mins)
More about the LV18
As Tony explains in the interview, the LV18 was the last Trinity House manned Light Vessel. She was built in 1958 and decommissioned in 1994. Many Light Vessels have been decommissioned, or are operating as automated Light Vessels, controlled from Harwich and powered by solar panels.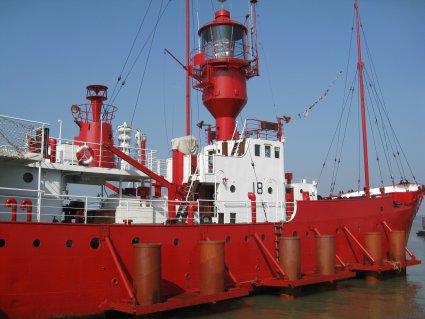 Visiting the LV18
The LV18 is now moored at the Ha'penny Pier, The Quay, in Harwich, Essex. It's maintained by the Pharos Trust, and open to the public seven days a week in the summer months. Entrance is £2. Whilst you're there, check out the National Wireless Museum in the High Harwich Lighthouse - another of Tony's collections.

Location of the LV18 Light Vessel in Harwich - View Larger Map
LV18 and Radio Broadcasts
The LV18 has some significant radio heritage, hence FrequencyCast's interest. Trinity House was a big customer of Marconi for the wireless telegraphy sets that kept mariners safe, and the LV18 has been used for a number of radio broadcasts, including various special event stations, RSLs, shows for Radio Caroline, community radio and Pirate BBC Essex.
The LV18 was also (almost) a movie star. She played the pirate radio ship "Radio Sunshine" in the film The Boat That Rocked, although her appearance had to be cut from the final release, due to the film over-running. There's a brief appearance of her on the DVD Extras, where you'll notice her wearing the Sunshine logo in yellow scenic paint
In March 2012, the LV18 was being used for some ham radio broadcasts, with Jim 2E0RMI, Steve G8GKA and Pete M0PSX making some contacts over amateur radio. Transmission came from the Steering Shelter (which we'd assumed was the bridge, before we were told that as the vessel has no engine, the term 'bridge' is incorrect).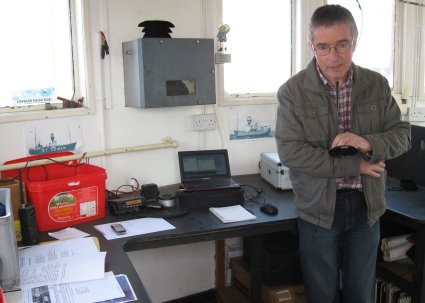 Jim, 2E0RMI, operating Echolink from the LV18, powered from his red box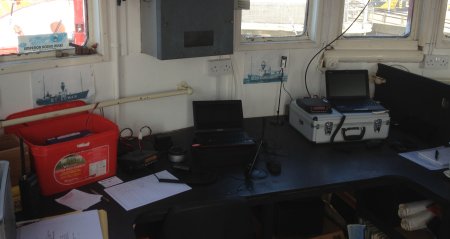 The ham radio setup from March 2012 on the LV18
To hear more information about the amateur radio operation from the LV18, please take a listen to FrequencyCast Show 74, where Jim explains the challenges of transmitting from a vessel that has no power, engines or active generators
Listen to FrequencyCast Show 74 - Includes our LV18 Experiences
Thanks to genial host Tony O'Neil for allowing us access to the LV18 - We'll be back!
Related Content: