FrequencyCast Aboard The LV18
For Show 74, we're onboard the Light Vessel LV18 in Harwich. We look at the history of the vessel, and how to transmit when there's no power.
Listen to FrequencyCast Show 74 - Includes our LV18 Experiences
Aboard The LV18:
Our summary of our experiences onboard the Trinity Light Vessel LV18 in Harwich
Transcript Continued from: Ideal Home 2012 Transcript and Zombies Run Transcript
Sarah:
That's definitely worth it. Now Pete, I had my fun at the Ideal Home Show, and you've had your fun playing on a boat.
Pete:
I did. My friend Jim and I spent the day playing radios on a light vessel, the LV18. First, here's Tony O'Neil to tell us a little bit about the LV18's history.
Tony:
Well, the LV18 was in fact the last-ever Trinity House manned light vessel, and she was decommissioned in '94. She was built in '58, so she's 54 years old now, and she's doing all right. She's one of the new ones, one of the last four to be built.
Pete:
Well, she's a lovely lady, I have to say, and she's got some radio heritage associated with her as well?
Tony:
As you know, Pete, the light vessels are inextricably linked with the history of broadcasting, because Marconi's first gig was with Trinity House for wireless telegraphy sets, over 100 years ago now, I suppose, and ever since then they've not only shone lights at sea, and blown fog horns, but they've been communications devices, and most useful too at protecting the mariner. So yeah, we've got this set up here on the Ha'penny Pier, or near the Ha'penny Pier in Harwich, and over the last 13 years now, we've done all sorts of radio broadcasts.
Pete:
And there's a longer version of that up on our website.
Full Interview with Tony O'Neil, aboard the LV18 Light Vessel in Essex (6 mins)
Pete:
So what were we doing on the LV18? Well, my good friend Jim and I were doing some ham radio transmissions. Here's Jim contacting the US.
Jim:
CQ, CQ, CQ Two Echo Zero Romeo Mike India Portable, transmitting from the LV18 in Harwich.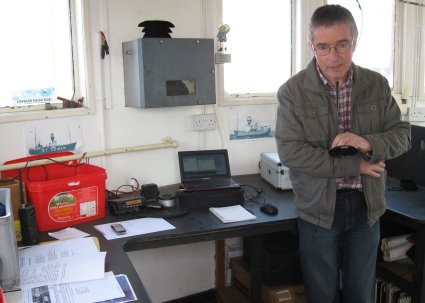 Pete:
After we made a few successful transmissions, I asked Jim to fill us in on what was going on.
Jim:
Well, today demonstrating some radio products, some amateur radio systems.
Pete:
Absolutely right. Now, we've got some technical challenges - is that correct?
Jim:
I think you're referring to our power supplies.
Pete:
Yes. So we're on a light vessel, but there is no mains electricity on the boat, so we're improvising a bit, aren't we?
Jim:
We are. There are generators on the boat, but they're not in operation today, so we've had to bring our own power supplies along.
Pete:
You're operating a portable radio rig there, with something in a red box - what have you got in there?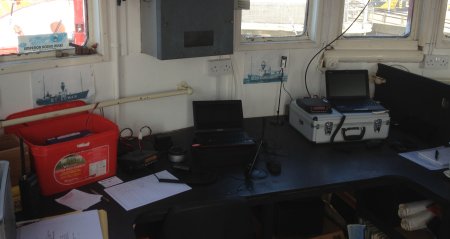 Jim:
It looks like a car battery. I guess, in all intents and purposes, it is, but it's actually out of a fire alarm system.
Pete: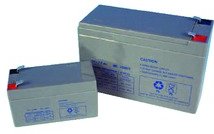 On the other side of things, I've got my equipment running. I'm actually using something slightly different. I'm using a SLAB - have you heard of a SLAB?
Jim:
I hadn't until today, Pete.
Pete:
So this is a lot smaller than the car battery size thing that you've got. Mine's sort of, a bit smaller than a brick, I suppose; 12 volts as well, and 9 amp hours, for the technically-minded listening to us at the moment, and it's been on all day, and showing no signs of flagging.
Jim:
I would say yours has the advantage, Pete, because you won't go home with a hernia.
Pete:
You're probably right there! So we're using some other equipment here. We've both got some handheld radio equipment. I've got my iPhone, of course I never go anywhere without my iPhone. Now, just hold that for me for a second, Jim. If I dismantle this, you can actually see here that the case slides into this thing - just hold that for me. That is a 1,400 milliamp hour battery.
Jim:
And very lightweight as well.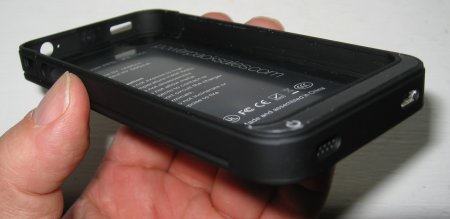 PowerPack Case for iPhone 4 - See PowerPack Sales
Pete:
So what happens is, I slide my iPhone into there, and if you look at my power consumption, you can see - here we go, I've been operating all day - 48% battery left on the iPhone. If I press this little button on the front of the case here, as if by magic, it now starts charging, so that's a full capacity battery when I charge my iPhone.
Jim:
That's a clever piece of kit there, Pete.
Pete:
Now, we're doing some internet stuff, aren't we? - so I'm streaming a webcam over the internet, and you're connecting to some clever-looking radio systems. What have you got a connection into there?
Jim:
Yeah, I'm connected to EchoLink, which is basically amateur radio systems connected into the internet to take you anywhere across the world.
Pete:
And on your laptop, presumably you are just powered off the normal laptop battery. How many hours does that give you?
Jim:
Normally about six hours, but it's holding up well today, because I'm not actually draining much power today, so it's still got about three hours left.
Pete:
So we're both actually using netbooks - you have a Samsung netbook, and I'm using an Asus netbook. We're both internet connected - how are you connecting to the net?
Jim:
Yeah, I'm connected through a 3 dongle, and that's working extremely well.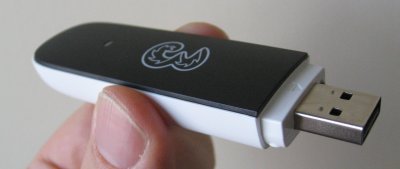 3 Mobile Broadband Dongle
Pete:
Absolutely. Pay-as-you-go, or are you contract there?
Jim:
It's a pay-as-you-go, but it's actually over a 12 month period.
Pete:
Also we've got a webcam there, so anybody looking at us at the moment can see a webcam. I've found a marvellous webcam - this is brilliant, isn't it, Jim?
Jim:
Yeah, it looks very space-age, and very expensive, and it's working very well. How much did it cost, Pete?
Pete: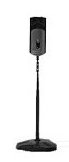 Oh, this is staggering - it's basically on a telescopic aerial, so you can actually angle it up, raise the height, which, if you're working in an environment like this, is great - surprisingly, only £9 from Maplin. (Flexicam from Maplin)
Jim:
Well that, I would say, it's extremely good, and it's actually been giving us really good pictures, and we've been showing views of the studio here and also out of the window into the River Stour.
Pete:
Thanks to Jim and Tony, and thank you, Sarah, for your help.
Sarah:
Well, any time you want my help with professional shopping, let me know.
Listen to FrequencyCast Show 74 - Includes our LV18 Experiences
Related Links: