Upgrading Your Computer Memory
In these tough economic times, consider a RAM upgrade to speed up your machine, to save buying a new one. Here's our feature on computer memory upgrades from show 88.
Listen to, or download, FrequencyCast Show 88 (30 mins)
RAM Upgrades Discussed:
Transcript continues from Show 88: BT Sport Interview
Pete:
OK, time to challenge Kelly here with something rather unusual. This is upgrades.
Kelly:
Yes, it is indeed.
Pete:
And not upgrades to your TV package - this is upgrading your hardware. Now, you've got a laptop, haven't you?
Kelly:
I have.
Pete:
A little bit slow?
Kelly:
Yes, very.
Pete:
Now, a lot of people are looking to save money in these tough economic times, and one thing you can do, rather than getting a new machine, new laptop or new desktop computer, is doing a memory upgrade. Now, I did this fairly recently. I've got my little Dell laptop, that we normally use here in the studio. I've also got my Asus netbook that's currently sitting on your lap, and a desktop at home. I went through a process of upgrading all of the RAM on our Asus
Kelly:
OK, how much quicker does your computer move now?
Pete:
Certainly for audio and video editing, it's really noticeable. It's definitely worth the investment. Things like Word - not so much, haven't noticed much of a speed up, but if you're doing thirsty things, you've got a computer that's doing a lot of stuff in the background, upgrading the RAM can make a difference, and is actually a bit cheaper than you think.
Kelly:
OK, so how much would it cost?
Pete:
It really depends what you've got. I'm just going to hand you this, so take hold of that for me - careful, just hold it on the edges there. So what are you holding there?
Kelly:
The memory chip?
Pete:
Mmm - that is a memory chip that we're going to put into one of these in a minute, just to see how easy it is to do. So, here's a little box of screwdrivers for you. See if you can change the memory chip for me.
Kelly:
This could take a while - I can't actually get into it yet.
Pete:
You can't even get into the box of screwdrivers there? OK, can you see a little screwdriver hole now?
Kelly:
Ah yes, I do - I see it.
Pete:
Can you find the right cross-head screwdriver there?
Kelly:
You're asking a lot from me right now. This one?
Pete:
That's a good start. OK, see if you can unscrew that. OK, you're in - now, you see these two little clips at the side - one fingernail there, one fingernail there, and just push them away from the unit.
Kelly:
Oh, these - ah, OK ... there you go.
Pete:
And put the new one in for me. That wasn't hard, was it?
Kelly:
That was actually incredibly simple, once you actually get into the device.
Pete:
So there we go - we've just upgraded from two to four GB of RAM on our Asus netbook there. Not too hard, is it?
Kelly:
No.
Pete:
Now, the hard bit, of course, is getting the right memory to put in, so we've got the old chip here - you can see the old chip. How would you go about buying one of those to replace it with?
Kelly:
Ask you for help?
Pete:
I've used a service from Crucial. They, on their website, have a little checker, and you just simply click on the site, and it opens up a little window that checks the memory inside your machine, and tells you what's in there. So here's a screenshot, and you can see it tells you how many slots you've got, so here it's just got the one slot.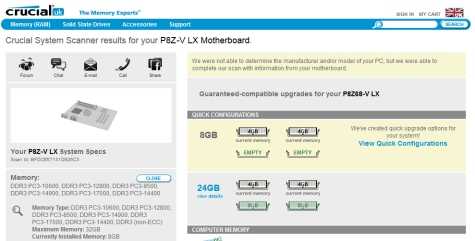 Here it gives a recommendation, so it goes from 2 GB to 4 GB, and it actually tells you which chips to buy without having to open the back up, or look at your socket numbers, or anything complicated like that. So it's actually incredibly easy, and they're not bad on price, is our Crucial. You can get them slightly cheaper on eBay, but if you want guaranteed memory that will definitely work for you, the Crucial thing's not a bad idea. So, given the cost of upgrading this was about £40, versus the cost of getting a new one for £350, which would you do?
Kelly:
I would definitely upgrade. That's fantastic, actually - it looks very, very simple, and, as we know, I like simplicity.
Pete:
Excellent. If you want to go to our website, you'll find a link to the Crucial checker. It's definitely worth a go. The address, Kelly?
Kelly:
www.frequencycast.co.uk.
Transcript continues: Cashback Apps Reviewed
Listen to, or download, FrequencyCast Show 88 (30 mins)
More information: