Mobile Internet - The Options Reviewed
Getting access to the Internet on the move is becoming more of a priority for many. Here's a transcript of our podcast feature on how to connect on the move.
Transcript of Mobile Internet Feature:
Listen to FrequencyCast Show 38 - Mobile Internet
Pete:
Yes, we are talking about Mobile Internet, this is what the listeners have asked us to chat about. Now we're always banging on about streaming video and getting your stuff on your PC and everything else, but what about if you want the internet when you're on the move? There are a number of options, Carl, tell me some of those options?
Carl:
You can get a modem and plug it into your laptop.
Pete:
What's that like then - tell me about that?
Carl:
Well, it's kind of like the size of a mobile phone, it plugs into your laptop using the USB connector, and it uses 3G, and it's green and it glows, it's all very attractive.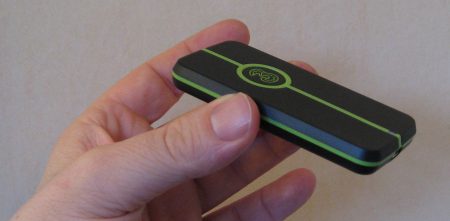 Pete:
So what you're looking at there is my old 3ZTE modem, so this is about the size of ... what, sort of a slim box of matches?
Carl:
I think it's more like the battery size for a mobile phone, isn't it?
Pete:
I see where you're going with that, yes, that's about right. So this was what was cutting edge about a year or so ago. Now we're into this realm, this here is one from O2, if I pop the top off there, so this is a lot smaller than the original thing, it's not on a wiggly lead, it's not a dongle, it's a proper USB stick. Feel the weight of that? - say, woah?

Carl:
Woah, it's quite heavy actually, not weighty, it's just heavier than I anticipated.
Pete:
So this plugs into a USB slot on your laptop, here it's got ...
Carl:
It looks like it should be made by Mac, because it's all in white.
Pete:
Yes, this particular one is, there's a little slot there, that's for your SIM card, so these all have a mobile phone SIM card. This one, I love this one, because this has that little slot there, which says ...?
Carl:
"Micro SD"
Pete:
So you can actually plug in a Micro SD card into here, use it as a memory stick as well as a modem.
Carl:
Wow, it's like the Swiss army knife of USB sticks.
Pete:
So not too bad, I've got my little Asus EPC 901 here, I'm going to plug one of these into the USB slot here. So there we go, that's plugged in, this happens to be one of my 3 sticks. Click on that little icon there of the 3, something pops up and says "Connect to 3", so if I hit the connect button, there we go ... so amount of data received, 1.32 KB, connected for 5 seconds, so I've now got an internet connection on this laptop, just using this little dongle - not bad, eh?
Carl:
Very helpful.
Pete:
There you go, the first thing that happens is it immediately starts screaming out to update my virus checker and download about a hundred Windows patches, so I'm going to turn that off now, there we go, cool. So there you go - internet on a laptop through one of these dongles.
Carl:
So the 3G option's about £30, is that right?
Pete:
No, the cheapest you can get is £10 a month.
Carl:
That's not too bad, and the USB option is £20?
Pete:
No no no, so this is a USB stick, this is from 3, this will cost you £10 a month on contract, and for that you can get up to 1 GB a month data. Or you can get a pay-as-you-go, if you don't want to take out a contract, which is obviously a better option for many many people. This is why I love O2, because O2, rather than buying on a top up to the traditional model of going out and getting ten quid's worth of top up, and topping up a pay-as-you-go modem, this for £2, you buy a one-off purchase, £2, which gives you a day's worth of surfing, and all you do is put in a credit card, you don't need an account, just go on, plug this in, and it says, right, £2, gives you a full day's work, put in your credit card number, then you've got a day's worth of internet, which isn't bad, is it? OK, there is a bit of a limit, so for me that's a much better option, rather than having to remember to keep topping up and then losing my credit, if I happen to want to be out and about and do a day's worth of surfing, £2, one-off payment, that little dongle there does the job for me. These dongles as well, the O2 one happens to be £30, whereas 3G on their pay-as-you-go, they're charging about £50, so if you do want one of these, I'd consider the O2 as quite a viable option.
Carl:
How fast are they?
Pete:
Well they vary, so they're reliant on the 3G or the 3.5G network. If you really want the fastest you can get, then at the moment Vodafone are offering the fastest, they've got speeds of up to 7 MB, which is pretty much home broadband speed, but of course it does depend whether you're in a good signal area, and that kind of thing.
Carl:
Fair enough. What else have we got for options? - that's two of them.
Pete:
You've obviously got these things as your other options, so I'm showing Carl a couple of mobile phones, so I'm showing Carl a Nokia N96, and also the Apple iPhone. These are both internet-enabled phones, if I want to surf the net, I can do it on this Nokia device, which doesn't have a touch screen, but it's a very nice device, or of course, lovely lovely shiny iPhone, where surfing with a Safari browser is absolutely superb. So if you want internet on the move, you can use both of these. Nokia devices, the Apple devices, of course the Google G1, they've all got internet browsers built in, they've all got email built in. It's a case of trying to pick a decent tariff, so the reason I like the iPhone, apart from having a brilliant surfing browser, is you get free internet on it, so I can surf as much as I want without having to worry about how much my bill's going into.
Carl:
Fair enough.
Pete:
So internet on the mobile, I'll bring out another mobile here, this happens to be the INQ1, which is the phone that we're currently using for our text line.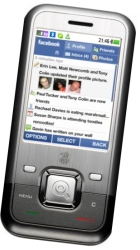 Carl:
Yes, I'm not getting many texts.
Pete:
Yeah, we're not getting many texts, are we? Do you think we need to repeat the number? - 07882 043521?
Carl:
No, I think if we repeated the number 07882 043521, that would actually just inspire them to use it, and that's the last thing we want, I mean that's a big number, isn't it? How many numbers are in that number?
Pete:
There's quite a few of them. So yes, send us ...
Carl:
Let us count, shall we? 0 ...
Pete:
So yes, three mobiles, the beauty of these is, two out of the three of these can actually be used as a modem, so I can plug into that little socket there, into the USB out of the phone, into a laptop, and actually use the phone itself as a modem, which is quite nice.
Carl:
That's a handy function actually, isn't it? That's the kind of thing you might want to do.
Pete:
And of course it's a lot easier than having to remember to carry one of these dongles around with you. So if you've got a mobile phone that's say got some smartphone functionality, chances are with a driver and with the appropriate lead, you can actually use your mobile phone as a modem for your laptop.
Carl:
So tell me, if you're abroad and you're doing this sort of stuff, doesn't this get rather pricey? - because most people would want to do this on holiday, or maybe not want to, but would probably find themselves doing this on holiday, or maybe even business trips?
Pete:
Yeah, that's the thing - if you're using one of these abroad, yeah, there was that horror story of somebody that went away and watched an episode of Friends while they were in Italy or something like that, and ran up some hideous bill of about £5,000 for watching streaming TV, so yeah, if you're actually using mobile internet on a laptop or on a mobile phone, it can get a bit pricey, so we've actually got some tips here on how to keep your costs down. Obviously this applies equally to whether you're overseas or in the UK, if you want to keep your costs down, here are some suggestions. So first of all, let's assume you're using a laptop, and you want to keep your costs down.
Carl:
OK.
Pete:
First of all, one of the things that's worth doing is turning off Windows update, so if you do roam on your laptop, Windows update, typically if you get a service pack downloaded, you've got 50 MB, 100 MB of Windows updates, and you don't want to be doing that at £5 a MB, so make sure your Windows update doesn't automatically start downloading in the background, running up costs for you.
Carl:
OK, good one.
Pete:
Also, your virus checker as well, that's typically going to want to connect and download all the latest virus checker and firewall definitions, so you may want to either disable that, or make sure your virus checker's fully up-to-date before you leave and start travelling on an expensive connection.
Carl:
That's another fair point.
Pete:
Of course, you can do the Windows updates and virus checkers when you're in range of a Wi-Fi service, where it's probably a lot cheaper than doing it over a mobile phone network, but that's one good tip. If you're travelling overseas, you might want to think about picking up a local mobile phone SIM card, or a local modem solution, it's obviously going to be a lot cheaper if you buy something local, let's say you're going to Spain, buy yourself a Spanish modem or a Spanish SIM card, just for using your data, it's going to be a lot cheaper than roaming back to the UK while you're overseas.
Carl:
That's all right then, that would certainly save a lot.
Pete:
You also might want to consider turning off things like images and Flash, so if you're doing a lot of surfing, either on a mobile or on a laptop, if you turn off the images, then you'll find that pages download a lot quicker, so you can go into the settings option, turn off images, turn off Flash, turn off any of the rubbish that clutters up certain websites. If on a laptop, you might want to consider using the Google Chrome browser, which is a lot slimmer and thinner than things like Firefox and Internet Explorer. There's also one site we would highly recommend, something called Mobile Leap, which you can get to from mlvb.net, if you're on a mobile phone, or indeed on a laptop, this will be what's called a proxy browser, so it surfs the basics for you on the phone or on your laptop, and the back end does all the conversion for you. So if you go to a very hungry website that's got lots of graphics, go there from this web address, and all it will return to you is a cut down small version without all the bloated images and heavy files, which is always good.
Carl:
That's quite a clever little function, isn't it? - well, clever system, or service.
Pete:
Yep, so that's Mobile Leap, if you want the link, we'll add that to our show notes. (link: http://mobileleap.net) It's obviously worth checking what your roaming costs are going to be, if you are abroad, how much do you reckon it will cost you?
Carl:
£15 a minute?
Pete:
They actually measure it by the meg (MB), so first of all, do you know what a meg is?
Carl:
Eerm ...
Pete:
No, I didn't think you did. So you're surfing or you're checking emails, and you're being charged by the meg, obviously it's quite important to know what a meg is, so if you wanted a rough number, one meg would be how many web pages?
Carl:
One.
Pete:
About 20, somewhere between ten and 20 web pages would be a meg. How many emails, roughly?
Carl:
15.
Pete:
Let's say about 120, 150 emails.
Carl:
I was a long way off really, wasn't I?
Pete:
So that's your meg, how much do you reckon it's going to cost you per meg?
Carl:
A pound.
Pete:
Between three and six pounds a meg.
Carl:
It's quite pricey, but not as bad as my 15.
Pete:
Yeah, there you go. So yeah, if you're on O2, you're going to be paying something between three and six pounds a meg while you're roaming abroad, Vodafone about £5 a day for up to 15 meg, 3 is only going to be about £3 a meg, and it's actually going to be a bit cheaper, if you're with 3 and you're surfing in Austria, Australia, Denmark, Hong Kong, Italy, Ireland or Sweden, where there's partners with 3, so if you are going to any of those countries, consider 3 for roaming, it'll be a bit cheaper.
Carl:
We'd better put all this information up on the website, hadn't we? - because this is going to get quite confusing, and, of course, there are hidden benefits in other things you're actually mentioning here.
Pete:
Absolutely, so we'll stick something up on the show notes that covers all of this. So that in a nutshell is your mobile internet - sound good?
Carl:
It sounds very good.
Pete:
Of course, the other thing to remember, Wi-Fi is typically going to be an awful lot cheaper than doing this over the mobile phone network, and if you're with BT, do look at the BT Fon option, if you turn on BT Fon on your hub, it means other people can access your broadband connection, and you can use other people's broadband connections for free, so if you are out and about, say in somebody else's house, chances are you might be able to pick up a free wireless connection to do your mobile surfing from your phone or from your laptop, so quite cheap.
Carl:
Very good.
Pete:
There you go - Mobile Internet in a nutshell.
Listen to FrequencyCast Show 38 - Mobile Internet
More information: