Broadband on the move
OK - we all love our high-speed Broadband access, but what about if we want fast surfing on the move?
On this page, we look at high-speed Internet from a laptop or mobile... If you'd like to hear our team talk about Broadband on the move, listen to Show 38 of our podcast
Mobile Phones
One of the easier ways to do some high-speed surfing, is on a phone that has built-in 3G access - these offer fast surfing, and on some networks, data access is included as part of your package. The downside? Small screens, and small keyboards.
Pictured here is the o2 Stellar, which is a Windows Mobile device with 3G access, built-in Sat Nav, and a full QWERTY keyboard - ideal for someone keen on fast access without having to lug a laptop around. Available free on some of the more pricey tariffs at o2.co.uk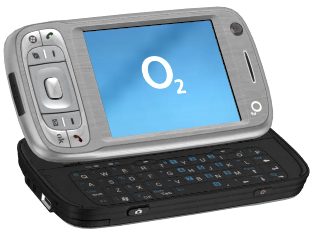 High Speed Internet access is available on phones from Vodafone, o2, T-Mobile, Orange, 3 and Virgin Mobile
Broadband USB Modems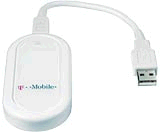 Got a laptop? With a fairly small outlay, you can get a mobile broadband modem that plugs into your laptop's USB port, and gives you high-speed data access, using the 3G mobile phone network.
This is a pretty straightforward offering. You take out a contract with one of the UK networks offering mobile broadband, and they give you a dongle to plug into a spare port on your laptop. Pictured to the right, is T-Mobile's little USB modem, supplied as part of their Web ' n' Walk package. Here's a look at what's on offer from the UK's mobile phone providers:
o2

While many UK Broadband providers charge you for each megabyte, o2's Mobile Broadband offers a much fairer pay-as-you-go option - a one-off daily fee with their o2 Broadband Dongle

Pay-as-you-go: Buy the dongle for a one-off £29.35 then choose to pay £2 a day (for days you use it), £7.50 a week or £15 a month.

Contract: Get the dongle free on a £15 a month contract (£10 for the first 4 months). There's a 3 gig per month download cap.

For the full story, go to broadband.o2.co.uk/mobile




3

Pioneers of 3G Broadband, 3 is offering 3 Broadband to Go.

This is a high-speed service - you can sign up on contract (with a free USB dongle). Three versions are available, Lite, Plus and Max. Prices start from £10 a month, and download limits are between 1GB and 15GB depending on package.

Alternatively, you can go pay-as-you-go option - the modem is a one-off £49.

For the fashion-conscious, 3 has a range of different USB modems available, such as the 3 ZTE USB Modem, pictured here. We reviewed this in Show 27.

More on 3's offering at www.three.co.uk



T-Mobile

T-Mobile is offering a mobile broadband package that includes a free USB modem, and their service is £15 a month (subject to a 3GB a month download allowance).

They also offer a pay-as-you-go Mobile Internet service, for occasional mobile surfers.

More details at www.t-mobile.co.uk



Vodafone

Vodafone's offering Half Price Mobile Broadband

Their service offers download speeds of up to 7.2Meg, and with their Half Price for Life, you pay £15 a month - but you're limited to 3gig per month of downloads. Their service is available with a USB modem or a Pebble modem. More details at www.vodafone.co.uk.


Your Mobile as a Modem
If you're a little bit techy, you might find that you can use your existing mobile phone as a data modem.
Many phones allow you to connect to a PC or Mac for data sync and backup. Some of them also can be used as data modems, to provide high-speed access to a connected laptop or desktop computer. You'll typically connect using a USB cable or Bluetooth, then set up your laptop's Internet connection to use the attached mobile phone.
In many cases, you'll need to install la USB modem driver, which can either be found on the CD that came with your mobile, or is available as a download from the phone manufacturer's site.
Wireless Hotspots
If your laptop, PDA or mobile phone has wi-fi built-in, you'll be able to make use of the growing number of public wi-fi hotspots that are springing up in coffee shops, fast food restaurants, airports, shopping centres and even on trains.
The downside is that there aren't that many hotspots around, and access isn't always cheap. If you've got BT Total Broadband , note that you get free minutes on BT's Openzone, which may be handy for occasional surfers. See our wi-fi page for more on wireless connectivity.
More info:
Got a question on Mobile Broadband that we can answer in our next podcast?
Call 020 8133 4567 or send us a message