NeuroSky - Mind Control For Your PC
We met NeuroSky at Gadget Show Live, and saw how their impressive mind-control kit is being made available for commercial applications. Our Carl is plugged in, and asked to add up.
Testing your concentration with NeuroSky:
At the 2011 Gadget Show Live in Birmingham, Pete and Carl met up with David, Boris and Kelly on the NeuroSky stand. The stand was gathering quite a crowd keen to try a demo of a PC game that's driven by decisions from a headset getting feedback from the player's brain.
Pictured here is the NeuroSky Mindwave Headset. The headset presses a probe onto the forehead, with a clip on the ear, and the headset connects wirelessly to a PC to be used with their special software. Once set up and in position, it can be used monitor brain activity and attention. We asked them to check out whether our Carl is capable of using his brain, and how well he can concentrate.
Here's our interview with David, Boris and Kelly recorded in April 2011 at Gadget Show Live...
Listen to FrequencyCast's Interview with the team at NeuroSky as they test Carl's brain
The NeuroSky offering at the show is a consumer headset with education as an obvious target market. Neurosky is hoping to bring out a wider range of games and applications to make use of their technology, and we'll certainly be concentrating on what they bring out.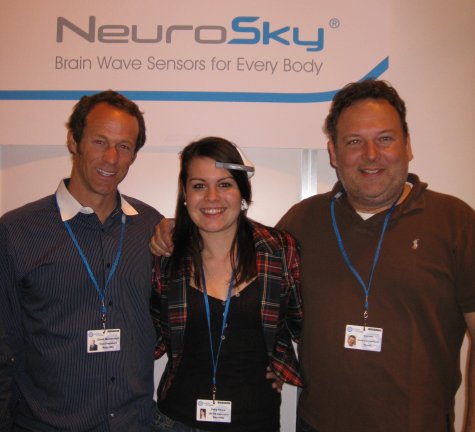 David, Kelly (with headset) and Boris at the NeuroSky stand at Gadget Show Live 2011
The clever use of Electroencephalography (EEG) technology can open the door to all sorts of novel applications. One of the games on show allows the user to watch a movie which changes scenes (i.e. the story) depending on how much concentration you're showing. Here's a screenshot of what we saw on the NeuroSky demo laptop.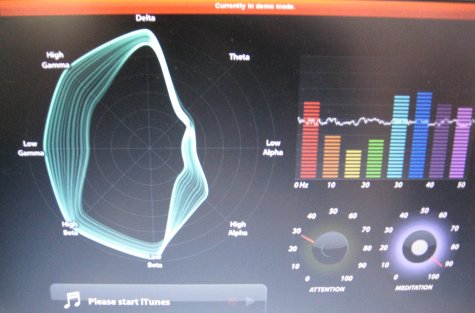 Monitoring brain activity - A picture of the NeuroSky software in action
For more on Neurosky's products, or to buy your own headset to see you you're brighter than our Carl, go to www.neurosky.com
Related Links: