o2 TU Go - Being More Dog
For Show 91, we looked at the o2 Be More Dog Campaign - Something that has clearly baffled Pete and Kelly. We also get hands-on with the o2 TU Go service.
Listen to FrequencyCast Show 91 - Hands-on with o2 TU Go
Canine, Not Feline:
A transcript of our feature on o2's campaign, from FrequencyCast Show 91:
Pete:
OK, time to dive into the main part of the show. Hello, Kelly.
Kelly:
Hello, Pete. How are you?
Pete:
I'm incredibly well, but slightly confused by a TV ad.
Kelly:
By any chance, is it the O2 ad?
Ad:
"I used to be a cat ... every day, the same."
Pete:
Do you know, there's something about this ad that I just don't get. Now, I tweeted this and Facebooked this at the start of last month, saying, what is this all about? – and a lot of listeners dived in, and said, no, it all makes perfect sense. I collared you before we started the show, and you're as baffled as I am.
Ad:
"Why be so cat? Why not be a bit more ... dog?"
(Flash Gordon music)
Kelly:
Yeah, I really, really don't understand this, and I'm so glad that you've actually asked, because I keep staring at it on the TV, and thinking, what the hell is this about? I know advertisers are meant to be creative, and make you think outside the box, but I just don't get it.
Pete:
Why would a mobile phone company want you to be more like a dog? – I just don't get it.
Kelly:
I don't. The only logical reason that I can see for this is that cat videos are the most Googled things, and they're jumping on the bandwagon.
Pete:
It could be – you think they're just going for the whole viral marketing, let's put a picture of a cat doing something crazy on, and YouTube will go wild?
Kelly:
Well, why not? – I mean, the moonwalking donkey did pretty well.
Pete:
And the sneezing panda?
Kelly:
Yeah, exactly.
Pete:
In all seriousness, do you know what on earth they're trying to do with this dog/cat business?
Kelly:
No, but I'm hoping you've found out, and are going to tell me.
Pete:
Well, only from what the listeners have said on the Facebook feed, and I still don't believe it. They're trying to get across that networks are lazy, so the likes of Vodafone and EE and all the rest of it are just getting very lazy, like cats, and O2 is going to be jumping about catching Frisbees, and doing clever things, like dogs.
Kelly:
No, I don't understand. I think that's a bit too cryptic. It doesn't tell you anything.
Pete:
I have to say, though, it doesn't half beat the EE commercials.
Kelly:
Ah – with Kevin Bacon? – yeah, I can see that, but only because it has cats in it. I don't think there's any other reason, like, at least you get what Kevin Bacon's trying to say. A cat's just catching a Frisbee.
Pete:
I have to say, though, the only one useful text message I did get on this from our audience was talking about this TU Go business, which seems to be the product that these dogs and cats are all about. Do you know much about TU Go?
Kelly:
I don't.
Pete: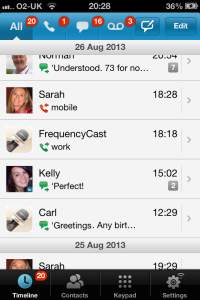 It's a nice little idea. The idea is, if you're on the O2 network, and fortunately I am, there are situations where your phone battery dies, or you leave the phone at home. The idea is, you can carry your O2 number around with you in a number of different ways. So you can get an application that works on tablet devices, so that's Android and iOS devices, as well as smartphones, and also on Windows 7.
The app is linked over the internet to O2, so if you get a phone call, your tablet, your PC, your phone all ring – one number, multiple devices. You can have up to five devices, I believe it is, and one phone number – your texts, your voicemails and your voice calls all on multiple devices. So actually, not bad.
Kelly:
No, that's quite good actually – worth having, I think.
Pete:
A little bit of a word of warning, though – of course, if you do receive unexpected messages, or messages that you don't want your partner to pick up, do be warned, they'll appear on five different devices, so it's five messages to delete.
Kelly:
Oh dear! I can see a lot of divorce happening through this.
Pete:
So I've got it installed here – this is it, and you can see, what have we got down the bottom of the screen there?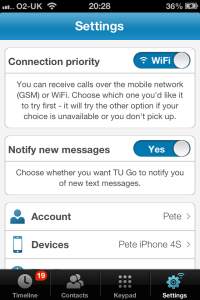 Kelly:
So you've got your timeline contacts, keypad and settings.
Pete:
And it's all basically driven through timeline, so if you look at the timeline, you can see what it's done is, it's picked up photos from my Facebook feed against the name, so there you can see my text messages, you can see I've got a missed call, and you can see voicemails, and look – there's your little picture, so your little text message to me yesterday has appeared there in my timeline.
Kelly:
Aah! – how lovely!
Pete:
So this is rather a nice little idea, and evidently O2 feel that they're sort of a dog, because they can do this kind of clever stuff. Sold?
Kelly:
I really like the app – I'm not sold on the ad.
Pete:
Fair enough. Instead of being something feline and canine-based, shall we talk about some fruit now?
Transcript continues: Raspberry Pi Interview
Listen to FrequencyCast Show 91 - Hands-on with o2 TU Go
More information: