Podcasts on a Smartphone or PDA
If you own a handheld PDA or smartphone, you may be able to download and listen to podcasts straight to your device. This page is based on an article written by the FrequencyCast team for Palmtop User Magazine.
Hopefully, the fact that you've found this page means you know something about Podcasting, and you're looking to be able to listen to shows on a PDA instead of your PC or mp3 player - hopefully, you're also a listener to our show.
From 2006, Podcasting has become a mainstream buzzword. Taking its name from the prolific iPod, a Podcast is a downloadable radio show that's made into an mp3 audio file. Sure, you can have a good chunk of your CD collection with you at all times on an mp3 player, or on your smartphone's memory card , but making use of podcasts adds a whole next dimension to your listening pleasure - fresh audio content on subjects of your choosing, that you can listen to at a time that suits you.
There's a heck of a lot of content out there, with more and more providers making audio programming available. The BBC are making a lot of their content available as podcasts. Top of the podcast charts has been the free shows from Ricky Gervais - hilarious entertainment ideal for killing dead time during a long commute, and for making your fellow passengers wonder what you're smirking at!
The good news is that if you've got a fairly modern PDA, you've probably got what you need to download and listen to podcasts already. Media players such as Windows Media Player Mobile (supplied built-in to Pocket PC and Windows Mobile devices), or the Real Player, are ideal for playing podcast files. As a podcast is typically a standard mp3 audio file, you can download these onto your PC, sync them over to your PDA, and listen to them while you're out-and-about using a set of stereo earbuds.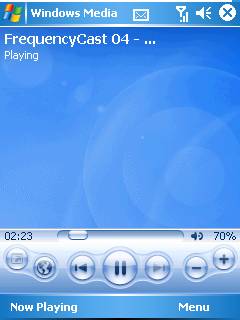 Our podcast on a Windows Mobile device
Pod Catching
Podcast providers offer a 'feed', which is a small file held on their server, which is updated when a new show is uploaded. You use a 'podcatcher' to check 'feeds' at selected times, and download new podcast shows as they get released.
The most commonly-used Podcast Catcher out there, is Apple's iTunes, which, although designed to catch podcasts for copying onto an iPod or iPhone, can be used to capture mp3 podcasts which can be copied to any device. You can use iTunes on a PC or Mac to download podcasts to a folder of your choice, then manually copy them to your PDA or mobile phone. If you want to "catch" podcasts on your device directly (without using a PC or Mac), then there are some options, which we explore below:
Windows Mobile devices
Egress is a great Podcatcher application for Pocket PC and Windows Mobile devices. It's fairly easy-to-use, hooks in nicely to the Today screen, and is cutting edge. You can download podcasts over-the-air as they're released (great if you have a fast connection and are prepared to pay the data transfer charges that your mobile provider hits you with), but better still, you can get Egress to download podcasts automatically when docked to ActiveSync. Egress is available from www.handango.com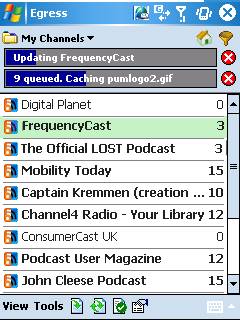 Podcatching with Egress
If you're a podcast creator, you may be interested in another AudioBay offering - Running on a Pocket PC or Windows Mobile device, this allows you to do your own 'Outside Broadcast'... record your podcast on your handheld, and upload it, complete with the required feed information, for worldwide distribution.
Symbian OS devices
If you have one of the newer Nokia Series 60 v3 devices, such as: Nokia N80, Nokia N81, Nokia N91, Nokia N95, Nokia E61, Nokia E64 or the Nokia E90 communicator , you can down a free app, the Nokia Podcasting Application, that allows you to download and play podcasts (ideally using a wi-fi connection). You can get the app free from Nokia: Nokia Podcasting
Otherwise, for Symbian OS, there's Mobiedge Radio or AudioBay Podcast Player.
PDA-related podcasts:
Our prediction is that 2007 will be the year of mobile media, once the home broadband world has settled down - Why not start early and try a few podcasts (now including video casts), to get a feel for what's to come? Here are a few PDA and technology podcasts that you might like to try:
Frequencycast - Our podcast... We often cover material of interest to mobile users.


Mobility Today - Seriously well informed podcast from the US.


The PDA Guy - Another good PDA and handheld-related PDA podcast


Smartphones Show - A video podcast from the UK looking at the latest in smartphones

For a wide selection of podcasts, try www.apple.com/itunes/podcasts
Questions
Podcasts from iTunes to a mobile phone or non-Apple MP3 player

Hyatt Baker asks: "I own an HP iPAQ pda and have enjoyed downloading mp3 files from websites by using the "Save Target As" feature and browse the download destination to my pda storage card in my card reader. Is it possible to download iTunes podcasts into my pda storage card as an mp3 file?"

Chad Collier goes on to ask: "Can any device PDA be used to link to Itunes and download podcasts from Itunes?"

The answer to both of these questions is yes. You can use iTunes to download podcasts to your PC or Mac, then copy them over manually to your mobile phone or to a non-Apple MP3 player. Most podcasts are in MP3 format, so can be copied easily without a problem. A smaller number of podcasts are in Apple's own audio format, so may not play on some non-Apple devices.

Here's a step-by-step guide on how to use iTunes to download podcasts for use on other devices:

Download iTunes from www.itunes.com and install it on your PC or Mac

First off, you need to find out where on your computer www.itunes.com has been set to store podcasts:
You now need to find which folder iTunes uses to store downloaded podcasts. In iTunes, go to 'Edit' > 'Preferences', and go to the 'Advanced' tab. In there, you'll find the field "iTunes music location folder". Take a note of the folder - this is where podcast downloads are stored to.
Subscribe to your favourite podcast. Add us to iTunes and subscribe
Assuming you have a PC, go to 'My Computer', C Drive, and browse to the folder you identified earlier. In there, you'll find a folder called Podcasts, which will contain the mp3 files. You may find the folder contains a mixture of files, not all of which will be MP3 files. Make sure that the file extensions are visible, so you can see what is an mp3 file and what is not. To do that, click on Tools on the menu, and choose 'Folder options'. Go to the 'View' tab and untick the option "Hide extensions for known file types"
You can then select and copy podcasts to your MP3 player, PDA or mobile phone.

If you have a Windows Mobile / Pocket PC, here are some notes on how to copy from PC to the storage card on your device:

Find a podcast, as we outlined above, highlight the file, and use Ctrl-C to copy the audio file
Connect your mobile device and establish an Activesync connection
Go back to My Computer, and select the icon for 'Mobile Device' - this is your Windows Mobile device. Open this folder, and look for 'Storage card'. This should open a window displaying the files on your memory card

You should be able to paste the podcast onto your storage card. Once you have both the Podcast and the Storage card folders open, you can drag and drop files in either direction
If you've got any questions about Podcasting on a PDA or mobile, please contact us and we'll try to help!