MP3 Files and MP3 Players Explained
Without MP3 files, where would the world of podcasting be? We love MP3s and this page looks at the format and some of the players in the Player world
What is MP3?
OK, so you've come across the term MP3... and hopefully listened to one of our podcasts in MP3 format... but what is it?
MP3 is an audio compression format, used to squeeze audio into a small file. The full name for the mp3 format is MPEG-1 Audio Layer 3. As far as the world is concerned, mp3 is a small, convenient way to copy, transfer and listen to music. The format is what's called 'lossy', meaning that the act of compressing a music track loses some of the original audio data - ideally in a way that the human ear doesn't notice.
MP3 files can be played on a range of devices, including desktop PCs and MACs, mobile phones, PDAs and of course MP3 Players. This makes them an ideal format to back up your media - such as cassettes and vinyl. For more on the subject of archiving your audio, take a listen to Show 21 of our podcast, where we cover this on more detail.
Is the iPod 'all that'?
80% of the players out there are iPods, so Apple must be doing something right. Sure, they're stylist products with a great name, but can you get something better for your cash? On Cast 11, we compared the iPod video with the Creative Vision:M and found which was the best buy. Controversial, but the Vision:M won... Here's our comparison chart:
iPod Video 30gig
Creative Zen Vision:M 30 gig
Battery life
Up to 14 hours
Up to 16 hours
Size
103.5 × 61.8 × 11 mm
104 x 62 x 18.6mm
Audio formats
MP3, AAC, Protected AAC (Apple iTunes), Audible, Apple Lossless, AIFF, WAV
MP3, WMA, WMA (with PlaysForSure), Audible, WAV
Video formats

H.264-LC , H.264-BP and MPEG-4 SP

MPEG-4 or H.264

WMV9, MPEG-1, MPEG-2, MPEG4-SP (inc DivX 4 & 5), XviD, Motion-JPEG

Extras

Supports iTunes music store
Mac Support

FM radio
Voice recorder
Organiser software (Calendar / Contacts / Tasks)
The Vision:M wins for us, with it's FM radio and wider choice of supported formats. It also isn't tied to Apple's iTunes
, meaning you can get MP3 files from a wider range of stores, and move them around.
MP3 Players
In Cast 11, we looked at a few players that offered something over-and-above the basic features. Tale a look at some of our favourites:
Creative Zen Vision M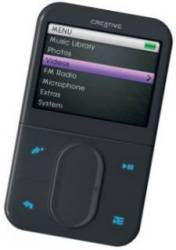 Released in 2006, this is currently our favourite MP3 player. Here's why:
The Vision M holds photos, videos and MP3 tracks
It has a 30GB capacity to carry up to 15,000 songs, tens of thousands of photos, 120 hours of video
Plays digital videos (WMV9, MPEG1/2/4-SP, Motion-JPEG, compatible DivX® 4, 5 and XviD)
Views digital photos and album art JPEG (BMP / GIF / PNG / TIFF)
FM radio with recorder
Voice recording
Up to 14 hours of continuous audio playback, 4 hours of continuous video playback
Size: 104 x 62 x 18.6mm
Available from around for £150 from retailers including: Play.com and Pixmania.co.uk.
iRiver U10
A little MP3 and video player that supports a range of formats:
Revolutionary direct click concept directly on the display
High-resolution display with 320x240 pixels
Outstanding features: supports MP3, WMA, ASF, OGG Q10, MPEG4 SP videos, JPG photos, texts, flash games
Built-in FM-tuner including recording and alarm function
Available in 1gig and 2gig versions
Priced from £90 at AdvancedMP3players , Amazon.co.uk and Play.com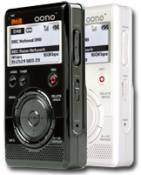 Oono Mini Dab One
This is a feature-crammed MP3 player that has a DAB radio, MP3 recorder, FM radio and voice recorder onboard. It has a built-in speaker, one-touch or time record of FM/DAB radio, can record from a built-in or external mic, and has a usable built-in speaker.
Seller for us was that it has a Line-in socket, so can record directly from a CD or cassette player, without requiring a PC. Audio is stored on removable SD cards, for ease of expandability and transfer to other devices. Have they thought of everything?
The Oono MiniDab One is available from AdvancedMP3players (with free 2Gig card while stocks last) and Amazon
Samsung YP-K5
MP3 player with built-in stereo speakers:
Ultraslim and compact design
FM Tuner with RDS functionality
Lithium Polymer re-chargeable battery
2.5 hour recharge via USB on PC gives a 14 hour audio playback
File compatibility MP3 , WMA , OGG , ASF , WAV
13 Preset equaliser modes
Sizes up to 4gig
Priced from £80 at AdvancedMP3players , Amazon.co.uk and Play.com
Oakley Thump
Cool MP3 shades, as worn by our Carl
Absolute music freedom with no wires or cords to dangle or tangle
Store up to 240 songs on the 1 GB version, up to 120 songs on the 512 MB version, or up to 60 songs on the 256 MB version
Up to 6 hours of playback time on a single charge
Lens contours that maximize protection against sun, wind and side impact
Durable and lightweight O MATTER® frame material
More Info? See our Oakley Thump Review
Netac A210
Here's the little gadget we reviewed in show 16, the Netac A210. This is the first MP3 player we've come across that has a built-in FM transmitter - this means that you can load on your music, get into your car,and tune your car's FM radio into the output of the Netac.
Transmits on FM - so can playback audio on your car stereo or home hi-fi
2 gig of memory
MP3, WMA, JPG and video playback
Has an e-book reader
Supplied with car charger
Available from Advanced MP3players.
Cowon iAudio D2
Covered in Show 19, and again in Show 31. This is a tiny little gadget that does just about everything you want a pocket media player to do. Features include:
Plays and displays Music, Video, Photo & Text
DAB Digital Radio, plus an FM radio
Available with either 4GB, 8GB or 16GB of storage, expandable using SD cards
Voice recorder, notepad, calculator and USB storage
Crisp colour touchscreen
Available from AdvancedMP3players
Microsoft Zune
Microsoft's new mp3 player, available in brown, black and white. Going head-to-head with Apple
30GB digital media player stores up to 7,500 songs, 25,000 pictures or 100 hours of video
Supports MP3, AAC, WMA and Protected WMA formats. Uses Zune Marketplace, so not an open format
Clever animated interface.
Features wireless networking so you can share tracks and other media with other Zunes (but not PC)
Not available in the UK.
iPod Video, Nano, iPhone and Shuffle
I'm sure we don't need to say much able iPods. Classic, iconic and good looking - lacking many of the features found on other players, so not our favourite - but that's just us!
2Gig iPod Nanos from £90 at AdvancedMP3players , Amazon.co.uk and Play.com
iPod Videos from £166 at Amazon.co.uk and Play.com
iPhones from o2 and Carphone Warehouse
Three top MP3 gadgets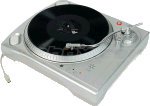 Vinyl to MP3: Looking to transfer your old vinyl collection to MP3 format? Take a look at the ION USB turntable, as mentioned in Show 05. It's belt-driven, has adjustable gain, plays 33, 45 and even 78s (with a special stylus), and comes with software to let you dub off your music to MP3, WAV or WMV formats, ideal for your iPod or MP3 player. The software supplied can be used to remove those lovely vinyl pops and crackles. The USB turntable from ION also has line-level RCA outputs, so can be connected into a hi-fi's CD or AUX in feeds, if required.
Available from Maplin, Firebox and I want one of those.


Cassette to MP3: Stuck with stacks of cassettes in a box taking up space? Never listen to them, but daren't throw away those precious audio memories? Well, give those old C60 and C90 audio cassettes a new lease of life by copying them to MP3 format.
Use this to copy your cassettes to a PC format, and once converted, you can transfer your audio to your MP3 player, and listen again to all those old memories, before your cassettes deteriorate with age.
Get the USB twin cassette deck version from Firebox, Argos and Maplin, which comes with all the stuff you need, and plugs into a spare USB port on your PC


FM transmitters for MP3: In December 2006, the UK Government finally agreed that the previously-banned FM transmitters used illegally by many people in the UK to re-broadcast their MP3 players to their in-car FM radio... could now be used legally.
If you want to get your MP3 player transmitting to your FM radio, take a look at the range of short-range FM transmitters at AdvancedMP3players and Play.com. Prices start from around £10. iPod users may want to try the Griffin iTrip.
More on MP3 formats
Here's a little more information on the MP3 audio format. There are two key numbers associated with MP3 files, the encoding bitrate and sample rate. Here's a quick look at what they mean... so you can show off your knowledge to your friends...
Bitrate: This represents the number of bits of data being processed per second. This value has an impact on filesize and quality. As a rough guide, here's a summary of the type of quality you can expect from an MP3 file at various bitrates:
8 kbit/s — Telephone line quality
32 kbit/s — Speech (medium wave radio quality)
96 kbit/s — Speech with music (FM radio quality)
192 kbit/s — Pretty decent quality, most unlikely to notice a difference with CD
320 kbit/s — High quality, almost no audio loss
Sampling rate: Number of digital samples of audio taken per second - measured in kilohertz (kHz). The most common sampling rate is 44.1kHz, which is used for CD audio
Other formats
If you're more interested in quality-vs-quantity, there's a small number of lossless audio formats out there - notably: Apple Lossless Audio Codec (ALAC or M4A) for your Apple iPod or the iPhone, FLAC (Free Lossless Codec) an open-source format, or Windows Media Audio Lossless (WMA) which is supported by Microsoft's Windows Media Player version 9 and above.
MP3 FAQ
Converting Apple Music

If you've bought your music from Apple's iTunes / iStore, you'll probably have them in the Apple AAC Protected format, which means you can't use iTunes to convert them to MP3 for use on a different MP3 player.

There is a workaround though. You can use iTunes to burn a copy of your music onto a CD, then use 'Ripping' software to convert the audio to MP3 - This is a little time-consuming, and there's a quality loss, but at least there's a way to get music that you've paid for... on another device.



Where can I get MP3 audio?

If you're looking for a good collection of audio books, MP3 files and podcasts, try Audible.co.uk. For music, take a look at HMV as an alternative to iTunes.

Users of the iPod may want to take advantage of the iTunes podcast feeds (see www.apple.com/itunes/podcasts). There's also www.napster.co.uk



How do I convert to MP3?

If you want to convert an audio format such as WAV or WMA to MP3, there are several converters out there. Our favourite is Easy CD-DA from www.poikosoft.com. You'll also find that the iTunes software handles conversion of some file types to MP3.



Problems connecting

Having a problem connecting your MP3 player to your PC? Here are a few suggestions:

Try using a different USB port on your PC
Try using a different USB cable, in case the cable is damaged
If you're using the software that came with your MP3 player - try re-installing it, or checking for a software update from your MP3 player manufacturer's website.
Try using Windows Media Player, which supports connection of external mp3 devices
Check in Windows Control Panel > System > Hardware > Device Manager, to see if your player has been found and isn't disabled
Make sure your PC is up-to-date with all patches installed
Try connecting to a different PC
Got a question on MP3 players or MP3 files that we can answer in the next show? Call 020 8133 4567 or send us a message
More information: