Power Backup Devices from Orca
At the 2010 Gadget Show, we reviewed the Power Reserve and Power Strap -portable power supplies for your mobile phone, mp3 player and other portable gadgets. Here's our transcript.
Listen to our FrequencyCast Special from Gadget Show Live 2010
Our interview with Orca starts 8 minutes into the show
Power Backup Transcript:
Carl:
Let's move on to this, a Power Reserve - so what does a Power Reserve do?
Lewis:
Right, well we all know there's many gadgets out there that charge different things. The Power Reserve is a small, I would say five by three centimetre type, very rugged design, very lightweight, very nice looking, portable emergency power device. What this does, it offers a 500 milliamp output current, and a capacity of 1,200 milliamps. Now it charges pretty much anything you have, from a mobile phone to a Nintendo DS, and can keep it going in the times of need.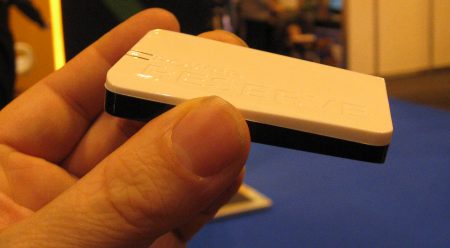 Carl:
So - how does this get charged?
Lewis:
If you look on the top, there's an in and out. The in, obviously, that's where the power goes in, and that can be charged by mini USB to large USB from a PC or any other USB device.
Carl:
And how long does that take to charge?
Lewis:
It will take about approximately, I would say, 30 to 40 minutes to charge fully.
Carl:
Right, and how many charges can you then take from that?
Lewis:
Well, for example, it will charge an iPhone once fully, I would say.
Carl:
Nice, and a convenient size as well. What I like about this more than anything else is, it's smaller than a credit card, it's a little thicker than a credit card.
Lewis:
When I first saw it, it looked like a Nice biscuit, an actual Nice biscuit. It's a good size, without the sugar on it, and you can't eat it, but a very nice size.
Carl:
Thank you, it's always about size, isn't it? Moving on from size, what the hell's this watch do? - it doesn't seem to have the time on it or anything, it's got a little, looks like LED. So is this binary time again, or something?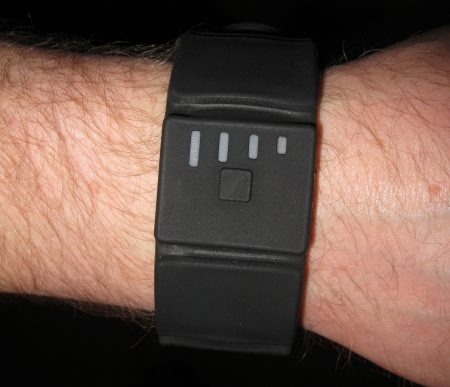 Lewis:
Right, no no, not at all, and I'm glad you actually said watch, because you know it goes on your wrist. So what it does, it goes on your wrist like a conventional watch, slips in very nicely. It's a charging device, a portable charging device, but the beauty of this, it's situated on your wrist. Why, you might ask? Well, imagine you're an outdoor person, imagine you go cycling, imagine you go rock climbing, you want to use your mobile and you want to use something, you need to charge it up, you're not going to find a plug on a mountain, so you've got your Power Strap, and what it actually does is deliver a charge to pretty much any electronic device on the market that has a small battery life, if you like, like a mobile phone, an iPod, an iTouch, an mp3 player or even a camera.
Carl:
Very good, so looking at this, what I'm seeing is a very comfortable fit, it's made of like a silicon or some form of rubber, it's neat, it looks like a mini utility belt for Batman. It's got lumps in it, it's got a little area with a mini USB output, I'm assuming? Is that one push button on there?
Lewis:
That's right, in the centre there's a one push button with four little lines, similar to the reception bars on a mobile phone. The reason we've designed this is, common sense would dictate, the smaller the bars, the smaller the power. So, when you press it once, the light comes on, and tells you how much power is in the actual product. That will then switch off, you keep your finger on it for approximately three seconds, the product powers on, and then you're ready to charge up anything you want, and it has a 1,500 milliamp output, five volt. So for example, this fully charged would charge an iPhone approximately one and a half times, so you'll charge it once fully and have about 40 to 50% to mess around with something else.
Carl:
Excellent. So, we've got this Power Strap, which is what it's called, isn't it?
Lewis:
That's right.
Carl:
We've got the Power Reserve - how much was the Power Reserve?
Lewis:
The Power Reserve is £19.99.
Carl:
OK, and how much is the Power Strap?
Lewis:
The Power Strap is a very reasonable £39.99.
Pete:
So we've got pictures of those three products, and Carl's rather hairy arm, on our show notes.
Carl:
That's not mine, that's a woman's.
Listen to our FrequencyCast Special from Gadget Show Live 2010
Our interview with Orca starts 8 minutes into the show
More information: