PsiXpda Pocket Windows XP Computer
The PsiXpda is probably the smallest Windows XP computer around, and a perfect replacement for one of our team's aging Psion Series 5mx.
Here's a transcript of our interview with Paul Pinnock, the founder of PsiXpda Ltd.
Listen to our FrequencyCast Special from Gadget Show Live 2010
Our interview with Paul from psiXpda starts 13 minutes into the show
Transcript of PsiXpda interview:
Pete:
Your little hand-held computer that you carry around everywhere with you, that's about ten years old now, isn't it? - and you've broken the screen, haven't you?
Carl:
Oh, my Psion - isn't it beautiful?
Pete:
But we actually found a replacement for you, didn't we?
Carl:
We did, a very exciting moment. It's the machine of my dreams. Why has it taken so long for this to come back out?
Pete:
Now, your PDA of choice is, of course, a ...
Carl:
Psion 5mx.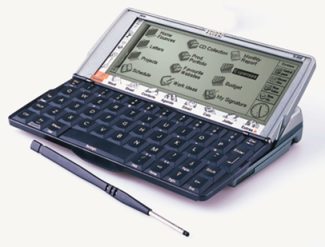 The long-discontinued Psion Series 5mx
Pete:
For those that don't know, the Psion 5mx is a qwerty keyboard, it was revolutionary in its day, an amazing hinge mechanism, and a nice portable computer device, and we're talking to a gentleman by the name of Paul, who is showing us what, Paul?
Paul:
PsiXpda.
Pete:
Carl, please describe this beautiful baby.
Carl:
Right, well, those of you know the Psion, it's the traditional screen, the keyboard, but it's gone colour, it is beautiful, it's still got the touch sensitivity, touch screen that is, and on the right hand side it's got a mouse pad, which you wouldn't even know was there, which is brilliant; it's got USB connectors; it's got headphones in stereo; it's got the DC in, as it always did have; power supply; it's got Flash cards; and this one, apparently, you can put a SIM card in it, is that right?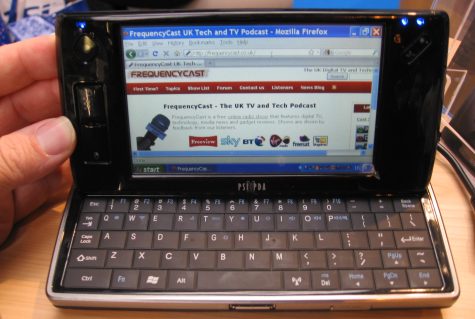 Paul:
Yes, you can fit a SIM card into this machine, using it for your 3G or Wi-Fi on your travels.
Pete:
So what operating system are we talking here?
Paul:
Currently we're running Windows XP Pro, but equally you can get Linux Ubuntu, or even Windows 7 Ultimate on the machine.
Pete:
Wow, so this has to be one of the smallest ever Windows XP machines I've ever seen, that's very impressive.
Carl:
Of course, this has gone on from the world of palmtops to more laptop, like the palmtop but as powerful as a laptop. How many gigabyte is this?
Paul:
On this machine, we're running 16 GB, but in the future we're looking to run a 32 GB system.
Carl:
So you didn't even get a 16 GB on Psion, they went up to, what, eight?
Pete:
Actually, 16 MB you're talking about, this is GB.
Carl:
Good grief! This is more powerful than my house!
Pete:
And it has got that lovely hinge mechanism, it's not quite the same as the old 5mx hinge mechanism, but you fold it flat, it slides snugly into something about the size of a, probably about the size of a Sony PSP, I'd say this is, but that's an easy jacket fit, isn't it?
Carl:
Oh absolutely, and what I do like is, when you shut the actual machine, whereas before the screen was shut on the inside, the screen is now on the topside, so if you've got something like a navigation package, you can actually use it still without taking it out, as it were.
Paul:
Yeah, the machine, as well as a keyboard machine, it's also a tablet machine, so some of the customers that we sold this machine to use it purely as a tablet machine; others use it in business for the keyboard.
Carl:
Fantastic, and what sort of battery life does this have?
Paul:
This machine will give you ongoing five hours' continuous use.
Carl:
Wow, that's a lot.
Paul:
On 3G, two and a half to three hours' continuous use.
Carl:
That's impressive, for something this size.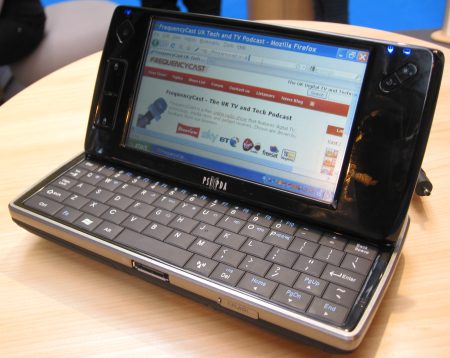 Pete:
Superb, so just give us the price on this machine?
Paul:
The price of the machine is £449, including your VAT.
Carl:
And can you get additional batteries for it as well?
Paul:
You can get an additional battery for the machine, equally we're developing an in car battery charger for the machine, which simply means you can charge your extra battery on the move within your car as you're driving.
Carl:
Brilliant, and I like where the stylus is now, it's a telescopic stylus.
Pete:
Wonderful, so what we'll do is, we'll put up a few pictures of this on our website. Paul, tell us where someone can buy this?
Paul:
Currently, this machine can be bought from PsiXpda, eBay, as well as Amazon. There are other stores where the machine is available, it can be found on our website, which is www.psixpda.com.
Carl:
Well, I'm definitely getting one of those.
Pete:
For Christmas?
Carl:
From you.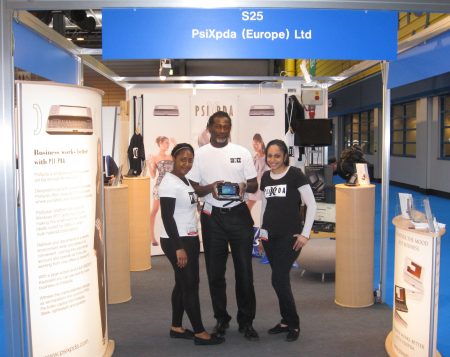 Paul, the ladies and the psiXpda at Gadget Show Live 2010
Listen to our FrequencyCast Special from Gadget Show Live 2010
Our interview with Paul Pinnock from psiXpda starts 13 minutes into the show
More information: