Realtek RTL2832U TV and Radio USB Dongle
In Show 86, we discussed the Realtek RTL-2832 USB dongle, and how it can be used to get Freeview, DAB, FM, access to a massive chiunk of the radio spectrum, and even aircraft transponders.
Listen to FrequencyCast Show 86 - The Realtek USB TV, Radio & Radar dongle
Radio and TV USB Dongle:
Pete's hooked on this £10 USB stick that offers TV, radio, amateur radio, DAB and aircraft tracking. Here's the transcript of his review:
Transcript Continues: Podcast Awards and BBC News 25 Theme
Pete:
Now, let's change the subject, and talk about another USB stick. This one's going to take me a couple of seconds to set up, so talk amongst yourselves while I just do some connecting. OK, I've fired up the laptop and the software, and basically what we've got is the USB stick plugged into the computer here, with this little connector - go on, you can do this for me, because these are a fiddly little connector to try. That connector there - have you ever seen one of those?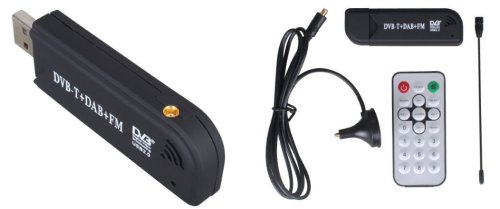 Realtek DVB-T TV RTL-SDR Radio Tuner USB Stick
Kelly:
No.
Pete: It's called an MCX connector - very small and fiddly. Just see if you can connect it in for me. A little fiddly, isn't it?
Kelly:
It is a little fiddly. It's very, very tiny.
Pete:
Now, these have been around for a while. This isn't particularly cutting-edge. This is a Freeview receiver on a USB stick, the deal there being, you plug this into your computer, and it comes with some software called Blaze which will let you watch all of the Freeview channels, and it also has PVR software in, so you can use your laptop or your computer to record Freeview, much as you would with a PVR or a video recorder.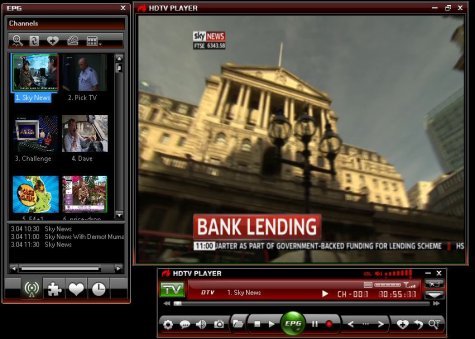 Kelly:
Up to how much?
Pete:
As much as there is space on the laptop. Where this gets clever though, is this particular make uses a rather unusual radio module, so not only can it get Freeview, it can also get FM radio, and also DAB.
Kelly:
OK - now I understand why you quite like it.
Pete:
But it gets more clever. If you install a rather clever little driver that someone has found, it unlocks all of the tuning capabilities of this, so rather than just tuning into the DAB and the Freeview frequencies, it will tune into anything, right the way down into the HF band, all the way up into the satellite band. It is a full multi-band receiver.
Kelly:
Isn't that quite dangerous?
Pete:
Yes.
Kelly:
That's why you like it again, isn't it?
Pete:
Right, so let me just fire up this little application, and we'll see if we can get this to work. Right, now what I've done is, I've loaded up a piece of software called RTL 1090, and ADSB Scope, and effectively that is tuned into a frequency of:
Kelly:
1090 megahertz.
Pete:
And that frequency is used by the aircraft transponders that go overhead. So as a plane goes overhead, we should, we've got to just wait a little bit for it to happen, but as it picks up its transponder, it will overlay onto ADBS Scope, and you can see the tracks of the local aircraft.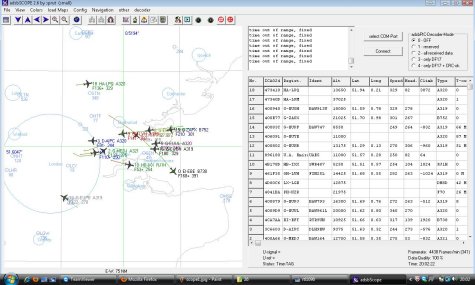 Kelly:
I feel like you're tapping into some military thing that should not be used at all.
Pete:
Well, it does feel a little bit like that. Now, if you've got an iPhone app, you can get these tracker apps that let you point at a plane, and it gives you the transponder. This is actual real time information used by radar systems to locate aircraft. It does feel a bit dodgy, doesn't it? - but it's interesting. It's a clever bit of technology.
Kelly:
It does. I kind of feel like I'm part of James Bond.
Pete:
Where it is really good though, and this is more for the radio hams out there, of course, and now you're a radio ham yourself, aren't you, Kelly?
Pete:
Well Kelly, all I can say is, very well done - you are now a fully-licensed amateur radio operator. Are you proud?
Kelly:
I am - M6KFA.
Pete:
OK, so what we have to do is fire up this weird little engine called Zadig, which, I've no idea what Zadig is, but it does seem to work. You then load up something called SDR#, which is using the hash sign, so just click on that for me? - and basically, we've now got a radio receiver where you can type in a frequency. So if we type in the frequency of a local commercial radio station, 1062, there we get a nice little pattern of the radio station. We can also tune it to a local amateur radio repeater, so there we can see the local repeater. It's not very active at the moment, but it's nice and blue.
Kelly:
It is - it's lovely. It looks like a sunset.
Pete:
And we can tune to any frequency, from 24 megahertz right the way up to about 1.6 gigahertz, and it'll show us on screen what's going on, and for the technically-minded, we've got switches for narrowband and wideband FM, AM, upper side band, lower side band, so you can listen in to any kind of data or voice frequency anywhere in the spectrum.
Kelly: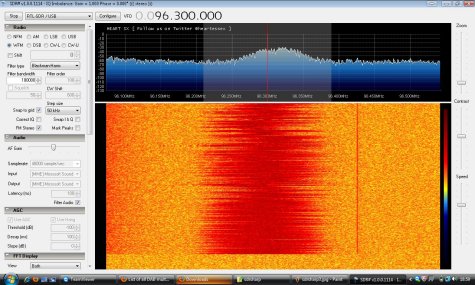 That's not too bad. Tell me though, Pete, how many hours have you already spent on this?
Pete:
More than I care to imagine, including taking lots of screenshots and detailed descriptions of actually how to use it, but it is rather impressive. For anyone that's a little bit geeky and likes their tech, if you think about it, you've got DAB, you've got Freeview, you've got FM and AM radio stations, all your radio frequencies, including all the ham frequencies, and the ability to track aircraft, all from one USB stick, and go on - how much do you reckon?
Kelly:
Around £40?
Pete:
It does come with an aerial as well, and a remote control.
Kelly:
Ah, OK. Then I would probably say you're looking at around £70 to £80.
Pete:
OK, so would it surprise you if I said it was £9.99?
Kelly:
You're kidding me! That surprises me a lot.
Pete:
I feel like I'm on one of those shopping channels, where you're constantly trying to, would you believe - no, not £70! - no, not £60! - if you phone now, just £9.99!
Kelly:
And it comes equipped with this beautiful aerial. I like it - Pete, I can see you playing the little host, doing that.
Pete:
We'll see you on the bargain channel.
Kelly:
Brilliant, great.
Pete:
There you go, so if you're interested, up on the website you'll find pictures of this rather impressive little dongle.
Realtek RTL2832U Radio & TV Dongle Availability:
Transcript Continues: Podcast Awards and BBC News 25 Theme
Listen to FrequencyCast Show 86 - The Realtek USB TV, Radio & Radar dongle
More information: