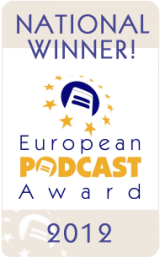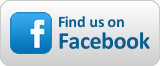 FrequencyCast UK - Show 86
The show notes to go with Show 86 of our technology radio show.
Listen to, or download, FrequencyCast Show 86 (31 mins)
Show 86 NEWS
Here's a look at the news stories covered in Show 86:
TV Sport: Starting off with TV sport. We're still waiting for details of "BT Sport", which is set to include content from ESPN, but Sky has launched an interesting service via its Now TV platform. For a one-off payment, you can get a 24-hour pass to all six of Sky's sports channels. The service is available now on desktops, tablets, smartphones and Xbox. Note that Sky Sports is not available via Now TV on YouView.


White Freesat: Digital TV service Freesat has launched a new set-top box - and it's white. The new Humax 1 Terabyte box has built-in wi-fi and the new [free time] programme guide. Last month, YouTube launched in some Internet enabled Freesat boxes, including this new Humax box. Sadly though, the on-demand movie service Box Office 365 has now ceased broadcasting on Freesat.




The Humax DTR-1010S Freesat Receiver, available from Amazon




No more NME: Also no longer broadcasting, is digital music station NME, which closed in March after nearly 5 years on-air.


Offline Google translator: Good news for jet-setters with an Android-powered mobile. Google has just released an update for their mobile "Goggle Translate" app that supports offline language translation. Previous versions of the free app required an Internet connection to get translations, which could rack up expensive roaming charges. Pick up the new app in the Google Play store now.


$99 Games Console: Projects started with funding from KickStarter are all the rage, and we talk about a Smart Watch later in this show. Another user-funded project could be about to shake up the games console market. "Ouya" is an HD console powered by Android, will offer all games on a free-to-try basis, and may include access to streaming games service OnLive. The price? $99. It starts shipping in June.


Google Reader Ends: Bad news for users of Google's news reader. The excellent online RSS feed aggregator Google Reader is to cease from the 1st of July according to the web giants. Many angry users are searching for a replacement, with Feedly seeming to be a good choice. There's news that web service Digg will be launching a replacement to Google Reader soon.


And Finally: Sticking with Google, according to details found in a patent, it seems that Android OS smartphones may make use of your GPS location to check the local weather before you snap a picture using the built-in camera. Future smartphones may be able to adjust settings such as the white balance based on the local forecast, to give you the best snap possible. Clever Google. Cheese...


FOCUS: Android TV Stick
As requested by Steve Abbey and Darren Murphy, we took a look at one of the many TV sticks that add the Google Android OS to your TV set. The model we looked at in this show was the Google Android Wi-fi and TV Cloud Stick at Amazon, which at the time of recording, was just under £30


Google Android 4.0 TV Wi-fi and TV Cloud Stick
This dongle does a good job of adding a web browser and photo gallery to your TV, and uses wi-fi for an Internet connection. It doesn't come with a wireless keyboard and mouse, but does allow access to loads of free apps from Google Play, and can also stream TV from YouTube and the BBC iPlayer.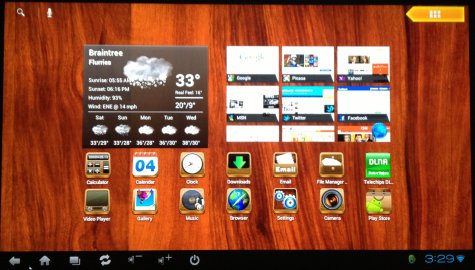 Google Android 4.0 Cloud Stick - Main Desktop view
FOCUS: USB TV, Radio and Aircraft Dongle
Featured in the show is a cracking little USB stick, the Realtek RTL2832U. Here's what it does:
Freeview,
FM radio,
DAB radio,
PVR hard-disk recorder,
Aircraft transponder tracking,
SDR (Software Defined radio)
At the time of recording, it's available for under £10 and is an amazing product for the radio enthusiast.
Realtek RTL2832U Radio & TV Dongle Availability: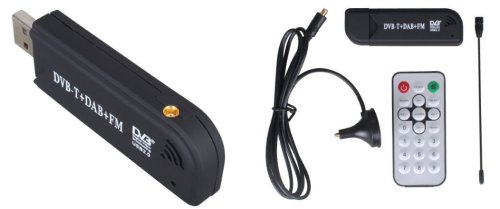 Realtek DVB-T TV RTL-SDR Radio Tuner USB Stick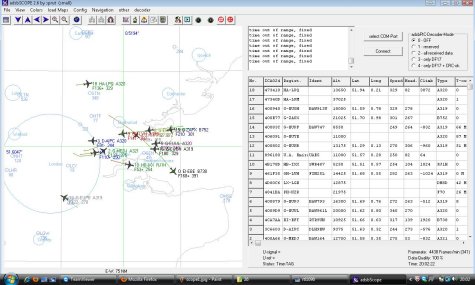 Tracking aircraft with the Realtek dongle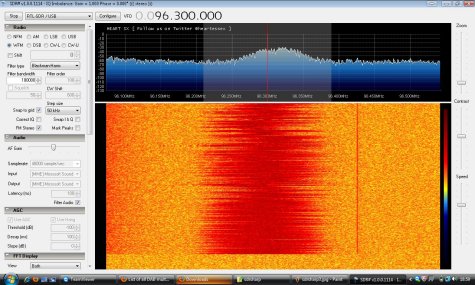 Tuning into a radio station with SDR#
THANKS: European Podcast Awards
Thanks to all of our lovely listeners for voting for us in the European Podcast Awards 2012 - Thanks for making us the UK's Number One non-profit podcast. Here's a video clip with more info on the awards:
DISCUSSED: BBC News 24 Changes
In March 2013, the BBC News Countdown theme changed, coinciding with the move from Television Centre to the new BBC Broadcasting House. Here's a YouTube clip of the new-look countdown sequence:
FIRST LOOK: Pebble Smart Watch
Smartwatches are set to be the must-have gadget of 2013, and in this show, we looked at the soon-to-be-launched Pebble Smartwatch. Here's a video clip showing what it can do.
Pebble Kickstarter Video
These can be pre-ordered now from getpebble.com
INTERVIEW: Only Fools and Horses
Please Use Our Amazon Store!

When you're shopping at Amazon please use the link frequencycast.co.uk/amazon - It won't cost you a penny more, and shopping via our Amazon shop helps to pay for our running costs!
Cast 86: Interaction
Thanks to everyone who got in touch with us since the last show. In this show, we respond to the following mails and calls:
0208 or no 0208... London area code controversy:
An email from 'Web Dude' kicked off an interesting phone number related discussion. Here's the mail:

"Just a quick pedant note - the code for London is 020 not 0208 or 0207. Unfortunately far too many media people still say '0207' or similar and this confuses Londoners into thinking that it's OK to quote numbers that way... It isn't ! Would be good to see it corrected on your website, too. Obviously I'd like to hear you say it as 020 8133 4567 though I'll let you off with 020 813 34567"

Martyn Watkins added: "As long as they say ZERO and not OH, I m happy!"

So, what's the plan? We've changed the website to read 020 8133 4567, but we're keeping it in the show in the way it sounds best. For the full debate, and to have your say, go here: Reading out a London Number: 0208 or 020 8
Sky Signals vs a wet tree
We had a podline call from Mr Clark about his Sky signal - he's wondering what height to mount his satellite dish, although a tree may be obscuring his line-of-sight.

Pete says: It's not about the height. A dish can be one the ground and still get a signal - it's about having a clear line-of-sight to the orbiting satellite. If there's a wall or a building in the way, then the signal will be blocked, and a trees can cause a problem that's typically worse if the leaves are wet. Either trim the tree, or reposition the dish to it can see the satellite with no obstructions. You can pick up a cheap satellite signal detector for under a tenner to to some trial-and-error repositioning of your dish. Satellite Finders at Maplin
I have Sky, but am worried about 4G interference to Freeview:
Peter McKenzie got in touch with the following:

I am a real fan of your very informative and entertaining shows. I hope you might be able to reassure me about the possible effects of 4G on my rather unusual requirements. I am a classical music fanatic (rare?) and for normal purposes, as I have Sky HD, you would expect me to have no problems.

However, I am very fussy++ about picture and sound quality and also want to archive the best concerts to disc. I have bought a Panasonic Freeview HD Blu-ray recorder (expensive!) because Sky broadcasts in 1080i and copies to an external recorder are only in SD and stereo. Each concert can use up 2% even of my 1Tb Sky hard drive. However, the Panasonic box allows me to record and, provided the programmes come via the roof antenna and the inbuilt tuners (2), I can record in full 1080p and 5.1 surround to the inbuilt HDD, edit the concert and save to Blu-ray with no quality loss whatever.

This system is just exactly what I have needed, but I am concerned what will happen when 4G arrives. I live about a mile west of the Oxford ring road with perfect reception (according to the excellent info from the box) of the Freeview channels of which I only use the HD ones: numbers currently 101-104. Unfortunately Oxford, a main transmitter was always at the high end of the frequencies. I do know, in fair detail the current situation as regards the Freeview HD channels: they are on channel 57 on 762 MHz ; I presume they are multiplexed. I believe that the Oxford Freeview channels actually go from 791-862 MHz, well into the 800 MHz band which you discussed on your last show. I will, of course use Sky for all channels not on Freeview.

Signal strength of 3G is very strong here, even indoors, (particularly on O2) as cellsites are well under a mile away (my post code is OX2 9JQ). The nearest is in the grounds of a large secondary school (Matthew Arnold) and I would hope that they would not use such a site. As you must know, there are real and proven health concerns (I am a retired doctor) about children and mobile phones (see Powerwatch website). Thankfully our children are adult and well past school age.

Do you think I am at risk of losing my fantastic Freeview HD service? Sky is great, with huge choice but a very second best source for my particular interests, but overall is excellent but expensive.

Peter is in Oxford and is likely to be at risk of getting interference when 4G arrives and his local HD transmitters HD channels are on 762 MHz, close to the band about to start being used by 4G. His location probably puts him at risk, as he's likely to be within 2km of a 4G mast. Homes with a loft amp or masthead amplifier are most at risk. Removing amps and having a decent TV aerial pointing at the TV transmitter rejecting signals from 4G. Failing that, a filter should fix the majority of interference problems, and the cost of a filter will be covered by the 4G providers. More: Freeview and 4G interference
Baofeng portable for hams on a budget:
We heard from Iain Kendall G6ARO as follows:

"Congratulations on getting the podcast award, well deserved. Don't know if you have seen them, but there is a dual band VHF/UHF handheld transceiver for under £40 including the charger. Made in China, but available through Amazon, called the Baofeng UV-5RA Ham Two Way Radio 136-174/400-480 MHz Dual-Band DTMF CTCSS DCS FM 5W Amateur Walkie-talkie Transceiver.

Looks ideal for a new amateur on a budget, and the reviews seems to give it a lot of praise, apart from the bundled programming software. You need an additional cable (£10.59), and the reviews seem to recommend you use the CHIRP software instead which is free to download"

For their money, the Baofeng is a great portable ham radio transceiver. If you're a licenced amateur radio operator, you can get a Baofeng UV-5R from Amazon: Baofeng UV-5R at Amazon.co.uk
Mustard TV
Thanks for everyone who get in touch about Mustard TV. As we mentioned in our March update - With Norwich being the home of Coleman's Mustard, that's the obvious choice of name for a Norwich TV station. So, now we know!
Got a comment or question? You can leave us a voicemail by calling 020 8133 4567, or sending us a message. We'd love to hear from a few more of you, so please get in touch and say "hi" - our shows are driven by your feedback - So talk to us!
Want new shows as soon as they're released?
Get FrequencyCast shows automatically, as soon as we've finished them:
Got iTunes? Add FrequencyCast to iTunes


Otherwise, use Juice or another podcatcher to subscribe to our show feed.
Our feed address: https://feeds.feedburner.com/frequencycast