Revo Wi-Fi and DAB Radios Reviewed
At the Gadget Show Live in April 2010, we spoke to Colin Urie from Revo Technologies, and looked at their Ikon and Heritage digital radios. Here is our transcript of the interview.
In 2010, we interviewed Revo Technologies about their range of DAB and Internet radios. Here is the full interview
Revo Radio Transcript:
Pete:
We also saw the guys from Revo, they make DAB radios mostly, they're based up in Scotland, and they've been doing radios for a long old while. We talked about a couple some time ago, didn't we?
Carl:
We certainly did, yes, including the Blik.
Pete:
Yeah, the Wavestation Blik, and the Pico, which came out about two years ago, and we got chatting to Colin about their latest bits of kit, the Domino, Ikon and Heritage.
Colin:
We manufacture DAB and internet radios, so most people know about DAB radios, it picks up local frequencies and gives you DAB across the UK, but in addition to that, most of our products also have internet radio, and they'll just use your broadband connection at home, wireless or wired, and give you round about 15,000 radio stations, listen again, podcasts, all streaming directly from the internet onto the device.
Carl:
So you're saying I can go from BBC Radio 1, 2, 3 and 4 into the new world of technology with podcasts and the like?
Colin:
Exactly, so take a Radio 4 Today programme podcast, you can stream that directly on to any of these devices, you don't need to have a computer anywhere near it, as long as you've got internet access, wherever you are, you can access all of that.
Carl:
So how exactly does this pick up my internet collection, as it were?
Colin:
Well, you buy the product, take it home, and it'll scan for any networks in the area, you type in your security code for your router, and you're online, you never have to type it in again, that's you, you're up and running. The idea is, people say that yeah, I can access internet radio from my laptop, we want people to have a standalone device in the kitchen, in the living room, in the hallway, they come home at night, turn it on, and access any radio station, any listen again feature they want, from the one device, without having to attach things and put things together.
Carl:
Superb. Can we have a look at this one, the Revo? - look at that.
Colin:
Yes, this is the Revo Ikon, full colour touch screen, internet radio, DAB; it works with iPhone approved, as well as iPod; we have traditional FM on there, so if you can't pick up DAB, or your internet connection goes down, you can still wake up and listen to a radio station; it's got multiple alarms, so you can go to sleep listening to one station, but you can wake up listening to whatever you want, you can set it all as a pre-set, what you like to wake up to and what volume, at what time, different days of the week; as I said, internet radio, giving you round about 15,000 stations, you can search by genre, you can search for individual station names, or you can simply go for say American country, and you can access it like that.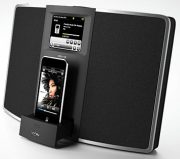 Revo Ikon
Carl:
I've noticed that you've actually got an iPod icon on there, but where's the docking? - where do I put it?
Colin:
Yeah, we have a drawer that simply slides out the front.
Carl:
Woah - sexy! Look at this, James Bond, eat your heart out - look at that, sleek action, I like that. And it keeps dust away from the port as well, doesn't it?
Colin:
Exactly, so when you're not using the iPod or the iPhone dock, you don't need to bother about it. The other feature we have is Last FM, now if you're not familiar with Last FM, it's an online music service, most people at the moment will use it on their iPhones or their laptop or their computers. All of our new products, as long as it's one of the Wi-Fi products, has Last FM in the device, we give a 30 day trial to all users who want to access it on their radio, after that it's £3 a month.
Carl:
Right, very nice. How much does this product cost?
Colin:
This product is £279.
Carl:
Why would I want the Domino, or what's the difference with the Domino, other than obviously price, being how much does that one retail at?
Colin:
Well, there's three Dominos in the range, the basic one, which is a DAB FM with iPod docking, iPhone docking, is £129, all the way up to top of the range, which includes internet on that, and it's £169.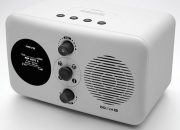 Revo Domino
Carl:
Not much of a price difference, really, is it?
Colin:
No, it's because you're buying a product that has very good audio for the size, joystick control, OLED display, it has a lot of features built in as a basic, so adding internet radio onto that, it's a relatively small price increase.
Carl:
Mmm, OK. So mono, I'm assuming?
Colin:
Yes, it's mono.
Carl:
As opposed to the other one, which was stereo?
Colin:
Yep, the more expensive one's stereo. Both of these products use NXT speaker technology. When you turn it on, people are surprised by the sheer volume and the amount of base you're getting from a very small product. The product has to be small enough to sit on a bedside table, but it has to make a big enough noise to justify spending £169 on it.
Carl:
Excellent. So what about this one over here?
Colin:
Yeah, this is our model called Heritage, we've gone a bit back to basics on this one, it's got a very Fifties/Sixties radio look about it, it's using real aluminium, real walnut veneer. Again, all the features that we've already discussed, including internet radio, Last FM, DAB radio and obviously, you've heard it as well, it makes a very nice noise for the size of the product.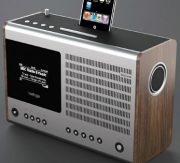 Revo Heritage
Carl:
It's gorgeous. I see, not a colour screen like the top of the range, as it were?
Colin:
This is it, if you're going for a classic product, you've got a decision whether, I think automatically if you add a colour screen to something, it makes it look very modern, so it's difficult to achieve classic wood/metal look with a colour display, we've just gone very classic, an OLED black-and-white crisp display on it.
Carl:
Yeah, I think aesthetically you're 100% correct, it would have ruined the look. Yeah, very nice.
Previously, we covered the Pico and the Blik - are they still both available?
Colin:
Yes, they're both available, if you go onto our website, you can look at all the stock, it's across the UK, or internationally, and you can see which products they sell on there, www.revo.co.uk.
Listen to our FrequencyCast Special from Gadget Show Live 2010
Our interview with Revo starts 2 minutes into the show
More information: