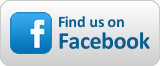 FrequencyCast UK - Show #40
The show notes to go with Show 40 of our online technology radio show.

Listen to, or download, FrequencyCast Show 40 (30 mins)




You can listen online with our pop-up Pod Player, save as MP3 or subscribe via iTunes.
Show 40: NEWS
This show's news section covered the following stories:
Bad news for Freeview HD - Freeview HD, and it's not good. It seems that the recession could be impacting plans for ITV and Channel 4's plans to launch HD on Freeview. The channels were set to launch their HD services by the end of the year, with Granada likely to get HD first, but the funding crisis is causing them to reconsider. More on this story when we have it.


National Freeview retune: Staying with Freeview HD, the BBC are forging ahead with HD on Freeview, and it's hoped that their HD service will hopefully be up-and-running for up to 50% of the UK in time for the 2010 World Cup next June. To support Freeview HD, existing Freeview services will have to shuffle around, to free up some space. As channel renumbering tends to catch many users out, there's talk of a National re-tuning exercise happening, and discussion are currently going on to find ways of letting 18 million Freeview users know that they need to make a change - options under discussion include onscreen warnings and leaflets.


Free mobile phone calls: Operator 3 is now offering "Free calls forever" - This is available on around 20 handsets, including the Skypephone, INQ Facebook phone, the SonyEricsson C510, the Samsung Tocco Ultra and the Nokia E63 and N96. Calls are made using Skype, and you can only call other Skype users (all 400 million of them). Offer's open to contract and pay-as-you go customers. Full details at www.three.co.uk/skype


Vodafone drops roaming charges - Vodafone is dropping voice and text roaming charges in 35 countries in June, July and August. Data roaming's not free though. Countries are mostly in Europe, but Australia's also included. You need to sign to Passport, which is free. For the full story and a list of companies, see our blog entry.


BBC Content coming to Top Up TV. Content drama and factual content from the BBC will be downloaded to Top Up TV Anytime boxes from early June, with shows like Spooks, Bleak House Life on Mars and Doctor Who. To make way, Hallmark, Sports Xtra, Home and Living will be vanishing.


Looking to switch to Sky: Sky's currently giving away a Sky+ box for free to all new subscribers, plus a £25 Tesco gift card and half-price installation. We're not sure on when this offer expires.


Channel news: In May we saw Quest from Discovery fail to launch on Freeview, Virgin 1 has gone 24 hours on Freeview and UKTV Style's re-branded to 'Home'. Hopefully you caught our mid-May update on these and other stories - if not, make sure you sign up on our site.


Sat Navs offline in 2010? Plans to replace the aging network of GPS satellites are running behind schedule and over budget - and a report handed to the US Government tells that failures in the system could start next year, causing a problem for Sat Navs. Watch this space for more on this story.


Radio chart show: From mid-June, the 'Hit 40 UK' commercial radio chart show, formerly "The Network Chart" gets replaced. In its place an interactive chart show with data based on iTunes music downloads, giving listeners the chance to change the charts in real-time.


And finally - Soon, London tourists may be able to get connected on the London Eye. Plans are afoot for screens providing sightseeing info, the ability to download music and audio commentary onto mobile phones, plus wi-fi access for those that can't bear to be without a fast internet for the 35 minute journey. Cut out all that tedious "admiring the view" stuff while you glide round the wheel, as you surf Google Streetmaps on your iPhone with London Eye-fi. Whatever next.


And another thing... Later this year, the sixth novel in the Hitch-Hiker's Guide to the Galaxy series is due out later this year. No mean feat, given that Douglas Adams, the author of the series, passed away in 2001. Eoin Colfer has the task of continuing the series. More on the story


FOCUS: Wi-fi
In Show 40, we caught up with the latest on Wi-fi. here's a summary of what we thing you need to know:
802.11N is the best wi-fi option around at the moment (although the standard hasn't been fully approved yet)
Use WPA to ensure that your wi-fi router is protected from outside attacks
Consider BT Fon, which allows you to share out your BT Broadband bandwidth, in exchange for using other folk's Home Hub bandwidth
Improving your wireless range. In the show, we discussed three ways to improve your range:
Go 802.11N - Which offers wi-fi over a greater distance that 802.11g. Both your router and your wireless receiver need to be 802.11N to get the benefit
Consider a Wi-fi extender, available from Dabs.com.
Give the Flatenna a try. This focuses your router's wi-fi signal, and is a very low-cost way to get more range. Details of the Flatenna at www.tritium.co.uk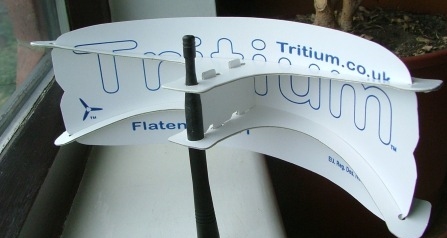 The Flatenna from Tritium
Wi-fi Interference. In the show, we discussed interference and the findings of the Mass Consultants report prepared for Ofcom in April 2009. Baby monitors and AV senders came out as the worst culprits - check out the full report as a PDF: Estimating the Utilisation of Key Licence Exempt Spectrum Bands

Alternatives? If wi-fi's not for you - consider using HomePlugs, which send data using your home's mains wiring. You can get HomePlugs from Maplin, Dabs.com and the BT Shop.

For more on wi-fi, see our Wi-fi Explored page.
FOCUS: Pulse Pen
In this show, we looked at what's probably the most impressive gadget we've seen for a long time - the Livescribe Pulse Pen.
The pen has a built-in voice recorder and an infrared camera. It records what it can hear whilst you're writing, and provided instant access at the point of writing by tapping on the page.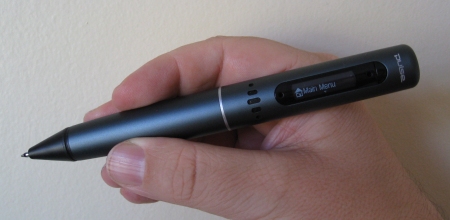 The Pulse Pen
To demonstrate what the pen does, take a listen to this show, and hear us explain how it works. Below is a screenshot of the page we were scribbling on: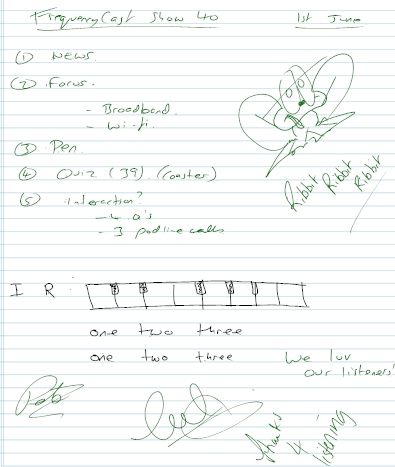 Our first Pen Cast: Want to view the Pen Cast? We've uploaded a recording of that the Pen's software can upload as a "Pen Cast". See us write, and hear the recording quality of what the pen recorded on these two links... FrequencyCast Pen Cast Part 1 and FrequencyCast Pen Cast Part 2
For more on the Livescribe Pulse Pen, see Carl's Pulse Smartpen Review
Cast 40: Interactive
Thanks to everyone who got in touch. In this show, we respond to the following mails and calls:
Pay channels on Freeview: Steve Wilton asked: "When the Digital Switchover is complete, will there be any pay channels going onto the Freeview platform?" Sky was looking at adding some pay-to-view Sky channels using a service called Picnic, but those plans are currently on hold as a result of an Ofcom consultation. It may yet be revived, but nothing's confirmed. You can get extra content with Top Up TV and BT Vision - Listen to show 39 for details.


Communal satellite: We took a podline call Peter in London asking about communal satellite telly and Freesat. If you're in a set of flats with communal satellite, you probably have something called an IRS (Integrated Reception System). This uses a single dish and distributes TV throughout the block of flats. The satellite sockets in your flat should work with Sky, subscription-free Sky and Freesat..


BT Vision without subscription: John Monk asked whether there is a software update available yet to enable the BT Vision+ Box to operate as a Freeview PVR without being connected to a BT Vision account? Firstly, you don't need a BT Vision account to be able to record onto the BT Vision+ box, but what you do need is a BT Broadband account, as the EPG is delivered over Broadband. There was talk of BT releasing a software patch to "unlock" you from BT, but no news on that yet.


Overseas surfing: We took a call from a listener looking to travel overseas and wanting some advice. If you're visiting certain countries, 3 can be a good bet, but picking up a data SIM in the country you visit is probably the best option. We covered this topic in show 38 - have a listen for more tips.


Recording Sky to HDD: Next Edgar asked us for help. He's after a DVD and hard-drive that will allow him to record Sky. He's tried a Logik DVD recorder with Freeview, but no joy. Many Freeview receivers with a hard drive will only let you record Freeview using the Programme Guide. What you need is a combined DVD Recorder / hard disk recorder that lets you record from the Line In SCART socket. Most DVD/HDD units support this, but not all - so check before you buy.


Virgin Recordings: We had a call from a listener struggling to find his Virgin Media HD recordings. We called in the help of our Virgin Media expert, Vinnie the Bearded Buffalo on this one, and this show we ran through how to get at those recordings.


Top Up TV Black Sunday: Finally, as we reported in our mid-May update. In the show, we played a small selection of comments from our listeners. Many users had to format their boxes losing all data. For a summary of the story and a list of other comments from our listeners, see our blog entry.


Any questions for Carl & Pete? Got a comment on the world of TV and Technology?
Call 020 8133 4567 and leave a message and be heard on the show, or ask in our listeners forum.


Enjoyed the show? Add us to iTunes, sign up to get email alerts, or consider adding a nice iTunes review
Comments on this show? Please post them in our forum.

Want new shows as soon as they're released?
Get FrequencyCast shows automatically, as soon as we've finished them:
Got iTunes? Add FrequencyCast to iTunes


Otherwise, use Juice or another podcatcher to subscribe to our show feed.
Our feed address: https://feeds.feedburner.com/frequencycast