Sport on TV - The Options Discussed
To watch Sky Sports, you no longer have to be a Sky Digital subscriber. In our August 2010 podcast, we looked at the options for getting your TV from other providers. Here's the transcript.
Listen to FrequencyCast Show 54 - Your Sports TV Options
Choosing your TV Sports Provider:
Here's a transcript of our podcast feature looking at Sky vs BT Vision vs Top Up TV for your Sky Sports coverage...
Carl:
So I'm glad we can focus in on something, because I'm a bit blurry eyed over one fundamental problem, and that is, should I go for Sky or BT Vision? I'm not too sure which is the better option at the moment?
Pete:
You're absolutely right. If you watch any telly at the moment, just about every ad break either has BT saying, sign up with them for sport, or Sky saying, we're the masters of sport. It gets a little confusing, and as we're only a few days away from the start of the new Premiere season, it's worth a look at what's going on in the world of sport on TV.
Carl:
But it does seem like a healthy competition between these two companies? It's not actually like they don't both have something great to offer, is it?
Pete:
Yeah, I think that's fair. BT's message is a fairly simple one, which is, you can get cheap Sky sports, and Sky are saying, we've got the better package, we've got the HD, we've got all the bells and whistles.
Carl:
Right - so what sort of sports are we talking about here?
Pete:
First off, when we saw BT last month going big with their campaign, we stuck up a little survey on our site to see what our listeners think about sport.

Carl:
OK, and what did they come back with?
Pete:
Well, 84% of respondents are into their sport, and watch sport on telly, which is quite a high number - more than I thought.
Carl:
Well, it is - I would have thought only about 75% for us, maybe 76 at a push?
Pete:
There you go. The big number is, 24% of those people get Sky for their sport.
Carl:
OK, and they're happy, are they?
Pete:
Seem to be so, yeah. Top Up TV gets 8%, Virgin gets 7%, and BT Vision currently only gets 6%. The surprise for us was Freeview - 41%.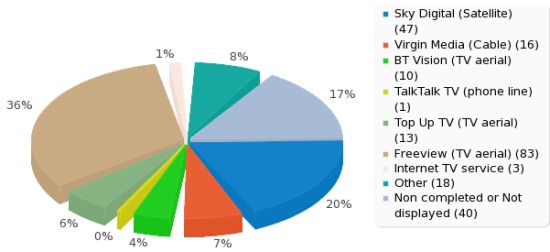 Carl:
Oh, so the competition's just between Sky and Freeview then, obviously. I thought BT was in the running?
Pete:
Well, you see, this is where I'm confused, because there isn't really any sport on Freeview. The only sport you've got is Sky Sports News, and what some of our listeners may not realise is that's going to be switched off soon.
Carl:
Really? - so they can't even get the football results? Is that the annoying channel, is it? "Don't tell me the result - no, you ... !!" - how annoying's that?
Pete:
Yeah, so Sky have decided they don't want to run Sky Sports News for free. So if you want Sky Sports News, you have to now pay. So that's going to vanish from Freeview fairly soon.
Carl:
Oh, well thanks for that - I won't be going with Freeview then. I also notice from your survey results that 66% aren't planning to switch providers this year. Why not? - I mean, go for BT, surely?
Pete:
Well, I think a lot of people are happy with what they've got. Of the 33% that did say they want to change, the majority said they're changing because they're paying too much. So people are, in these financial times, looking to save a little bit of cost, and considering the options, and of course with BT going big time on get cheap sport, people are seriously considering BT.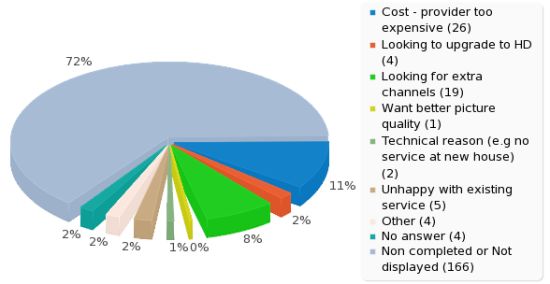 Carl:
Do I get the same sort of quality, though, with BT? Do I get all the same options as I would with Sky?
Pete:
Well, if I'm being honest, no. With Sky Sports, you do get more channels, and you get the option of HD. Before we dive into the comparison between the two, shall we look at the cost side of things?
Carl:
Yes, because it seems to me that BT is certainly my cheaper option, isn't it, at the moment?
Pete:
What's recently happened is, BT has just put these two Sky Sports channel placeholders up on Freeview. So Freeview channel 41 and channel 42 are already there ready for this to start in August. What BT are going to be offering is one of those sports channels for £6.99 a month.
Carl:
Right, OK, that sounds rather cheap.
Pete:
And they're also offering ESPN for free, if you sign up to one of their value packs.
Carl:
Right, so obviously Sky have come back with some special deal, I'm sure?
Pete:
Yeah, well what Sky's done is they've increased their prices by £3.
Carl:
So they've taken £3 off the price of their current package, yeah?
Pete:
No no - they've added £3.
Carl:
Sorry, that - competition's gone the wrong way, hasn't it? I thought they were supposed to try and compete?
Pete:
Yes, a very odd decision - pretty much the day BT announced their £6.99 for sport, Sky put their price up by £3 - very odd, but I'm sure there's method to their madness.
So let me talk about the comparison between the prices here. So if you were to go with BT, you get your TV, your broadband and your phone calls for £17.99 a month, and on top of that, for an extra £12, you can get Sky Sports 1 and Sky Sports 2, which effectively means you've got your phone calls, your TV and your broadband for under £30 a month.
Carl:
It sounds like a good deal, but how does that compare to Sky?
Pete:
OK, well Sky's basic package is £19 a month, and you can get free calls and free broadband. Then you add £20 a month for the sports.
Carl:
£39, right?
Pete:
If you want ESPN, that's another £9.
Carl:
£48.
Pete:
And if you want HD, that's an extra tenner a month.
Carl:
£58 - that's actually quite pricey now.
Pete:
Yeah, compared with £30 from BT. But, of course, the flip of that is, you don't get the same deal with BT as you get with Sky. So with Sky, you get Sky Sports 1, 2, 3, 4 and Sky Sports News, whereas on BT Vision all you get is Sky Sports 1 and Sky Sports 2.
Carl:
Not so good for quantity, and of course, that news channel.
Pete:
With Sky, you also get their interactive content, so you can do the whole red button stuff. You can also option to get the HD with Sky, so that's four HD channels of Sky Sport, as well as ESPN, who also broadcast on HD. None of that on BT, it's all standard definition on BT.
Carl:
So it's a nice little package really for the £58?
Pete:
And you get Sky Player, which is Sky on your PC. You can also get Sky on your mobile, and Sky are also playing around at the moment with 3D.
Carl:
I see - so overall, it's kind of a different product altogether, isn't it?
Pros: Widest choice, plus 5 HD channels

Cons: Costs up to £58 a month

Pros: Fastest Broadband Internet

Cons: Not UK-wide

Details

Pros: Cheapest with Broadband (from £6.99 a month)

Cons: No HD service

Details

Pros: Cheapest if no broadband required

Cons: No broadband or phone. Limited non-Sport content

Details
Pete:
It is. I think the key thing is, if you're serious about your sport, then you go with Sky, where you do get the HD, and watching sport in HD is a killer - it's very good. However, BT have come in and said, look, we're going to do this a lot cheaper. If you want cheaper sports, you're no longer tied to getting everything you want from Sky, and there is finally a viable alternative.
Carl:
Well, fair enough. How does this compare to the others, like Top Up TV and Virgin?
Pete:
BT's headline at the moment is, if you go with BT, you can save £211 a year compared with Sky, and you can save £346 compared with Virgin. Virgin do offer some good packages, but they're not as cheap as BT is kicking in at.
Carl:
But what about Top Up TV?
Pete:
Good question. They've finally announced their plans for covering Sky Sports 1 and Sky Sports 2, and they will be offering their service on Freeview, and they're claiming to be the cheapest supplier of Sky Sports 1 and Sky Sports 2 around.
Carl:
Wow, this is going to be cheap - how much?
Pete:
If you want Sky Sports 1 on its own, £22.99 a month.
Carl:
Hold on a minute - I've just entered a topsy-turvy world. I thought you just said BT was £6.99?
Pete:
That's correct, yeah.
Carl:
So how can that be cheaper? Is this a completely different world - have I missed something?
Pete:
I think it's confused a lot of people. The good thing about this particular package, although it does sound initially more expensive at £22.99 a month, you don't have to get your broadband or phone with them.
Carl:
Right, OK - so this is how it works out cheaper?
Pete:
Exactly. So you're not tied into a phone, a broadband contract, as you are with Sky, BT or Virgin. So it's just a pure, standalone service, and at that price that is the cheapest way of getting Sky Sports, as long as you don't need your phone or your broadband at the same time. So £22.99 a month for Sky 1, Sky 1 and 2 will be £31.99 a month, and the whole pack, Sky Sports 1, 2 and ESPN, £39.99 a month with no broadband and no phone.
Carl:
Right.
Pete:
Top Up does need a subscription card, and if you want instructions on how to do this, we've got a special page, frequencycast.co.uk/skysports.
Carl:
Hold on tight.
Pete:
Just one other thing I want to throw in - on our survey, and by the way, you can get the full results on the website, if you want to see all the little graphs, and all the answers that we had, I thought I'd just read out a couple of messages that we had from there.
Carl:
Okey dokey - should I start with the Sky Sports one at the top there? "Sky Sports shouldn't be removed from Freeview."
Pete:
Yeah, a lot of people said that one, absolutely right - can't disagree with that one.
Carl:
And, "Rupert Murdoch wants to create a monopoly. This will turn popular sports into minority ones by limiting the audience."
Pete:
The next one here says, "Access to sporting events on TV has never been more restrictive than it is now. If you're not prepared to pay large sums of money, there is little live sporting action to enjoy on terrestrial TV. The sooner Sky's stranglehold on sport is released, the better."
Carl:
And another one here that says, "I would like to see Virgin have their own sports channel, then they would not need Sky at all."
Pete:
And here it says, "HD is a must for football, so I'm staying with Sky, until BT make a move into HD at least. Sky is expensive, but don't forget the football is actually paid for by Sky." This is a fair point. He says here, "If Sky don't pay, Premiere League football could collapse."
Carl:
Yeah, it's sort of a bitter twist there, isn't there, to the tale?
Pete:
So it's going to be interesting. We'll keep the survey up. If you haven't put in your results yet, do come along, fill in the results, and we're only a few weeks away from the footie, so let's see what happens between Sky and BT as the war hots up.
Carl:
Thank you. See who scores the first goal, and who knows, I might get the results of that goal from one of these, which is what we saw at the Gadget Show Live, isn't it? A sexy little beast, I like this, but it's not a normal radio, is it? I mean, the last show we were radio hamming it up, and now this is the latest in technology for radios, isn't it, really?
Read the transcript of our View Quest WiFi 200 Internet Radio
Listen to FrequencyCast Show 54 - Your Sports TV Options
More information: