View Quest Internet Radio - Review
For Show 54 of our tech podcast, we looked at what we believe is the smallest Internet radio on the market, the handheld View Quest WiFi200. Here's a transcript of our review
Listen to FrequencyCast Show 54 - View Quest Radio review
Pocket Internet radio:
The View Quest WiFi 200 Internet radio, explored by Carl and Pete...
Carl:
... Follows on from review of Sport on TV
Thank you. See who scores the first goal, and who knows, I might get the results of that goal from one of these, which is what we saw at the Gadget Show Live, isn't it? A sexy little beast, I like this, but it's not a normal radio, is it? I mean, the last show we were radio hamming it up, and now this is the latest in technology for radios, isn't it, really?
Pete:
This is. This is a device called the View Quest, just out, and we believe this is the smallest internet radio in the world.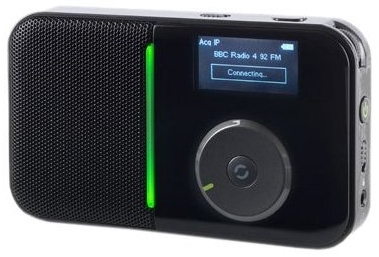 Carl:
And when we say small, it really is. Do you remember the very latest Panasonic Walkmans, in the days of the cassette? This is not much bigger than one of those, and in fact it's smaller in some dimensions, but it is so so handheld.
Pete:
It is a lovely little bit of kit. Let's fire this up, battery powered - I'm going to hold down the button on the side, which is the power light.
Carl:
Ooh - look at that! A nice flashing light comes on, it's a green flashing light.
Pete:
Which happens to go red when it's charging, which is quite nice. So green here means it's fully charged.
Carl:
Oh, it actually has a purpose then - it's not so you can see where it's going in the dark. And a very nice jogwheel function selector - very much like the iPod, and a little enter button in the centre there, as well as a power button, and it has a lovely screen. This whole thing's around - oh, I don't know, it must be about 15 cm by 1 cm or so, by about 5 cm, isn't it?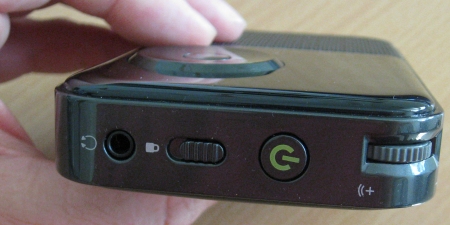 Pete:
Amazing little bit of kit that, isn't it? Right, now let me get this switched on. OK, so this is switched on. Now, we don't have Wi-Fi here in the studio, so I'm actually using one of my handy dandy little MiFi devices to get us an internet connection in here.
Carl:
Have we reviewed those before?
Pete:
The MiFi - yes, we have, go back and look at the topic section of our website, and you'll find it.
Carl:
So tell me about this beautiful piece of kit - what does it do?
Pete:
Right, we've switched it on, we're at the main menu. We're now going to scroll down to All Stations - press the button, it's already connected over Wi-Fi, and we've got here United Kingdom, Locations, Genres and New Stations. So let's hit United Kingdom. They've very cleverly categorised this down, so it's BBC and everybody else, so you've got BBC, Popular Stations, All Stations, and then the categories. So we've got Alternative, Ambient, Big Band, Blues, Celtic, Classic Rock and so on. We've got a good one here - Comedy. If you go into the Comedy category ...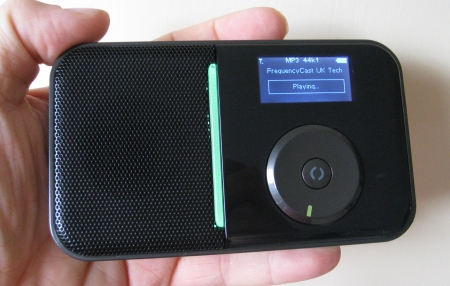 Carl:
Is that where we are?
Pete:
Ha ha - I wish. BBC Radio 7 and Goon Show Radio.
Carl:
The Goon Show - I say! - that's super! Have a gorilla!
Pete:
Thank you very much. So let's just pick a radio station here, let's dive into BBC. So if we click on BBC, pick Radio 4 for the sake of it, and it's got BBC Radio 4, or underneath that, Shows, and in Shows you can see various podcasts, which is quite nifty. Let's just go into BBC Radio 4, see if that works for us.
Radio:
"I imagined Ingrid having, all in white, at church with a choir ..."
Carl:
And it's a very nice sounding piece of equipment. I don't think this really conveys the quality as it is, but it is actually a very nice sounding mono device, isn't it? But is it not true that this outputs in stereo?
Pete:
It does. It's only got a mono speaker, but it does have a stereo 3.5 ml headphone output, which is nifty. This might be a better way of demonstrating the quality. I've just tuned it into one of my preset stations.
Radio (Pete):
"The dominant format, but patent encumbered ... I have a Sansa Clip, a common theme there, which is a great little player, and supports Ogg. We should cover the Ogg format in more detail."
Carl:
He sounds a little bit like you, doesn't he?
Pete:
Yes, so our FrequencyCast streaming radio station is available on here, so you can listen to 24 hours a day of us on this device, which is nice.
Radio:
"Yeah, and I met this dark piece of technology at the Dabs Live Show."
Carl:
So, before you run off with that lovely piece of kit, spec please?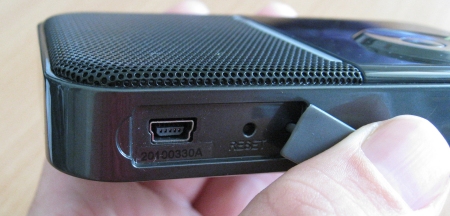 Pete:
Spec: 15 hours of battery life on a single charge, charged by USB. It's got a 3.5 ml headphone socket, volume control, lovely white on black screen. It gets over 12,000 radio stations, and it's using the vTuner database. It comes with this case.
Carl:
Wow, that's huge! Oh, that little one.
Pete:
Yeah, not my briefcase - this thing here.
Carl:
Very nice, it's kind of a suede look, isn't it?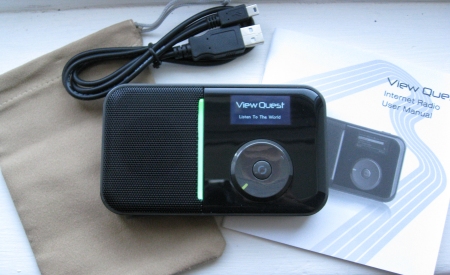 Pete:
1.8" display, 15 hours of built-in battery. It takes three to six hours to charge, 3.6 cm speaker, and it comes with a USB cable, case and manual. It can store three internet settings. I must admit, when you do set it up for the first time, you have to enter the security key, the WEP or the WPA key, and it is a little bit fiddly with this scroll wheel, but it's perfectly doable, and it can hold 12 of your favourite radio stations, or you can just scroll through these 12,000 or so stations.
Carl:
What if it hasn't got your favourite station on it, though?
Pete:
Very easy to add it - you go to their website, put in the Mac address of this device, and it will automatically add any new stations you add on the web to your device. I'm very impressed, and as I say, I reckon that's the smallest internet radio there is.
Carl:
It is - I like it. How much?
Pete:
Seventy of your pounds.
Carl:
£70? - good grief, I thought that was going to be about £130.
View Quest WiFi200 Availability

The View Quest Portable Wi-Fi radio is available from:
Pete:
Have a look on our website, a couple of pictures of us holding it, and links to the cheapest price we can find.
Carl:
Well, I'm really glad we've had a look at one of those, because we're all going to have to have one of those soon, aren't we? - because FM's going off, isn't it? Going oorf!
Read the transcript of our FM Switchover Feature
More information: