Toy Fair 2013: Apptoys Interview
FrequencyCast met up with Pip from Apptoyz at the Toy Fair 2013 to discuss their range of smartphone accessories that bring a new dimension to gaming fun. Here's a transcript of our interview:
FrequencyCast - London Toy Fair 2013 Special Report (12 mins)
Check out our video version on YouTube:
Apptoyz Interview:
Pete:
I'm just back from a rather interesting exhibition up in London, and here's our Sarah to tell us where we were.
Sarah:
We're at the Toy Fair 2013.
Pete:
Now, you might be forgiven for thinking that isn't the kind of show that we normally go to, but we've come along here to find out what's new in toy tech, and there's all sorts of exciting stuff here. We're actually up on a balcony at the moment, looking at all sorts of things. We can see Angry Birds, we can see Imagination; there's a massive Lego stand, and various characters wandering around - there's Tomy over there. There's a police box, all sorts of Dalek stuff going on here as well. There's Hornby, there's Leapfrog, and we're going to have a look round and see if we can find any unusual tech. Anything in particular you're looking forward to today, Sarah?
Sarah:
Well, I'm looking to see where tablet technology's going with regards to toys, and popping back to our friend Jumbo, to see what iPieces they've got.
Pete:
OK, well let's get going. OK, I'm at probably the most impressive stand here at Toy Fair London 2013, and I'm talking to Pip from AppToyz, who has - let me just describe what he's holding: he's holding a red rifle here, with an iPhone stuck into the actual gun itself. Pip, what are you doing?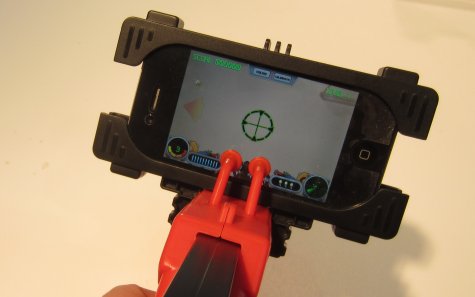 Virtual reality shooter accessory from Apptoyz
Pip:
So I'm playing a game here called Alien Attack. It's an augmented reality game - it's what all the kids are talking about these days. It's a first-person shooter, but it's using the camera on the iPhone to give us our placement, so it looks, to all intents and purposes, that aliens are in the room with us. We'll just eliminate a few of these guys here. It's difficult to talk and play at the same time.
Pete:
It is - I'm having to follow you around with a microphone, because you're actually turning 360 degrees yourself. So this is actually fairly clever tech - what you've got here is the plastic part of the gun is actually tapping on the screen, very gently, with little rubber feet.
Pip:
It's low-tech meets high-tech, very much so. We've called it trigger-to-touch technology, so literally, when I press the triggers, it's like a couple of fingers touching the screen. Sorry madam, there's some aliens behind you - excuse me!
Pete:
And looking at some of the other games you've got here, while you're still playing there, I'm going to get you to multi-task here. The one that reeled us in was a fishing game you've got, where you put the phone into a fishing rod, and you can do some fishing - that's a clever bit of tech. What other ones have you got here?
Pip:
So we've got a quiz that works with the iPad - it'll work on a phone too, it just looks a bit more impressive a pad. We've got a fishing game, where you're fishing on a virtual lake that appears on the device that you're using, and when you reel in the mechanism, it touches the screen, so it knows how fast you're reeling in ...
Pip:
I was really good at that, wasn't I? - as you saw.
Pip:
Yeah, it was everything you hope for.
Pete:
So Pip, if someone wants to get their hands on some of these very clever app toys, where would they go?
Pip:
You could jump onto our website, which is www.apptoyz.com.
Transcript Continues: Toy Fair 2013: Tosy DiscoRobo
Related Pages