Toy Fair 2013: VTech Interview
We caught up with one of the best-known names in toy technology at The Toy Fair 2013 to look at a toddler's iPad table, a smart camera, a brand-new kids tablet, and a missile-firing T-Rex
FrequencyCast - London Toy Fair 2013 Special Report (12 mins)
Check out our video version on YouTube:
vtech Interview:
Transcript continues from Toy Fair 2013: Tosi Disco Robo
Pete:
Toy Fair 2013, and I'm talking to Charlotte, who is product manager for V-Tech. Now, as all parents listening to the show will know, they are the company that supply all of those lovely little kiddie tech toys to keep kids amused, and we're looking at some stuff that is either on the market, or just about to come onto the market, and Charlotte, what are we looking at here?
Charlotte:
Yep, so we have an iDiscover App activity table, and it's basically for parents who don't want their kiddies' little grubby hands all over their iPhones or iPads. So it's a table that you slip in an iPad, or an iPhone, because it changes shape. It can sense exactly which angle your child's coming from, so if it's coming from the left, the iPad will change round to the left to face you. It has a driving game in there, it has musical numbers, it has lots of electronic lights and gizmos and gadgets, and I think it's a nice place for your child to play happily with your iPad without you worrying.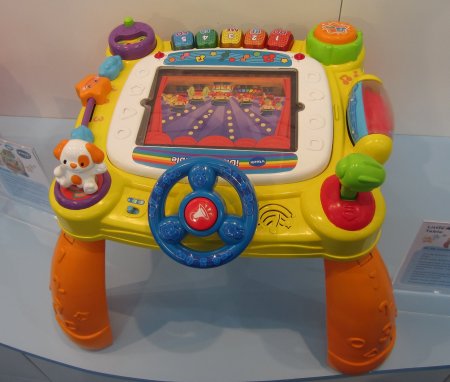 iDiscover App activity table from toy gurus VtechPic 1
Pete:
Now, we've moved over to cameras. As all parents no doubt are aware, kids do love playing with cameras, but when you've got a £400 camera, you don't really want your kids' grubby little mitts all over it. You have the solution here - what am I looking at here?
Charlotte:
Yep, so we're looking at the Kidizoom Twist Plus, which is an extension of the previous Kidizoom Twist cameras that we've had, which have been in the top ten products for the last five years running. We've extended it a little bit more in giving it a larger screen; giving it a little bit of a larger handle, so that your child can handle it with ease, and it's sort of not going to break, as you say about the £400 cameras. It also has a stop-frame animation, so if you can remember the morph videos back in the day, it means that your child can have the creativity to develop a new sort of video, and upload that to the internet, and share it with their friends and family, or your parents and things like that.
Pete:
And when's this going to hit the market over here in the UK?
Charlotte:
So that's going to be autumn/winter, so that's probably around about August time that that will come out. We've got some TV ads coming out, so keep an eye out for that.
Pete:
And just moving over here, we've got another rather fascinating-looking product. This looks a little bit smaller than an iPad, but bigger than an iPhone, and it's obviously a very kid-friendly tablet. What am I looking at here, Charlotte?
Charlotte:
So you're looking at the Innotab 2 for babies. We've obviously launched the Innotab, which had major success in the last couple of years, and now we felt that we were missing a market, so for twelve months plus, we've developed an Innotab especially for babies. It has a protective case, so you never have to worry about leaving your child unattended, because the batteries will not get out. It also has pre-loaded ebooks and videos and games and music, to help soothe your child, but also help educate them with shapes, colours - different things like that.
Pete:
Do you find that you are restricted to kids using it for just a couple of years, and then outgrowing it?
Charlotte:
No, especially not with the Innotab Baby. Although it does say Innotab Baby in the name, it's a product that your child won't outgrow. It's a product that will grow with your child, because you have the security in knowing that they don't have access to the internet, so they can't be looking up random things, but you also have access to the LLN, which is our Learning Lodge Navigator, which means that you can constantly download videos, ebooks, music and games that's relevant to your child's age. You can constantly update with current music, the top ten hits that are on there; plug in your headphones, you've got your music sorted; games that are relevant to that age, things that can help them with their development at whatever stage in their life.
Pete:
Now, this is the big kids' toy though - this is the one I want. I'm looking at a T-Rex - is that right?
Charlotte:
Yes, so normally with our Switch & Go Dinos' range, we have small dinosaurs that change and evolve into different cars, and we've actually expanded it to do our biggest one and most exciting one yet, our T-Rex.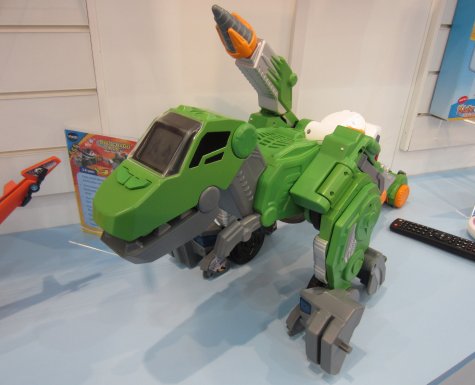 The missile-firing, growling Mega T-Rex, also from Vtech
T-Rex:
The name T-Rex means "king of the tyrant lizards".
Charlotte:
It has voice recognition, so you say "T-Rex", and it'll roar; "T-Rex, move forward", it'll automatically do that; "T-Rex, move back", it'll do that, so you don't even need to stand near it. You say "T-Rex, fire" - and it'll launch its missile, not too far, but far enough.
T-Rex:
No-one can roar louder than me!!
Pete:
Charlotte, thank you very much for your time - good to see what V-Tech's bringing out. If someone does want to find out more information about these products, how would they go about that?
Charlotte:
Just head over to www.vtechuk.com, and you can also find us on Facebook, VTechToysUK, or you can go to any of our stockists, and they should be able to advise you.
Transcript Continues: Toy Fair 2013: RoboFish
Related Pages