Voiceworks V1 Bluetooth Hands-free Kit
We look at an in-car product that helps to keep you driving safely whilst still being able to keep in touch - Details of the Voiceworks voice recognition gadget.
Hands-free in-car messaging:
At the 2012 Gadget Show Live in Birmingham, we caught up with Craig Johnson from Voiceworks about their new Voiceworks V1 Product.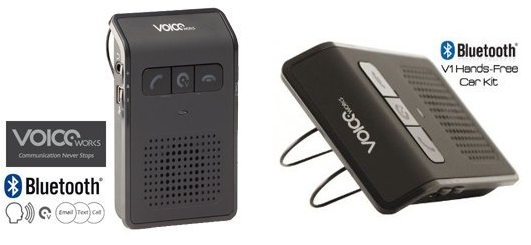 What is the Voiceworks?
Here's what this does:
Send text and email by voice
Listen and reply to emails and texts whilst driving
Plays music streamed from your mobile
The unit clips onto your sunvisor, and pairs to your mobile phone using Bluetooth
Voiceworks V1 Demonstration
Craig very kindly gave us a demonstration of how the Voiceworks V1 works. We tried this in a very noisy conference hall in Birmingham, and we're happy to report that the email dictated at the show actually made it through to us. Have a listen to the interview and demo to find out how well the product works...
FrequencyCast Interviews Craig Johnson about the Voiceworks V1
The product is designed to make sending and receiving texts and emails hands-free as easy as possible. As Craig says.
"We're not looking to encourage people to use their phone in the car, but it's a fact of life that people do use their phone in a car. Even worse they text and email on smartphones now. There have been recent reports that have shown that this is far worse than talking on your phone.

The Voiceworks uses modern technology to try to provide a safer way to send texts and emails by voice, and listen to them, because people are going to do this while they're driving"
The V1 from Voiceworks combines voice recognition technology with text and email functionality for in-car use. It's a voice-controlled hands-free solution allowing you to communicate effortlessly and safely while driving.
In order to listen to messages, you'll need to download special Voiceworks software to your handset - you'll need an Android, Blackberry or Symbian-powered phone. Text messages are then read out you as they arrive, and this device also allows you to answer or reject an incoming call by voice.
Note that Voiceworks comes with a 12 month subscription. After 12 months, you'll need to pay £2.99 a month to continue to use the service.
Voiceworks V1 UK Availability:
The Voiceworks V1 Bluetooth in-car kit is available from Amazon
Related Links: