Wi-Fi - Focus on Wireless Networking
In our June 2009 show, Show 40, we updated our listeners on what's new with wi-fi, and offered some help on how to solve wi-fi problems.
On this page, you'll find a link to the show and a full transcript.
Listen to FrequencyCast Show 40 - wi-fi Issues Explored
Transcript of FrequencyCast's 2009 wi-fi Focus:
Carl:
Come on then, let's focus!
Pete:
OK, today we are talking Wi-Fi.
Carl:
Wi-Fi - that's a bit antiquated, isn't it? Didn't it die a death against Bluetooth?
Pete:
No, other way round - Bluetooth is still around, Bluetooth's short range, computers to mobiles, that kind of thing; Wi-Fi is pretty much your home internet, so everything connects over your Wi-Fi network to broadband. We actually covered Wi-Fi back in show number 5, dusty old show number 5 - you remember that one?
Carl:
Yeah, I do believe it's up here on the top shelf ... hang on.
Pete:
The reason we're revisiting it is there's just been a report commissioned by Ofcom that talks about the future of Wi-Fi, and some of the problems that Wi-Fi is having, so we thought we'll cover that report, but first we'll just go over the basics of Wi-Fi, for anyone that can't remember listening to show number 5.
Carl:
OK, so there was a new development, wasn't there, or something? - what was this about the, what's this one over here? The ... oh, 802.11n, isn't it?
Pete:
That's the one, with ... what's that word afterwards?
Carl:
Oh, the MIMO? - yeah, that's how I like to call it.
Pete:
So what Carl's actually looking at is the cardboard box that came with the router that we're using here in the studio, which is 802.11n, so there are three different types of standards for Wi-Fi: there's 802.11b, which is basically the first one; 802.11g, which got a lot faster, up to 54 MB per second versus the old 11 MB per second; now we have 802.11n. Now, I actually listened back to show 5 on the way into the studio tonight, and we said in show number 5 that 802.11n would be coming by the end of 2007.
Carl:
Did it get there?
Pete:
No.
Carl:
It's 2009 - not very fast connection.
Pete:
Well, work on 802.11n actually started in 2004, and we're not there yet - the current estimate is 2010.
Carl:
Wonderful.
Pete:
So yes, six years to get a standard. At the moment, we're at draft 0.9, now a lot of manufacturers have decided not to wait around for this thing to finally get ratified, so there's a lot of version n bits of kit out there, but they're not actually using the final v1.0 of the specification, so there is vaguely a chance that some of these things could change, but it's pretty much assumed that they won't. So 802.11n is the new standard, it uses "meemo" (MIMO), I think is actually the correct way of pronouncing it, not your ...
Carl:
"Mimmo".
Pete:
Mimmo.
Carl:
Oh, so they've found him then?
Pete: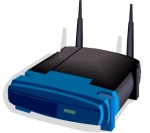 And that stands for Multiple Inputs and Multiple Outputs, and it basically uses different aerials, multiple aerials, to get better performance and better speed and better quality, that kind of thing.
Carl:
You really are quite boring, aren't you? All these numbers and everything, it's like ... try and make in interesting, can you?
Pete:
Oh wait - I'm going to talk about WEP in a minute, that'll really send you to sleep. So yes, the latest standard, it's potentially got up to 600 MB per second, but in reality it's probably only going to be at 130, 140 MB per second really.
Carl:
Yeah, and I'm quite fussy about that sort of detail. What the hell are you talking about? - do you think anyone cares? Say something interesting - go on, anything!
Pete:
All right, OK, it's a lot faster than the old one with the g at the end, if it's got an n at the end.
Carl:
All right, that helps me now.
Pete:
Excellent, there you go. So do you want to hear about security now?
Carl:
Yes please, I'd love to hear about security, what have you got to tell me about security today?
Pete:
So in show 5 we were suggesting that everyone rushed out and made sure that their wireless routers were WEP enabled, W.E.P.
Carl:
You're just taking the mickey now, aren't you?
Pete:
But now it's all about WPA, so if your router isn't WPA encrypted, make sure it is. WPA is the new security standard over WEP, it's been around for a little while, but do go for WPA, or even better, WPA/2PSK, of course.
Carl:
Of course, naturally!
Pete:
There you go, so WPA is the thing that's going to stop hackers getting into your wireless network and doing dodgy things with your wireless networks. There you go, that's the basics.
Carl:
Good. If I ever go Wi-Fi, should that happen, because you've interested me in it so much, with all those details, of course I recognise a good spec when I see one - what would you recommend?
Pete: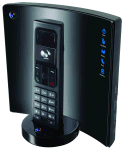 Well, without sounding like an ad for our lovely friends at BT, the BT Home Hub v2.0 is probably the best wireless router that you can actually get for free at the moment. Most of the other broadband providers aren't offering anything quite as sophisticated as the 802.11n version of the Home Hub, so it does have about twice the range of most of the other routers that broadband providers are offering, so that's actually not a bad one. BT also offer this thing called BT FON - do you remember that?
Carl:
Yep - and you're not going to explain it though, are you?
Pete:
No, it was ...
Carl:
Thanks.
Pete:
So BT FON, basically you can set your router to partition off a little bit of your bandwidth so that other people in your area can actually nick and piggy-back onto your broadband connection, so it's offering other people the ability to nick some of your broadband in return for being able to nick their broadband, if you happen to have a neighbour, or you're travelling somewhere, and they have a router. So it's basically a community for sharing out your broadband bandwidth.
Carl:
That's very nice of you. Now, we had a couple of questions in about Wi-Fi recently, one was asking for some tips on improving the range - what was your suggestion there?
Pete:
Well, Wi-Fi does have a bit of a limited range, and things like doors and radiators and walls and all those other things that stop the ceiling falling down in our house, that can actually reduce the range of the signal, so one of the things you can do is actually stick your broadband router in the middle of the house, somewhere where it's got a decent chance of covering the whole house.
Carl:
Or knock down any non-supporting walls, and make it an open plan house, I suppose?
Pete:
Yeah, that would basically do it. You can also buy repeaters.
Carl:
I'm guessing they're the opposite of Rennies?
Pete:
So that you can bounce your signal to other repeater stations round the house.
Carl:
Sorry, what was that?
Pete:
Repeaters, or you can use one of these.
Carl:
Now, that's fantastic! It looks like something out of a craft shop. Is it a Viking ship? - oh, no no, it's a see-saw for your hamster. No, erm ...
Pete:
OK, what does it say there?
Carl:
Flattena ... flat attena ... Flatima Whitbread?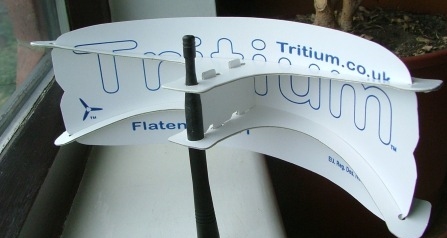 The Flatenna from Tritium
Pete:
All right, all right, OK, so this is a Flatenna, and it's basically a piece of cardboard that has some reflective metal on it, very scientifically done. Basically what you do, you see, it's got two little holes there - you poke this over the aerial sticking up out of the back of your broadband router, it doesn't work with a Home Hub that doesn't actually have a little poky aerial, but most of them that do have a little stubby aerial, this sits on the back, and it's basically, it reflects the signals in a particular direction, so if you actually want to get a bit of range out of your router, so you've got your router in one half of the house, and you want it to reach the other half, this really focuses the signal and bounces it in the direction that you need.
Carl:
What makes you think you're right?
Pete:
They are actually quite efficient, and there's a website from the manufacturers of this, Tritium.co.uk, which gives you all the sort of radial patterns of how it works, and everything else, and actually they're not a bad price for what they are - £7 could just be the difference in getting a decent signal bounced round your house. There you go, so that is the Flatenna from Tritium.
Carl:
I'm actually quite impressed with this.
Pete:
Anyway, links to some ways to improve your Wi-Fi will be on our show notes.
Carl:
Cool, cool, marvellous, excellent, fantastic ... I'm trying to think of more positive words, can't. So, what's this report all about?
Pete:
OK, so in April this report was published, it was put together by Mass Consultants for the regulator Ofcom, and the brief was to investigate why Wi-Fi performance is so bad, particularly in urban areas. Now, the myth has always been that there's just basically a lot of clutter and congestion where you're in a built-up area and there's lots of houses and buildings all using the same Wi-Fi frequencies clogging up the network, that's been the assumption, but this report actually proves that it isn't congestion, it's something far worse.
Carl:
Worse than congestion? - what could it possibly be? This sounds like an episode of Star Trek.
Pete:
There's Klingons on your starboard bow. So what's actually worse than congestion is interference, and it's much worse in cities. So they did some tests in central London, at Liverpool Street Station at one extreme, and out in the sticks in St Neots, which is in Cambridgeshire, and basically they looked at the bandwidth of a Wi-Fi signal, and they worked out that only 10% is actually being used with real user data, the other 90% is all sorts of clutter and "bish", as you'd say?
Carl:
Bish?? So you haven't actually told me what's interfering with it - you did say once it was microwave ovens? - is that still the case?
Pete:
Well, yeah - Wi-Fi and microwave ovens all operate on 2.4 GHz.
Carl:
There's another number there, isn't it? - are you trying to bore me?
Pete:
But it's not really microwaves that are the problem, the big problem is actually those baby monitors that parents have to check their kids are still alive, and AV senders.
Carl:
Rascally things! So what do you suggest we do? - turn off the babies?
Pete: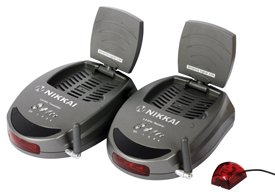 Do you know what an AV sender is?
Carl:
Yes, audio visual sender.
Pete:
Exactly, so that's the people that have got their set top boxes in one room, a telly in the other, and they don't want to run a little bit of aerial wire up, they buy these AV senders, but they take up so much bandwidth, because they've got telly being re-broadcast, that they actually trash out your Wi-Fi. So this report states, "AV senders cause serious disruption to Wi-Fi services and such devices can easily deprive neighbours of a Wi-Fi channel".
Carl:
Mmm.
Pete:
Some of the other culprits - cordless phones, garage door openers, home automation services, wireless webcams, and wireless games controllers - pretty much all of the things we've reviewed in the past in FrequencyCast.
Carl:
So what you're saying is, get back to the cables?
Pete:
So it's important to note that Wi-Fi has 13 channels available, numbered from one to 13. The most commonly used are one, six and 11, so if you're having performance problems with Wi-Fi, check your router and see if you're on one, six or 11, because chances are, your next door neighbours are as well, and that's causing some congestion and interference and everything else.
Carl:
So are there any other improvements you want to mention?
Pete:
The only other big one is, if you've got a weak signal, is considering going 802.11n, which of course doubles your range and gives you a bit more speed. You do need to have a wireless thingy on the other end as well.
Carl:
As he reaches for his wireless thingy.
Pete:
There you go sir, out of my pocket I've brought a 802.11n USB dongle, so it's no good having a version n router if you've only got a version g receiver on your PC.
Carl:
Good, OK. So, any alternatives to Wi-Fi?
Pete:

One thing to consider is our good old friend, the HomePlug, also known as the Powerline adapter. These stick into the mains sockets, and actually use your house's mains wiring to send computer data round, they've got a little Ethernet port on. We covered them back in show 2, that's even more dusty.
Links: You can get HomePlugs from Maplin, Dabs.com and the BT Shop.
Carl:
I remember them. Hold on a minute though - wasn't there a problem with HomePlugs?
Pete:
Well, there is a little one - it's killing short wave radio and annoying all the radio hams out there, so you can't really win, can you?
Carl:
No, but I don't suppose there are many radio hams out there any more, what with swine flu.
Pete:
OK, so impressed so far?
Carl:
I'm totally wised up with Wi-Fi now. Look at that! - that's the face of stimulation.
Listen to FrequencyCast Show 40 - wi-fi Issues Explored
More information:
Handy Links: