Wireless Home Security Camera and Monitor Reviewed
With the help of our friendly door and security expert, we get hands-on with a wireless home security camera and monitor, and see how it can keep your home more secure.
Listen to FrequencyCast Show 80 - Portable Power Challenge
Hands-on with the Sentient Home Security System:
We look at the Sentient Digital Wireless Camera & Touch Screen Network DVR:
Pete:
To recover, let's do something manly, and talk about home security tech. We're going back to our field now, where we met up with Tom. If you remember, Tom helped us out in the last show by reviewing the Yale electronic door lock for us, and at the time Tom made the rather foolish mistake of telling us that he was an access control expert, and could help us out with all aspects of home security.
Tom:
Yes, I should have kept quiet, shouldn't I?
Pete:
You should have done, because we've got some tech for you to look at, and Kelly, I'm going to turn to you, just for a second. Sitting here in our lovely field, what have you just done? - refresh my memory.
Kelly:
I have just connected everything up without a mains plug, and without internet.
Pete:
OK, so what we've got here, Tom, here is a monitor - this is a lovely little monitor. You can hold that for me, if you like. It hasn't got a lot of lead on it at the moment, but there we are. So this is running of mains, using an inverter, which is just a way of trying this thing out in a field. What the monitor is, is a seven inch monitor. It's touchscreen, and it has a built-in battery, so you can walk around the garden with it, all mains-supplied, and it will actually support four cameras. So you can see, there's a bit of a blurry image on the left here. This is the wireless camera unit - if I point that at you, or at Kelly, because she's far prettier than you are, if I may say so, Tom.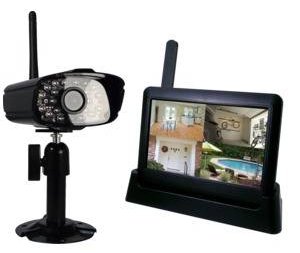 Digital Wireless CCTV system, with camera and screen, from Maplin
Tom:
Thank you very much!
Pete:
You can see a picture. If you just tap on that picture for me ...
Tom:
Ah - it goes full screen.
Pete:
It does. So, this is a home security product. It's designed for people to install it themselves, stick it above the door of their house. It has a range of eight metres at night, because it's using these lovely, if you look in there, it's got 20 LEDs for your night-time illumination. The idea is, you point it down your drive or at your front door - if someone walks up, this little TV unit, wherever you have it, will ping into life, and show you who's walking up your drive before they ring the bell. So if it's somebody trying to flog you gas or electric, you can pretend to be out.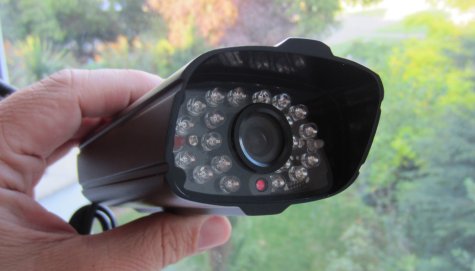 Tom:
Yeah, that seems quite a good little system. I've had dealings with wireless before. They do get interference, but I've only used them in industrial, where there's a lot of electricity and interference. For home use, I think this would be quite a nice little unit.
Pete:
Some of the other specs: it does have an internet connection. We're actually using a WiFi connection through a MiFi unit to get onto the internet, but you can get a smartphone app for it, so it works on iPhone, iPad, as well as Android smartphones, but sorry, Kelly - it doesn't apparently work on the BlackBerry.
Kelly:
Oh, well absolutely pointless then - I won't get one for my house.
Pete:
And it has a wireless range of up to 150 metres, although it does say in brackets, unobstructed, so if you start adding a bit of concrete and a few walls, it's not going to be so good.
Tom:
Yeah, that's what I was saying about industrial, and residential. With industrial, there's a lot in the way normally. Residential, you're going to have it close to you, and there's only normally say one, two walls between it. So yeah, for the home use, I think it's spot on.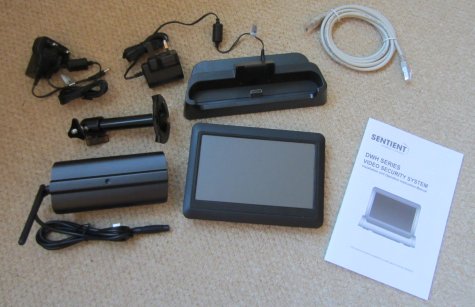 Pete:
It also has a little SD card socket on the side there, so it can record video while you're out, so you can see who's been up to your front door, all this for the bargain price of £160. What do you think?
Tom:
I think it's good value, for home use, and plus you can add more cameras - that's not bad. How much are the cameras, do you know?
Pete:
Not too much actually - they're quite reasonable.
Tom:
Well then yeah - for home use, spot on. It'd be no good for an industrial position, but for home use, yeah, definitely.
Pete:
And coupled with the door lock last month, we've got a nice, secured home.
Tom:
We have, yeah - that'd be the way to go.
Pete:
Excellent. Kelly, are you impressed?
Kelly:
No, it doesn't come on BlackBerry - I'm not impressed at all!
Pete:
If it did, would you use one?
Kelly:
If it did, personally no - I don't think it would work where I live, but I think it's a lovely little kit.
Pete:
So why wouldn't it work where you live? - you live in some kind of factory or something, and the electrical equipment would interfere?
Kelly:
No, I live above a shop, and unfortunately a restaurant backs onto us, so we have a lot of people outside shifting boxes, having cigarettes, whatever they want to do in their spare time, and it would constantly interfere with whatever I was trying to watch on TV.
Pete:
Kelly, thank you very much.
Kelly:
Thank you.
Pete:
Tom, thank you very much.
Tom:
Thank you.
Pete:
No doubt we'll be back next month, getting you to review something else. Any thoughts?
Tom:
No, I don't know - you surprise me every time, mate. I never know what I'm going to talk about.
The Sentient Digital Wireless CCTV system, with camera and screen is available from Maplin
Transcript continues: Show 80 Transcript Part 4
Related Links: