WOWee One- Pocket Speakers Explored
The WOWee One range of speakers are packed with gel, and pack a punch. We got to grips with these powerful portable speakers, and interviewed the WOWee team.
Listen to FrequencyCast Show 77 - Raspberry Pi, Echobox, iOS6 and WOWee
Hands on with WOWee One:
A transcript of our interview recorded at Gadget Show Live 2012, where we looked the impressive WOWee One range:
Continued from Apple iOS6 Announcement Transcript
Pete:
Right, time to talk portable audio now - Carl has been out and about for us, and he caught up with Andy to tell us about his rather impressive produce, the WOWee speaker, which is about the size of a mobile phone.
Andy:
Whereas a normal speaker resonates in here, there's a cone, this sits in gel, and because it sits in gel, it uses half the amount of energy, so that's why we get 20 hours' playtime out of a half-hour charge.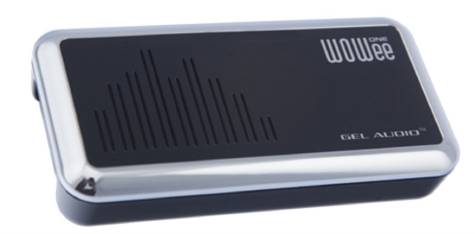 The WOWee One Classic - available at Amazon.
Carl:
Fantastic - the technology sounds brilliant. What's the output of this thing?
Andy:
There's a 20 watt driver inside there.
Carl:
OK, let's have a quick listen to this.
Andy:
As you see, just holding it up - it sounds like a normal speaker, but then when you put it onto a surface, a work surface, well we've got a display unit here which is made out of cardboard, so a cardboard box - you get a completely different sound.
Carl:
Yeah, but you can definitely hear the transfer of energy through the gel base. So, tell me more about this product - this is your latest product, is it not? - the WOWee One.
Andy:
This was the Slim, and as you can see, the reason it's called Slim is it's no thicker than probably half an inch thick, so it's very pocketable. It doesn't look like a speaker, and that's half the issue we have, or half the challenge we have, is educating the masses to say, because speakers are usually big, bold and round or square, these are flat and thin and easily pocketable, and that's the idea of the product.
Carl:
What's this next one we've got? - the WOWee One Pro - is that right?
Andy:
This is our Bluetooth, which has been released now.
Carl:
What we've got is more or less the same sort of size as the WOWee One, it's a little bit thicker, and it's got a little, sexy curve to it, I notice, as well.
Andy:
And a nice characteristic feature to this - it has 12 hours' play time, if you don't use the Bluetooth; that's reduced if you're using Bluetooth all the time, because it uses a bit of power, to about ten hours, still with a half-hour charge. But one of the other features of this, there's a built-in microphone, because they can be used as a hands-free, for in car, and also it has number recognition, so what it will do is, if you have an incoming call, it'll stop the music, it'll tell you you've got an incoming call, read the number out - you can either answer it or forget it. When you've finished the call, it'll go back to what it was doing before.
Carl:
And these things just slip in your pocket like extra mobile phones.
Andy:
Very easy to carry around - that's one of the things, that all the products that are coming out of WOWee are all pocketable. The next generation is a laser projector, the same size as an iPhone. The whole philosophy of WOWee is to bring small, portable, compact technical products to the consumer, at a very cheap price.
The WOWee speaker range is available online from Amazon.
Listen to FrequencyCast Show 77 - Raspberry Pi, Echobox, iOS6 and WOWee
Related Links: