YouView Digital TV Review
FrequencyCast takes a look at the digital TV service YouView, gets hands-on with the box, and interviews one of YouView's partners
More about YouView:
Here's who YouView's aimed at:

Those not interested in paying Sky or Virgin a large monthly subscription
Those wanting more than just the basic Freeview channels
Those who occasionally don't mind watching blockbuster movies for a small additional fee
The service combines Freeview with extra TV and films delivered to your telly over the Internet. The YouView box connects to the Internet and records hundreds of hours of digital TV.

As well as the Freeview channels, you get catch-up TV from the BBC, ITV, Channel 4 and Channel 5, blockbuster movies from Sky, access to hundreds of movies, and if you go with TalkTalk, access to Sky Sports channels without the need for a satellite dish.
Here's how to get YouView
Get a free YouView box when you get your broadband from either BT Broadband or TalkTalk
or
If you're interested in finding out more, have a listen to our feature on YouView, where we interview BT to find out more about BT's YouView offering, and why YouView could be the right option for you.
Listen to our feature from FrequencyCast Show 81 - YouView from BT Explored
YouView Programme Guide
One of the key selling points of YouView is the easy-to-use programme guide. It offers something called Scrollback, which lets you watch TV shows from the BBC, ITV, Channel 4 and Channel 5, just by scrolling backwards in the programme guide - no more messing about with the BBC or ITV Players to get to catch-up TV: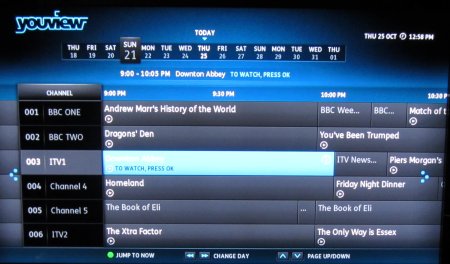 On Demand Content
The interface lets you get to the online content in a number of different ways - including the Players screen - Here you see a screenshot of the Players, including the BT Vision player, as well as Sky's Now TV movies service.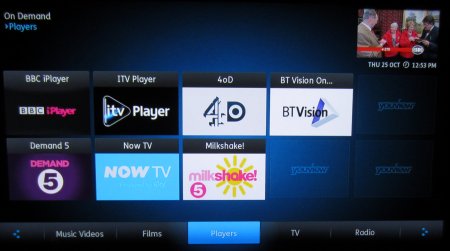 If you opt to go with BT, you get full access to the BT Vision library - hundreds of hours of movies, TV shows, box sets, kids shows and music videos - something familiar to existing customers of BT's first TV service, BT Vision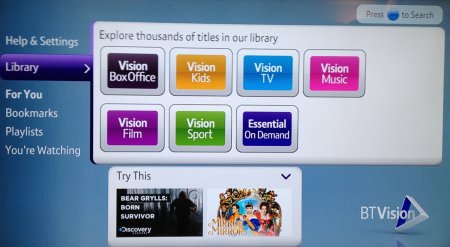 Overall, the FrequencyCast team has been impressed with what YouView has to offer, but for us, it's the potential - more players (such as Lovefilm or Netflix) will no doubt be along soon, and although other services offer catch-up TV content, this brings it all together in one place, without the need for a hefty TV subscription.
More information: