BT Vision Explored by FrequencyCast
BT Vision is a digital TV service that combines Freeview, a digital video recorder, and TV content delivered over broadband Internet.
At FrequencyCast HQ, we like BT Vision, as it offers a wider range of TV content, without tying you into an expensive contract.
Listen to FrequencyCast's BT Vision Audio Review (from Show 53). Take a listen!
What is BT Vision?
BT Vision offers digital TV, a high-spec TV recorder and thousands of TV shows and movies on-demand.
BT Vision is a home TV service that combines free TV from Freeview, a PVR (disc recorder) and on-demand content.
BT Vision is available to BT Total Broadband customers, and uses Broadband to stream TV shows, movies and sport.


The BT Vision V+ box from BT

Latest BT Offer: Get cheaper Sky Sports with BT Vision
When you order BT Vision, you'll be sent a set-top box, called a BT Vision+ Box. The box is connects to your broadband service, and offers the following:
Access to over 40 Freeview TV and 20 radio channels on your TV (you need to connect to a TV aerial, and be in a Freeview coverage area).
Record the Freeview channels (on the built-in hard disk, which holds up to 80 hours of telly).
Pause and rewind live TV
Record one digital TV channel whilst watching another
An onscreen electronic programme guide, with up to 14 days of TV listings and series link.
The biggie... video-on-demand. This is TV content that you can watch over a BT Broadband connection, and with BT Vision includes movies, a back-catalogue of TV shows, kids programmes and sporting events. You can also get on-demand access to special programming and a number of recent TV shows that you may have missed from BBC, ITV, Channel 4 and Channel 5.
What's on BT Vision?
With BT Vision, you'll be able to watch, record and schedule TV for channels such as E4, BBC3, ITV2, Dave, More4, Quest, Sky 3, Film4 and all the other Freeview channels.
Sporting content is offered by ESPN (free with the BT Vision Unlimited Pack), and Sky Sports 1 and 2
You're also able to watch over 7,000 TV shows and movies on-demand whenever you want from BT Vision's library, and BT Vision gives you access to TV catchup services from BBC, ITV, Channel 4 and Channel 5.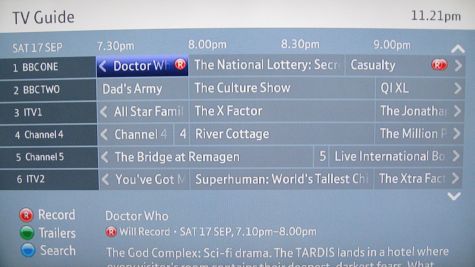 The BT Vision Electronic Programme Guide
How do I get BT Vision?
BT Vision's been around since December 2006, and is growing in popularity. From mid-2011, the service has over 600,000 subscribers
With BT Vision you have the option to sign up to a subscription service, to get access to as much on-demand content as you can watch, or you can go subscription-free and you pay for the content that you watch. Details at get.btvision.bt.com
You install BT Vision yourself - no need for an engineer to call. The kit comes with 2 Homeplug / Powerline adapters, so you don't have to run cables if your Home Hub and BT Vision box are in different rooms.
What do I need?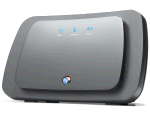 As we mentioned above, to get BT Vision, you have to be a current BT Total Broadband subscriber, and get speeds of at least 2Mbps on your Broadband connection. You'll also need one of those shiny BT Home Hubs too (currently free with most of BT's broadband packages).
The Home Hub is an Internet router that you'll need to connect to your BT Vision box. The Hub connects your broadband-enabled phone line, and also handles PC, PDA and VoIP connections to the Internet.
If you need a BT Home Hub, go for BT's Option 2 or Option 3 broadband packages - details at www.bt.com/btbroadband.
If you already have Broadband with a different provider, you'll need to switch to BT Total Broadband, as BT Vision's service is only available to those on BT's Total Broadband.
Installation is a "do it yourself" affair (no engineer needs to call). BT courier the box and you connect it to your BT Home Hub and TV set.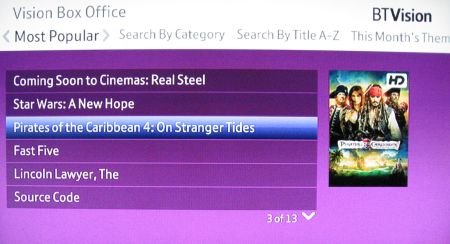 Movies on Demand from BT Vision Box Office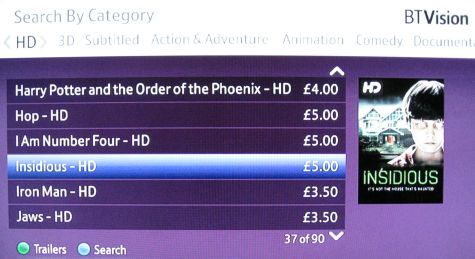 Movies On Demand, from BT Vision
The BT Vision+ Box
The BT Vision box is available to BT Total Broadband customers. The box has a 160gig hard disc for recording up to 80 hours of telly.
The box has a high-definition socket, a 14 day programme guide, supports Series Link, allows Live Pause, and provides access to loads of TV shows, sporting events and movies.


The rear of the BT Vision box - Note the two USB ports, HDMI (hi-def) socket, and the LAN socket

BT Vision FAQ
Can I get BT Vision

To get BT Vision, you need the following:

To be in a Freeview coverage area - Freeview coverage help
To be a BT Broadband customer - Sign up or Switch
To have a broadband line speed of over 2Mbps - Check your line speed


If you're not able to get BT Vision where you live, see our Digital TV options page for some alternatives.



What channels?

One of our top questions is: "what channels do I get on BT Vision?"

BT Vision is essentially a Freeview receiver with a hard-disk, and the ability to get extra TV shows and movies over Broadband.

Live programming: Delivered via a TV aerial. The default channels available over-the-air, are therefore the same as the Freeview lineup - around 40 TV channels including BBC3, ITV3, Film 4, More 4, Pick TV, Yesterday, 5*, 5 USA, BBC News, Sky News, CBBC, Cbeebies and Quest. See the Freeview Channel List.

Internet content: Over Broadband. The on-demand content available for download is listed in categories: TV shows, movies, kids and music. There are no downloadable TV channels as such, or live programming that can be watched online. Instead, you use the on-screen programme guide to browse through lists of programmes, or search for programmes or films to watch over your Broadband connection. To get a feel for the type of content available for download, listen to show 12.

Sport: Live football from Sky Sports and ESPN, as well as on-demand sporting content . Also, Coca-Cola Football League and Carling Cup matches and live US PGA Tour golf.

On-demand TV content is available from a number of TV channels. A selection of TV programming is available for download from the following channels:

BBC Hits, Channel 4, ITV, Five, Comedy Central (Paramount Comedy), HBO, MTV, Warner TV, National Geographic, Discovery on Demand and The History Channel.

High Definition?

We've been asked if the BT Vision service will work with a high definition TV. The answer is yes... sort of.

The BT Vision box is "HD ready", so will support connection to an HD TV. The box has an HDMI socket for connection to an HD TV.

Freeview started broadcasting HD programming in December 2009, but Freeview HD uses DVB-T2 technology, which is not included in the BT Vision V+ box. This means the current box won't be able to show the new Freeview HD content. There are rumours of a third generation V+ box coming to BT Vision, but we can't confirm this.

Although Freeview HD programming is not supported by BT Vision at this time, the current BT Vision V+ boxes do support a small amount of "on demand" HD though. A number of HD movies and TV series are available on the BT Vision box for download over Broadband for playback on an HD TV.

If you're looking for high-definition cables and adapters, such as HDMI leads, or HDMI to DVI cables, we recommend either TV Cables or Maplin Electronics

BT Vision box
Some specifics on the BT Vision+ box:

It has a 160gig hard disk
It supports HDTV (up to 1080i resolution, via HDMI socket)
It has a dual-tuner, so it's possible to record one digital TV channel whilst watching another digital TV channels. Two can also pause live TV whilst recording another channel.

The first generation grey BT Vision box is made by Philips, as is known as the Philips DIT9719 Hybrid IP Freeview Receiver and Recorder. A non-BT branded version was briefly on sale from retailer AdvancedMP3players in Feb 2007, but we've subsequently been told that this item was listed in error, and the only source for this box in the UK, is directly from BT.




Freeview over Broadband?

Site visitor Jaike asks: "Does the BT Vision box receive Freeview channels via the Broadband connection?

The BT Vision gets its live Freeview channels via a TV aerial, and not over Broadband. To get live TV, you need to connect the BT Vision box to a TV aerial.

A number of on-demand TV programmes are available over Broadband via the BT Vision+ box, but live Freeview programming is not streamed over Broadband. See our Channels FAQ for more.

If you're looking for live TV over Broadband, try TalkTalk TV.



Locating BT Vision

Theresa Catterall asks: "I'm interested in BT Vision. Does the TV have to be in the same room as the computer? I have BT Total Broadband Option 2 but I do not have the BT Home Hub. I use the BT Voyager 2091 Wireless ADSL Router".

Firstly, you don't need a computer to get BT Vision. The BT Vision box plugs into your TV, and into a BT Home Hub. The BT Home Hub plugs directly into a telephone socket. The phone line must be BT Broadband enabled.


If it's not appropriate for you to have your BT Home Hub sited close to your BT Vision+ box, you may find you're able to use a HomePlug or Powerline kit - These plug in to your home's mains sockets and allow transmission of data using your home's mains power cabling. We've heard of some instances where BT will provide you with one of these if it's not practical for them to run networking cables. You can buy HomePlug and Powerline kits from PC World, Dabs.com or Maplin.


BT Vision on a PC

We had the following question from site visitor Martyn: "Can I access the TV recordings on my BT Vision from my PC, or do I have to go downstairs to watch everything?"

There are a couple of ways that you can watch the output of your BT Vision box on a PC, as follows:

Get yourself a PC TV receiver (USB or PCI), which is capable of getting an analogue signal, then run a co-ax aerial lead from the BT Vision box to the input of the PC TV card. You'll be able to tune in the PC TV receiver to the output of your BT Vision box, and watch the output of your Vision box on your PC. PC TV cards are available from Dabs.com, PC World or Maplin. More on our TV on PC page, or in Show 18 of our podcast
You can copy programmes that have been recorded on the BT Vision box onto a DVD, which can then be watched using a DVD player on the PC. See our DVD FAQ
Consider getting a video-sender to send the output of your BT Vision's SCART socket wirelessly, then connect a receiver to your PC. AV senders are available from Argos and Maplin
If you want to view your BT Vision box while away from home, you can view the output of your BT Vision box over the Internet (or a home network)... using a Slingbox

At the present time, you can's access BT Vision's On-demand content directly over the Internet - you need to have a BT Vision+ Box. Also, there's no way to extract the data on the v-box hard disk in a digital format that can be read on the PC.

A further question from Steve Eagle: "Is it possible to control viewing and recording of BT Vision from my PC assuming the PC is connected to the set top box and TV? I hate fiddling with the remote and on TV screen instructions.".

In the above set-up, all you're doing is connecting the audio and video output from the BT Vision box, into a TV card on a PC. There's no direct data link between the BT Vision box and the PC, so you can't control the BT Vision box from the PC. At the moment, there's no other way to control the BT Vision box, other than using the BT Vision remote control. If you're looking for a system you can programme from a PC or mobile phone, see Remote Controlling Sky.



Copying to DVD

With a BT Vision set-top box, you're able to record live TV onto a connected DVD recorder, or copy recorded programmes onto a connected DVD recorder.

To do this, connect a SCART lead from the SCART output to SCART socket on your DVD recorder. You need to set your DVD recorder so that it records from the appropriate Line In / AV / Aux feed.

A couple of things to note:

It's unlikely that you'll be able to dub off copy-protected content, such as "on demand" videos, onto DVD.
On our BT Vision box we've found that if we're connecting to our TV using the HDMI socket, the SCART sockets are disabled, and so copying to DVD doesn't work. The fix for us is to pop the HDMI cable out when we're recording via SCART



Connect via wi-fi?
One visitor's asked: "Can you tell me if the hub is strictly wifi or will I be able to connect it to the digibox wired? I currently have a home network between my pc and my BT iplayer and this is wired which is the way I like it."

The BT Vision box needs to connect to the Home Hub via an Ethernet cable, and not wi-fi. Rumour has it that wi-fi connectivity between digibox and the Home Hub may be added in the future.


BT Vision in multiple rooms

A BT Vision box connects to one of your home's TV sets, and to a Broadband connection (via a Home Hub). If you want to watch the output of your BT Vision box on another TV set in your home, here are the options:

Co-ax aerial (Grey Vision boxes only): Connect an aerial (co-ax) cable from the BT Vision box RF output socket to the aerial input socket on the other TV in the house. You'll then need to tune in a spare channel on the other TV to the output channel of the BT Vision box - by default, this is channel 36. For aerial co-ax connectors and extension leads, try maplin.co.uk. Note that this functionality was removed in the newer Black BT Vision boxes. To use Co-ax cables with a black box, you'll also need an RF Modulator.


Use an AV sender:- These connect to the SCART socket on the BT Vision box and transmit the output wirelessly to a receiver that can be connected to a second TV. Wireless AV senders are available from Argos and Maplin


If you have a home network, you could look at getting a Slingbox to send your video over an Ethernet network

Note that if you are using the BT Vision box to feed two TV sets - the box can only 'play' one thing at a time, so it's not possible to watch an on-demand video in one room whilst watching a live TV programme from the BT Vision box in another room. If you're not happy watching the same thing in two rooms, you may want to consider getting another Freeview box for the other TV set (remember, BT Vision gets its live programming over Freeview).

We've been asked if it's possible to have two V-Boxes in the same house. We're guessing, in theory it's possible - although both will have to be directly connected to the BT Home Hub by Ethernet, and it's likely that only one will be able to access on-demand content at a time due to the bandwidth needed to get video. Site visitor Jane tells us: "BT say that to have more than one Vision box you would need to have a second phone line and second broadband account!"



BT Vision and Sky

Q. How can I use a BT Vision box in conjunction with my Sky Box? I don't want to lose Sky sports. (John Quilty)

A. Yes, you can use BT Vision and Sky on the same system. BT Vision uses a TV aerial and a BT broadband connection, and Sky uses a satellite dish. You can connect the output of both boxes to a TV (using SCART, aerial or HDMI connectors where appropriate). The two systems will not clash.


Q. If I go for BT Vision, can I get Sky Sports? (Ben Hastings)

A. Yes - From August 2010, Sky Sports became available on BT Vision. More on how to get Sky Sports on BT Vision.

Q. Will I be able to get Sky 1 on BT Vision? (Adrian Routledge, May 2007)

Sorry, but no. Sky One is not available on BT Vision. For Sky One, you'll need Sky Digital

Other questions

Q. What are the USB slots, especially those at the front, used for? (Mick Crammer, Apr 07)

A. Nothing yet... but we can expect these to become useful in the future - perhaps for a webcam, or USB memory card (for photos)? We'll add to this section when we have something concrete - we'll also shout about it in our podcast, so sign up!

Q. Do I have to use the Home Hub, or can I use my existing broadband router? (Andy Granger, May 07)

A. From what we've been told, BT Vision doesn't officially support anything other than the BT Home Hub, is the Hub is apparently designed to share broadband bandwidth, so there's enough for video, with some reserved for surfing. That having been said, we've seen reports that other routers have been able to connect a BT Vision box.

Q. I already have a Freeview Box, but reception is variable, and signals break up in windy conditions. Would a switch to BT Vision make any improvement? (Mike Jordan, Jun 07)

A. The BT Vision box gets its live TV content via Freeview and a TV aerial, so if your aerial isn't capable of getting a decent Freeview signal, then this will affect your viewing of live Freeview programming, and recordings of Freeview programmes onto the drive. See our Freeview Advice page, or listen to Show 14, for advice on improving your reception. The on-demand TV shows and movies downloaded over Broadband aren't affected by your Freeview aerial reception.

Q. Is it possible to surf the web on my telly using the BT Vision box? - (Daniel Underwood, Jul 07)

A. Not as yet. There is no web browser and no way to install extra software onto the BT Vision+ Box. There's a chance that web surfing may be offered in the future.

Q. Will I be able to record other digital TV channels, such as satellite? (Mark Brock, Sept 07)

A. The BT Vision box doesn't support recording to its hard disk from external equipment.

Q. Despite having an outside aerial and the ability to receive Freeview channels, the signal strength is frequently lost in the evening. (Joanne, Jan 09)

A. For help on receiving Freeview channels on your BT Vision box, see our Freeview Advice page, or listen to the advice we offered in Show 14.

Q. Can I use the BT Vision box as a receiver and recorder without using my BT Broadband connection? (Robert Atkinson, Sept 07)

A. According to the BT Vision site, the Freeview and DTR functionality currently won't work without being connected to a BT Broadband account - the electronic programme guide (needed to record Freeview) is downloaded from BT Broadband.
Note that with BT Vision, you're getting a subsidised digital recorder (apparently worth £199), and BT can only afford to do this by tying you to a broadband subscription. This can be compared with a free mobile phone offer... where you get a free handset if you enter a 12 month contract, so the company can get back the hardware cost.



Q. Is Catch-up TV with BT Vision free? (Clive)

A. BT's Catch-up TV service is called "Replay". If you sign up to any of the Value Packs, Replay is free. Otherwise, Replay is £3 a month on top of the "TV pack" at the time of writing. You can't view recent catch-up TV shows on a pay-to-view basis.

Got a question or comment on BT Vision?
Call 020 8133 4567, or send us a message
Listen to FrequencyCast's BT Vision Audio Review (from Show 53). Take a listen!
Related Links