Apple TV - UK Review
After the lukewarm success of the original Apple TV, Apple's brought out the second generation of Apple TV devices. Here's our initial review of the new-look Apple TV.
Apple TV 2nd Gen Review:
In October 2010, we got our hands on the new second generation Apple TV device.
On this page, you'll find our initial comments, You might want to take a listen to Show 57, where we reviewed the product in more detail.
Listen to FrequencyCast's Apple TV Review here:
What is the Apple TV?
The second generation Apple TV device is considerably smaller than its predecessor, and unlike the first version, doesn't have a built-in hard drive. It's primary use is as a media device connected to an HD TV set.
Here's what it does:
Allows rental of streamed HD movies from a wide library of titles
Get services like YouTube, Flikr and Internet radio on your TV
Stream your photos, movies, TV shows and music collection from your iTunes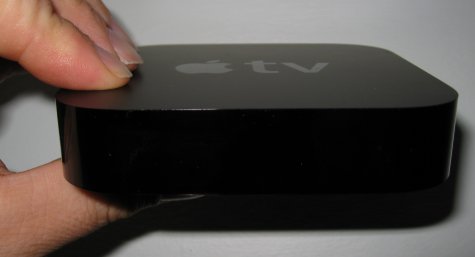 The tiny Apple TV
Availability: The Apple TV 2nd Gen is available in the UK from the following online retailers for around £99:
Setting up Apple TV
The second-generation Apple TV streams movies and other content over the Internet, and can also stream content from a computer running iTunes.
Setup is straightforward. Plug the box into your TV via HDMI, then into the mains. You need an Internet connection, which can be either wireless (using wi-fi), or wired (using he RJ45 ethernet socket on the back).
If using wireless, you'll need to select your wireless access point from the list of in-range access points, and you'll need to use the Apple TV remote to enter your WPA or WEP security key. You'll also need an Apple ID (i.e: your iTunes account), which is used for pay content.
Ordering Movies and TV
Apple TV offers a pretty sizable collection of film titles that can be watched on your TV on-demand via an Internet connection.
Selecting a movie is straightforward - from the menu, you have the option to view new releases, popular rentals, perform a search, or browse by genre. There is also an "in theatres" category, which gives you access to trailers.
When browsing through titles, you are presented with a 7 x 3 grid of DVD cover art: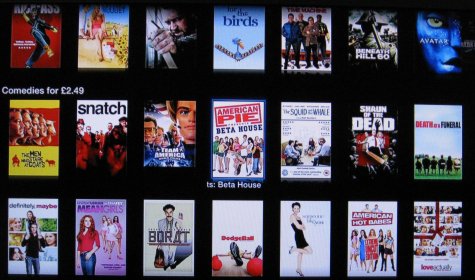 Selecting a pay-to-view movie on Apple TV
Using the 5-way navi on the slimline remote, you can select a movie. You're then presented with the usual on-demand style information - synopsis, cast, etc. The 'More' button gives you access to cast and crew, which the option to see what other films they're appeared in, as well as access to a series of reviews. For the films we tried, short trailers are available, as of course, is the option to buy.
We tested the service out with Robin Hood in HD - Priced at a non-cheap £4.49 for the HD version with Dolby Digital 5.1 surround sound, we selected 'Rent'. Once you confirm the rental, you have 30 days to start watching, and after you start watching, you have a 48 hour rental window, where you can resume playback and watch again as required.
When we started playback, there was a delay of around 7 seconds before anything happened (presumably while the box buffers the first part of the film). Then, playback starts - Smooth, crystal clear HD. It's worth mentioning that we tested using a wi-fi connection (using BT - average speed around 3Mbps), and experienced zero judder or stutter throughout the film, which, compared with experience of other VOD services, was pretty impressive.
During playback of a movie, you can pause, as well as fast forward/rewind in three speeds. Note that the second generation Apple TV box, unlike its predecessor, doesn't contain a hard drive, so it's a streaming-only product, as opposed to a download-and-view product.
At least 1000 movies are available with prices between £2.49 and £4.49, and so far, we've been very impressed.
Access to iTunes
If you have a computer running iTunes, you can stream your iTunes movies, TV shows, music and photos onto your telly using Apple TV. For this to work, you need to enable iTunes 'Home Sharing' (from your computer's iTunes 'Advanced' menu).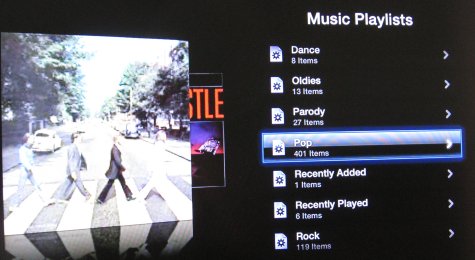 Browsing through music collection on an Apple TV
Photo collection on Apple TV
Browsing your photo collection via iTunes is straightforward once you have allowed iTunes permission to share parts of your photo collection. The photos can be set to scroll in a slideshow, and various creative slideshow formats and transitions are available.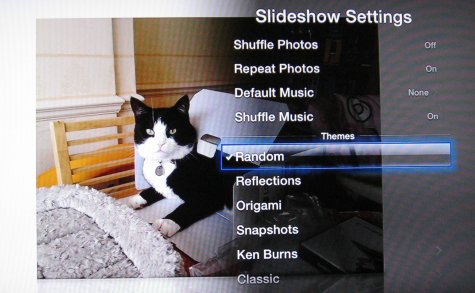 Apple TV Photo Slideshow settings
Podcasts
Apple TV provides access to video and audio podcasts from the Apple Store. Search and playback is very similar to the iTunes experience on a desktop computer. FrequencyCast is, of course, available for your listening pleasure.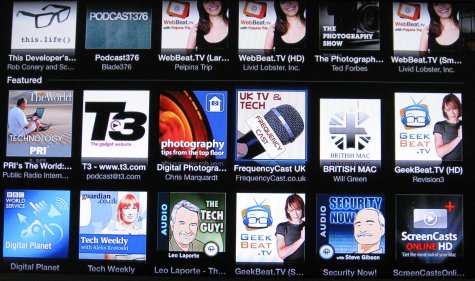 Apple TV
Podcast Playback
Here's FrequencyCast playing back on our HD TV: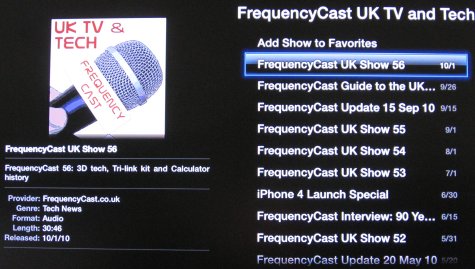 Apple TV playing back a podcast
Apple TV Remote Control
The Apple TV is supplied with a tiny, ludicrously thin remote control (powered by a CR2032 battery). There's a menu, play and a five-way navi. And that's it: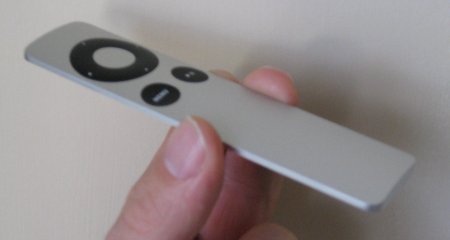 Apple TV Remote Control
You can also control the Apple TV from your iPhone, iPod Touch or iPad with the free Remote app (Apple Store link). Here's an example of using the iPhone keyboard to perform a search: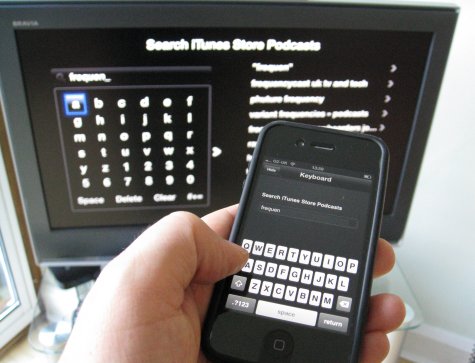 Control the Apple TV from an iPhone
Apple TV connectors
On the back on the new Apple TV box, you'll find the following connectors:
HDMI, for connection to an HD-Ready TV set
Ethernet (RJ45) connector for wired connection to a router
Optical audio output
Micro USB socket (for service and diagnostics only)
Mains connector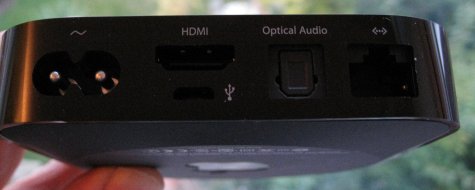 Apple TV connectors on the rear
Apple TV Specification
Video formats: H.264 (up to 720p .m4v, .mp4 and .mov) , MPEG-4 (.m4v, .mp4 and .mov) and Motion JPEG (M-JPEG in .avi file format)
Audio Formats: MP3, E-AAC (V1), AAC, protected AAC, Audible (formats 2, 3 and 4), Apple Lossless, AIFF and WAV
Photo Formats: JPEG, GIF, TIFF
Apple TV Supplied With?
The second generation Apple TV comes with mains lead, remote control and manual. No HDMI lead is supplied with the product.
You can get a high-quality HDMI lead from Maplin or TV Cables.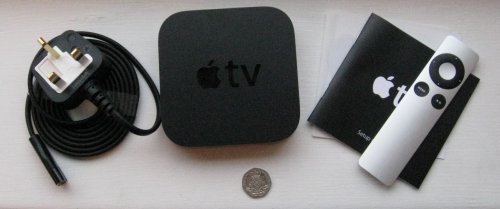 Apple TV Box Contents (with a 20p for scale)
Listen to FrequencyCast's Apple TV Review here:
Apple TV Questions
Got a question on the Apple TV? Let us know.
The Apple TV is available from the following online retailers for around £99:
More information: