Streaming Audio and Video
In Show 36 of our podcast, we looked at why you might want to stream audio and video around your house, and what tools exist to make this easier.
We look a fresh look at Media Streaming, including discussion of DLNA in Show 61
Here's some notes on the subject of Media Streaming.
Why stream?
More and more of our life is stored on a PC... Our music collection, video clips, digital photos, etc. Streaming is all about moving the content from a PC stuck away in a bedroom, into more social rooms of the house, such as the lounge or kitchen.
There are several solutions to allow you to stream music and video from your PC or Mac to other rooms in your house, which we explore in Show 36 of our podcast.
Listen to show 61, covering Video and Audio Streaming:




You can listen online with our pop-up Pod Player, save as MP3 or subscribe via iTunes.
Things to look for:
If you're looking to free your video and audio from your computer, here are some things to look for when buying a streaming solution:
A good range of outputs, including HDMI, Component, S-Video, digital audio output via coaxial or optical ports, and analogue stereo RCA plugs.


File format supports is one of the most important aspects, make sure the device you choose can play all the common file types.


Support for photos and other media types


Wireless or wired - If it's wired, you'll need to connect using Ethernet cabling, or using a Homeplug Powerline Adapter
Streaming audio
Here's a summary of some of the audio streaming options, to get those MP3 files flowing:
Logitech Squeezebox


Stream MP3 audio files from your PC or Mac. It also supports Internet radio and podcasts.

Formats: MP3, WMA, FLAC, AAC, WAV, and Ogg Vorbis
Connectivity: wi-fi
Runs on: Windows, Mac and Linux

Connects to your hi-fi or home cinema system. Available with our without speakers:

Internet Radios


We looked at Internet Radio back in Show 24. Many stand-alone Internet radios also allow you to access music from you PC. We're fans of the Pure Evoke Flow (pictured), which supports Internet radio, podcasts, and can stream MP3 files from your PC wirelessly.
Streaming TV
Want streaming TV to your lounge? Well, you could get yourself a noisy old PC to sit in your lounge - perhaps one running Windows Media Center. This would allow you to be able to watch content from the BBC iPlayer or 4oD on your big telly - but it's a bit cumbersome.
Instead, perhaps consider getting a TV service that allows you to watch on-demand catch-up TV. Your options include:
Virgin Media - Cable TV with the ability to watch. Details at www.virginmedia.com.
BT Vision - If you get your broadband from BT, the BT Vision box will let you stream TV content from the likes of the BBC, Channel 4 and Five. Details: get.btvision.bt.com.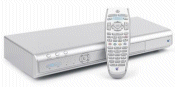 The BT Vision+ box, free from BT
Streaming Video
As well as the TV service we mention above, you might want to be able to stream video files storied on your PC. Here are some of the hardware solutions available:
Hauppauge Media MVP


Hauppauge's MediaMVP is a low cost device that connects to your TV to offer streaming video, audio and photos from a PC.

Formats: MP3 audio, MPG1 and MPG 2 video, JPEG and GIF images

Connectivity: Ethernet

Under £50 from the Accessories section of www.dell.co.uk



Popcorn Hour A-110 HD


A hit in the States, the Popcorn Hour is now available in the UK. This supports external hard drives, Surround Sound, and High Definition

Formats: MPEG1/2/4 Elementary (M1V, M2V, M4V), MPEG1/2 PS (M2P, MPG), MPEG2 Transport Stream (TS, TP, TRP, M2T, M2TS, MTS), VOB, AVI, ASF, WMV, Matroska (MKV), MOV (H.264), MP4, RMP4, XVID SD/HD, MPEG-1, MPEG-2, MPEG-4.2, WMV9, H.264, VC-1, AAC, M4A, MPEG audio (MP1, MP2, MP3, MPA), WAV, WMA, FLAC and Ogg-Vorbis.

Connectivity: Ethernet

Popcorn Hour Networked Media Tank £195 - advancedmp3players.co.uk



Apple TV


Get your iTunes content onto your TV set in HD. Sync to your Mac or PC, or stream Internet content. See our Apple TV Review

Formats: Various video audio and image formats

Connectivity: Ethernet or wi-fi

The 2nd Generation Apple TV devices are available for under £100 from Amazon , Play.com , and Dabs.com



Pinnacle Showcentre 250


A nice solution, as it supports formats used by the BBC iPlayer. Supports HDTV (up to 1080i resolution), USB, Compatible with universal plug-and-play (UPnP AV) media servers

Formats: Windows Media Video 9, DivX HD or MPEG-2 file formats

Connectivity: Ethernet or wi-fi
Other Media Streaming Solutions
Streaming with a games console
Got an X-Box, Sony Playstation 3 or a Nintendo Wii? You should be able to use one of these games consoles to stream audio and video from your PC to your TV.
We can recommend TVersity as a top package to allow you to use your games console to stream media.
Need help getting set up with TVersity and a Wii? Try either the AfterDawn Guide or Dan Gross Guide
Orb
Orb is a top all-round media streaming solution for streaming your video, audio, photos and files. Best off, it's easy-to-use, and free. In Show 36 we used it to stream audio onto an iPhone and we also got it to work on a Wii (See Setting up Orb for the Wii)
Details at www.orb.com
Slingbox
The Slingbox is a great solution for allowing you to access your TV while you're away, but it's limited to a PC, Mac or mobile device. Now, with the Sling Catcher, you can hook up a Slingbox feed to a TV set over the Internet. The Sling Catcher is available from Play.com and Dabs.com


The Sling Catcher
Got a question on Streaming Media that we can answer in the next show? Call 020 8133 4567 or send us a message
Other links: