Lobster 700 / Movio TV ends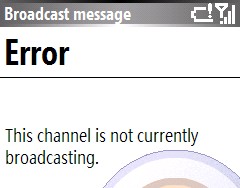 On the 31st January, the TV-over-DAB service, provided by BT Movio, was finally discontinued.
Users of Virgin Mobile's Lobster 700TV handset, the only UK handset to offer TV-over-DAB, are now greeted by the message "this channel is not currently broadcasting" when they try to tune to a telly station. The phone still works perfectly well as a phone, and a pretty decent portable DAB radio
Shame to see this piece of history come to an end. Any comments? Was the world not ready for TV on a mobile, or was Movio flawed from the start?