British Gas Remote Heating Control Installation
If you're considering getting the British Gas Heating Control system, you may be interested in how the system is installed. We documented the installation process as part of our review.
What is Remote Heating Control?
Check out our review: Remote Heating Control Review for the full story!
Remote Heating Control - Getting it Installed:
Regular listeners to our podcast will know that in recent shows, we've been reporting on various energy-saving products from British Gas. Following on from our look behind the scenes at their HQ in Staines, we're pleased to report that we're now taking part in the "Don't Take Our Word For It" campaign, where British Gas install products into the homes of tech bloggers and podcasters, to get some independent views on how the Smarter Homes products work.
In the middle of July 2012, British Gas installed their "Remote Heating Control" system into Pete's house. Here, you'll find an overview of the installation process, handy for anyone considering getting the service. We've also created a video and audio podcast to help explain how installation works.
Remote Heating Control Installation
Here's a short video file showing our experiences of Remote Heating Control so far:
Here's an audio version, as a seven minute mp3 file:
Installation
Keen to get cracking with Remote Heating Control, we made our appointment with British Gas, and a very nice chat called Paul turned up to do the install.
First off, Paul set up the small Hub (pictured below), which plugged into the router, in my case, the BT Home Hub. You'll need a spare Ethernet port on your router, and a nearby mains plug.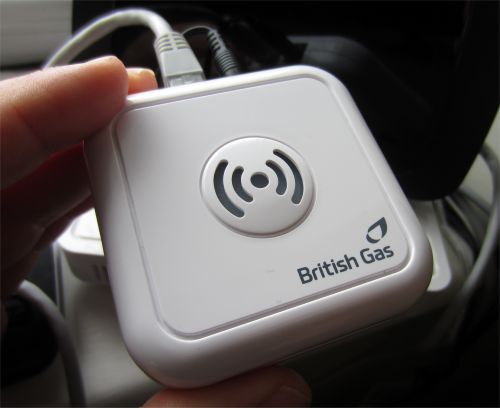 The Hub, used for Remote Heating Control Internet connectivity
Next, Paul started on the boiler. He identified that my boiler was fitted with a 13amp mains fuse, and promptly changed this for a 3amp fuse (a nice touch), then worked to disconnect the wired connection from the boiler to the wall thermostat.
Next, he installed the Wireless Receiver. This receives a wireless signal from the new thermostat controller. The Receiver is screwed to the wall next to the boiler, with two cables connecting the Receiver to the boiler.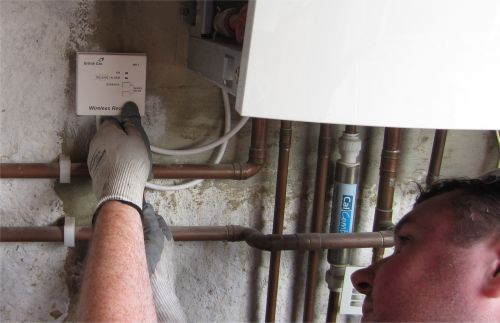 Paul connecting the Wireless Receiver to our boiler
With this in place, Paul then turned his attention to the rather dated looking thermostat in our hall. He removed this, and was able to fit the new unit in place of the old one, as you'll see below. As the footprint of the new controller is larger than the thermostat, this was a neat installation.
| | | |
| --- | --- | --- |
| Old Honeywell thermostat | ... being removed | ... and replaced |
Remote Heating Control Software
With the hardware in place and tested, it was time to look at the software, and get the system set up to operate. For that, Paul and I turned to my laptop. Setup is completed at myhome.britishgas.co.uk using a username and password provided by British Gas before installation.
Setup is fairly straightforward - the Hub had been pre-linked to our British Gas account, and we have to enter the Hub Key and create a 4 digit PIN. The process took a few minutes, and the British Gas engineer was prepared to do this, although I was keen to do the set-up for myself. The set-up routine performed a scan for connected devices, and found our new kit with no problem.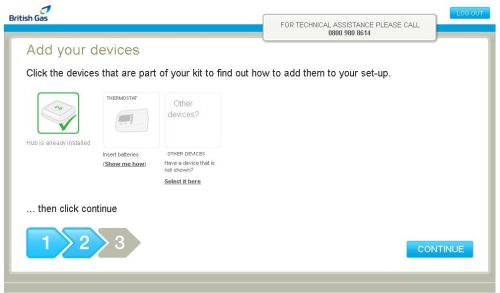 RHC Setup - Detecting wireless devices
For those without a smartphone, the Controller can receive text messages from any mobile phone. During set-up, multiple SMS users can be added. You also have the option to set up a heating schedule during setup, or later. We opted to do this later, accepting the defaults provided.

RHC Setup - Setting up the basic heating schedule
Paul the Engineer's work was now done, and he completed a final safety check on the boiler, apparently a requirement after doing any work on the guts of a boiler. After sticking a probe into our boiler's outlet, Paul confirmed our emissions were good, and headed off for the next install.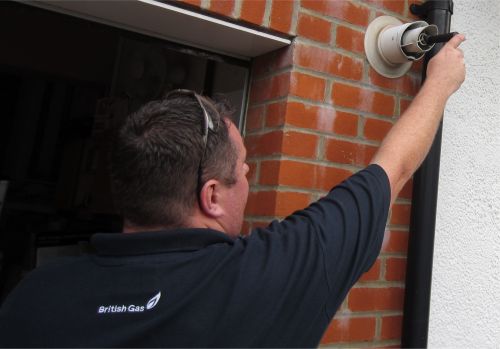 Paul completes the final safety check
Using Remote Heating Control
We've only just started playing with the web-based interface to control our home heating, and have also been playing with the iPhone application that can let us adjust out heating from anywhere in the world. So far, it's all working, and we can control the heating remotely without a problem.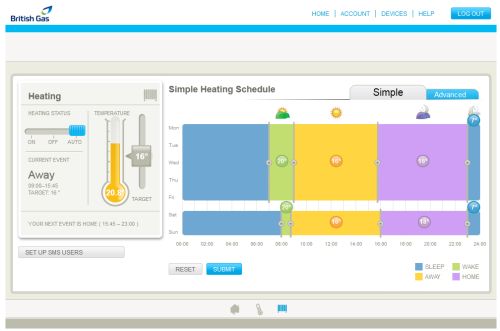 British Gas Remote Heating Control - On-screen Heating Schedule Management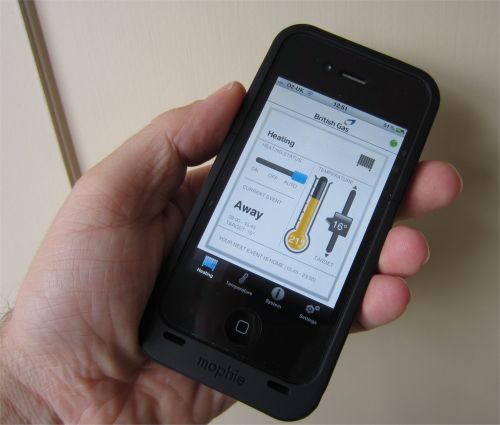 Taking control with the free British Gas Remote Heating Control app on an iPhone
We'll be adding further updates on how we're finding Remote Heating Control. Given that we're not exactly having a warm summer in the UK, we suspect we'll be needing to make more use of our home's heating in the coming months, so let's see how we get on.
Related Links: