Cable TV in the UK Explored
In each of our podcasts, we cover Digital TV, and cable TV plays a big part in the UK's digital TV offering. On this page, we provide more information on Cable TV and Virgin Media.
What is Digital Cable?
Cable TV is transmitted via special fibre optic cable that can handle the high bandwidth needed. The cables carry digital TV and radio, broadband Internet and home phone.
Who offers cable in the UK?
Back in 2007, we saw the big two cable providers NTL and Telewest become folded in to Virgin Media, to form one large firm offering Cable TV, Broadband, home phone and mobile phone services.
Virgin Media provides TV, broadband and phone service using their high-quality fibre optic cable network, which is installed in various towns across the UK. The main Virgin offering is something called something called 'quad-play' service... TV, Internet, home phone and mobiles.

Virgin's current Media Campaign
Getting Cable
To get your TV, Broadband or phone delivered to your home, you need to be in a Cable area. Cable firms lay underground fibre-optic cables to connect cabled streets to Virgin Media's distribution centre. You can check using Virgin's Postcode checker to see if you're in a Cable area.
If you are in a cable area, and request a cable installation, Virgin's engineers will call round and install a single, pencil-thin cable from their under-street cabling to a small box at your property. For TV, they'll hook up their cable feed to a set-top box, for Broadband they'll hook up a modem, and for phone, they'll connect to a standard phone handset, all via the junction box they connect to their network. The standard installation charge is £30, but this may vary depending on what services you sign up to.
To check if you're in a cable area, enter your postcode at www.virginmedia.com.
Digital TV on Cable
On this page, we're more interested in Virgin's digital TV offering, so we'll take a closer look on what Virgin has to offer TV viewers.
Virgin Media offers three digital TV packages:
More TV: £10 a month with Virgin Phone. Offers 70 channels - More TV Package


L: £21.50 a month with any Virgin Phone package. Around 170 channels - More TV Package


XL: £31 a month with any Virgin Phone package. Around 230 channels - More TV Package
In total, around 230 TV channels are carried by Virgin Media - Sky Sports, Sky Movies and BT Sport are also available - go to www.virginmedia.com and select "Digital TV" for a full channel listing.
Virgin Media also offers "Virgin TV On Demand", which provides access to a library of over 500 movies, plus a collection of TV programmes, all available to watch instantly. You can also watch recent BBC TV programmes with the BBC iPlayer.
To find out more, or to check coverage, go to www.virginmedia.com
The Virgin Media TiVo box is a high-spec hard disk recorder that can handle high definition (HD) broadcasts and puts you in complete control of your Virgin Media viewing. This box holds up to 250 hours of TV content and records shows it thinks you'll like, basen on what you watch. More details on Virgin Media's site.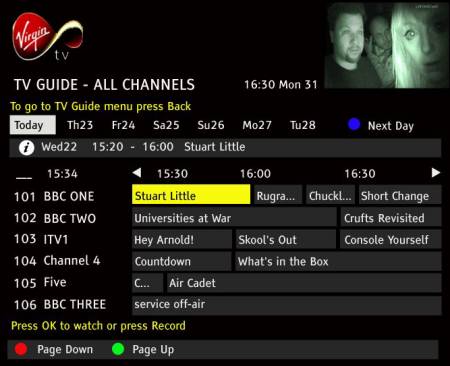 Virgin Media's EPG (Source: Vismedia)
Virgin Media Cable TV Packages
Virgin Media deals are best when bought in a package - TV, Broadband, home telephone and mobile phone.
Details of the packages can be found at www.virginmedia.com.
Cable TV FAQ
Cable TV in my area?

To get Cable TV from Virgin Media, you have to be in a cable area (before Virgin Media, cable services were offered by Telewest and ntl cable). To find out if Cable is available in your area, go to www.virginmedia.com and enter your postcode.

Site visitor David Corcoran asks: "I know that I am not in a cable area - the only problem is that there is never any information about how one gets cable into their street if this is the case! Is there a national program to make this happen, or are those of us affected just going to have to put up and shut up, or move?"

Here at FrequencyCast, we have no information about when and if cable will ever make it to your area. Unfortunately, the only people that can tell you whether Cable will be available in your area, is the cable service provider itself... Virgin Media.

Development of the UK cable network has slowed of late, but Virgin Media should be able to advise on any plans to add cable to your area. Try getting in touch with Virgin and asking about your area. You can get in touch with them via virginmedia.com.

Out of area? If you're not able to get Cable TV, there are other options, such as satellite, Internet or Freeview - see our Digital TV page.

Cable TV installation

"Do Virgin Media come and install digital TV, as I do not have an aerial?" - Sarah Holley (Apr 2007)

To get Cable TV from Virgin Media, you have to be in their cable area (formerly Telewest and ntl cable). Go to www.virginmedia.com and enter your postcode to find out if there is cable TV in your area.

Cable TV doesn't rely on a TV aerial (you may be thinking of Freeview). Cable TV is delivered via fibre optic cable, and when you have cable installed, an engineer will call to connect the cabling in your street into your house. They'll then provide you with a special set-top box that plugs into the cable feed. The set-top box plugs into your telly.

TV channel Packages

Regarding the Virgin Digital TV packages, please can you advise me what TV is supplied in the Virgin Media Packages? - Sarah Holley (Apr 2007)

Sure. There are three channel packages for Virgin Media's TV service, M, X and XL. See above for costs and a channel summary. For the full channel listing, go to www.virginmedia.com and select "Digital TV".

Cable TV on a PC

If you're looking to watch the output of your cable TV box on your PC, here are some of the options:

Get yourself a PC TV card, then run a co-ax aerial lead from the Virgin Media cable box to the input of the PC TV card - you'll be able to watch the output of your box on your PC. PC TV cards are available from PC World or Maplin and Dabs.com. More on PC TV cards
You can record programmes from the cable TV box onto a DVD, to be watched on your PC later. You'll need to connect your Virgin Media box to a DVD recorder using a SCART lead. For copy-protection reasons, you'll be unlikely to be allowed to copy on-demand or other protected content.
Consider getting a video-sender to send output wirelessly. AV senders are available from Argos and Maplin
If you want to view your Cable TV while away from home, you can - over the Internet. Consider a Slingbox

Note that in the solutions mentioned above - all you can do is watch the output of your cable TV box from a PC. As the Virgin Media box is only capable of outputting one channel at a time, you can't watch one channel on your PC, while watching another channel on your main telly. Two workarounds: 1) Get a second set-top box installed by Virgin Media (for an extra charge), or 2) consider getting a Hybrid PC TV receiver and connect a TV aerial - Assuming you can get a Freeview signal, you'll be able to watch Freeview channels on your PC.



Cable TV over Internet

We had the following question in from George: "I am currently with Virgin Media and they have advised that I can not access their TV package via my WIFI laptop from wherever there is Internet connection. I have spoken to Sky and they advise that if I take their Sky TV Package I will be able to access live all channels that I subscribed to on my WiFi Laptop as long as where I am I can get Internet connection. In addition I will not be restricted to watch the channels that are currently being watched on the home TV."

Our answer: Sky offers a service to its subscribers called Sky Anytime - which allows you to view many of Sky's programmes on your PC. As far as we know, Virgin is not offering such a service at the moment. You may be able to make use of a Slingbox to get the output of your Virgin box on your PC from anywhere with an Internet connection - See our TV on PC page for more.


Cable faster than Broadband?

A message from listener Guy Schofield: "I have been told by a BT Engineer that my 2mb Broadband connection is unlikely to even reach 1mb performance levels because of distance from the Exchange. I am considering switching to Virgin Media via cable. Will the performance be better? My brother says not necessarily..."

Our understanding is that a cable connection uses fibre optic cabling to connect between customers and the Virgin switching centres. In general, Virgin's infrastructure is more modern than BT's network, and makes less use of legacy technology and copper wiring. Accordingly, distance from exchange has less impact with cable Internet.

Virgin Media in multiple rooms

A Virgin Media TV set-top box connects between Virgin's cable network and one of your home's TV sets. If you want to watch the output of your Virgin Media V box on another TV set in your home, here are the options:

Aerial Lead: Connect an aerial (co-ax) cable from the Virgin Media box RF output ("To TV" socket) to the co-ax aerial input of the other TV in the house. For co-ax connectors and extension leads, try maplin.co.uk


Get an AV sender - This is a kit of a transmitter and receiver. The transmitter connects to the SCART socket on the V box and transmits the output of the V-box wirelessly to the receiver. the receiver is then connected to a second TV. Wireless AV senders are available from Argos and Maplin - NOTE: Not all AV senders work with Virgin boxes - see the AV Sender FAQ for more.

Note that if you are using your Virgin Media V-box to feed two TV sets, the V-box only has one output, so can only 'output' one thing at a time. If you use one of the options above, it's not possible to watch one thing (such as an on-demand video) in one room whilst watching a live TV programme from the V-box in another room.


Multiroom: If you want to be able to watch different channels over Virgin at the same time, you'll need to get extra Virgin Media V-boxes. At the time of writing, these will cost an extra £9.50 a month. An installation charge applies. You can order an additional V-box online at www.virginmedia.com, or by calling 0845 840 7777.

HDMI and SCART

The Virgin Media V+ box supports high-definition using an HDMI socket. We've had comments from site visitors telling us about problems with using both the HDMI (High definition) and SCART sockets - specifically that if the HDMI lead is connected to the V+ box, the SCART output is apparently disabled - not helpful if you're watching in a different room in the house, perhaps via an AV sender.

It seems you can use the V+ VCR SCART socket to connect to a video or DVD recorder for archiving, the V+ box can't output live TV to the HDMI and SCART socket at the same time. We've had several bits of feedback on this subject:

Change the HDMI settings on the V+ Box to SCART by selecting Home on the V+ remote control, then 8 , 4 and then the Red Button
Unplug the HDMI socket - you can connect your main TV and the AV sender using SCART - HDMI is only really needed if you want to watch high-definition output.
Andrew Podlesny tells us that he's spoken to the "techies" at Virgin and they say that this happens then you have a faulty V+ box. Something which we've not been able to confirm.

AV Senders

AV senders can be used to send video and audio from Virgin Media set-top boxes to other rooms in the house, but there's a few things to note.

We've had a couple of mails from listeners unable to control their Virgin V+ box using an AV sender in a different room. Here's one message from listener Dave: "I have a Philex AV sender for my V+ box and get a great picture on second TV but cant get remote to work".

It seems that cheaper AV senders will NOT relay Virgin Media's remote control signals, as Virgin are using complex IRDA signals that some senders don't support - For example, this one listed at Maplin: Wireless Video/TV Link states that it doesn't work with cable TV remotes. However this one at Maplin: DigiSender X7 states that it is fully compatible with Virgin / NTL / Telewest cable boxes.

Also, note that there's an issue with AV senders and HDMI sockets - See the note about AV senders not working when you're using HDMI on a V+ box.

We've also heard of problems with AV senders connected to the Av2 Video SCART - with menus not appearing, so the Av1 SCART socket may need to be used.

Virgin Media V+ connectors

We've been asked for some information on the connectors you can find at the back of a Virgin Media V+ box. Well, here's a photo of what you can find at the back of the box.

Click the image for a full-screen version. Thanks to the Bearded Buffalo for this image.


We've been asked what the Ethernet and USB sockets on the back of the Virgin Media V+ box are for. Checking with our Virgin Media correspondent, it appears that, at the moment, the Ethernet and USB on a V+ box are not in use. They're in place to support possible future developments (future-proofing), with the example of a USB keyboard being quoted.

V+ RF Output

If your TV doesn't have a SCART socket, you connect your Virgin Media V+ box to your telly using the RF aerial co-ax socket. By default, the box is set to send its output on RF channel 52, and you can tune your TV in to this RF channel. Thanks to site visitor Russ Carr for providing the steps on how to change the RF modulator channel:

Tune TV into to channel 52 to get V+ on screen.
Hold the up & down keys together & press reset. Hold up & down keys for approx 15 secs til diag displayed.
Left & right keys move pages. page 2 has RF setting.
Key down to RF setting then OK.
Up arrow changes from channel 52 to say channel 62. OK again.
Down arrow to save settings & reboot.
Retune TV to the new RF channel



Freeview over cable?

"My daughter is moving into a flat with the Virgin Cable small white box fixed to wall. No normal aerial connected. Can we connect her digital TV into the Virgin wall box via to watch TV and Freeview channels even though she is not signed up to Virgin Media?" - Barbara (Nov 2008)

Sorry, but no. Virgin Media's connector support TV via underground fibre optic cable, whereas Freeview gets signal from a TV aerial. They're different technologies.

Your options: Consider the Virgin Medium TV package - free TV if you get your phone through Virgin. Otherwise, get a suitable aerial installed to be able to get Freeview. If you're in a very strong signal area, an indoor TV aerial may work. Otherwise, consider the other digital TV options

Cable and BT?

"If I have Virgin Cable TV installed, can I keep my BT Broadband?" - Pamela Rose

Yes you can - BT Total Broadband works over a standard BT phone line connected to a BT exchange, and Cable TV is delivered by a fibre-optic connected to Virgin Media's backbone.

The two won't conflict with each other, although you'll be paying more than you have to. Virgin Media Cable TV plus Virgin Broadband works out cheaper than Virgin plus BT.
To find out more about what Virgin Media can offer, go to www.virginmedia.com
Got a question on cable TV that we can answer in our next podcast?
Call 020 8133 4567 or ask in our forum