Watch TV on your PC
This page looks at a number of ways that you can watch TV and record TV shows on your PC. We featured this in Show 18 of our podcast.
Why watch TV on your PC?
There's a number of reasons why you might want to watch TV on your PC:
Watch telly while you're in a different part of the house - perhaps while you're working or surfing
Recording telly programmes to your PC - using your hard disk as a recorder
Watching your home TV or recordings while your away - perhaps at work, on holiday or while away on business
There are several options you can consider. This page provides an overview of some of those solutions:
Listen to Show 18 of our podcast covering TV on your PC:
PC TV receivers
For most people, this is likely to be the preferred option. There are a number of PC TV tuners products out there that allow you to view telly on your PC. Here are the facts:
There are three types: Two of these plug into a spare USB port, and one that's a computer card that slots into a free slot at the back of your computer:
PCI Card

Requires you to remove the back of your desktop computer and insert the card - like a soundcard. We recommend the Hauppauge HVR1100 that supports digital (for Freeview) and analogue (for connection to a Sky box)

USB Stick

Ideal for use on a laptop, these are a little bigger than a USB memory stick. Some come supplied with a little aerial - which is rarely a substitute for a decent roof aerial. Consider the Win-TV HVR900 which supports analogue and digital.


USB PC Receiver


USB boxes that plug into a free USB port on your PC and accept a TV aerial. Largely replaced by the USB stick version. Some require a mains adapter, and some get their power from the USB socket.

You'll find a good collection of USB and PCI TV receivers from: Maplin , PC World and Dabs.com.

Typically, you install the PC TV receiver then plug in a TV aerial. You install special software, and you have a TV set on your screen that you can move around, minimise and watch at your leisure.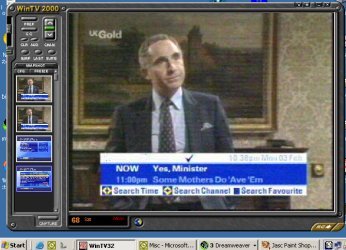 When buying a PC TV card - some things to bear in mind:
Analogue or Digital? Analogue TV cards are typically the cheapest - these will be able to get the standard telly channels over-the-air, and can also tune in to connected Sky Digital boxes and equipment with a modulated output. Note that analogue TV cards can't get standard TV, following the UK's digital switchover. Digital tuners can get the Freeview channels, but they won't be able to tune in to a video recorder or set-top box (which have analogue aerial outputs). For the best of both worlds, look for a hybrid PC TV receiver - in other words, one that can receive analogue and digital TV signals.


Recorder? Want to be able to record telly to your PC. Check if the card supports recording (PVR - Personal Video Recorder)
If you're looking to get a TV card - you'll get a better deal by shopping online. PC TV receivers are available online from Maplin , PC World or Dabs.com. PC TV products made by Hauppauge, AverMedia or V-Stream tend to be fairly common.
Other links: Sky on your PC | BT Vision on your PC
Slingbox
Slingbox is worth considering if you're looking to watch your home TV channels or recordings - from somewhere else - such as a different building or a different country. Slingbox is a box that you plug into a TV aerial and the Internet. From a PC somewhere else, you use the special Slingbox software to connect to your box and watch your telly over the Internet.
The UK version of Slingbox also includes a digital tuner that can get around 40 channels of Freeview TV.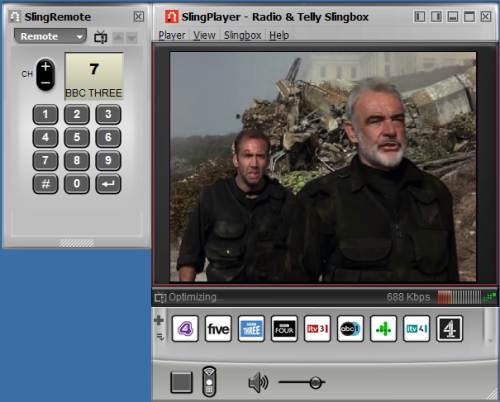 Slingbox requires an Internet connection at both ends. The box costs around £95, and we list the cheapest price we know of, on our Slingbox page.
Other links: Our Slingbox Page | Control your TV from elsewhere
Internet
A number of TV services are available over the Internet. Here is some useful information:
If you're interested in UK TV available on a PC, see the entry on our On Demand page. Services available include BBC programmes (with the BBC iPlayer), Channel 4 on demand, and Sky
If you're interested in other channels outside the UK, go to www.webtvlist.com to get a feel for what stations are available. There's also a service called JumpTV. They have partnered with more than 180 television broadcasters from over 60 countries to provide live broadcasting of TV stations from around the world. If you're outside of your native country and are looking to keep in touch with TV from back home, it may well be worth looking at JumpTV. See their site at www.jumptv.com.
Finally, there's a service called Joost - this offers TV content streamed to your PC.
Listen online to our show covering TV on your PC:
Got a question on watching TV on your PC that we can answer in our next podcast?
Call 020 8133 4567 or send us a message