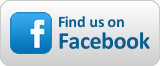 FrequencyCast UK - Show 66
The show notes to go with Show 66 of our online technology radio show.
Listen to, or download, FrequencyCast Show 66 (31 mins)
Show 66: NEWS
This show's news section covered the following stories:
Nintendo 3DS Update: Nintendo's about to slash the price of the 3DS, and to compensate early adopters, is giving away free games. More details: Nintendo Slash Price and Offer Freebies


Sport on Freeview: Ahead of the football season, if you want to get Sky Sports and ESPN on Freeview, it's worth checking out Top Up TV. ESPN is £9.99 a month, no contract. A free CAM TV adapter is also available. They're also offering Sky Sports 1 and 2 without a contract. From later in August, you'll be able to get Sky Sports on TV sets that have a Card slot for the first time. See our Top Up TV Review.


Sky Package Changes: From the 1st of September, Sky's six TV viewing packages get simplified down to just two, "Entertainment" and "Entertainment Plus". Following regular price increases, Sky's decided to freeze prices for a year. Prices for TV, Sport, Movies and HD from Sky are now around £62 a month.


BT Vision Prices Drop: BT Vision's also made some major changes to its pricing. Services now start from just £4 a month for catch-up on demand content, up to £12.50 a month for its new Unlimited TV pack. If you're looking to save on Sky, the new BT Vision deal is well worth a look. See our BT Vision Review, or go to www.vision.bt.com.


Catch up TV news: BBC iPlayer is now to be made available selected European countries on the iPad. Still free in the UK, it'll cost 7 Euro a month. Also, we can expect to see ITV starting to charge for some of its ITV Player content from 2012, to help boost revenue. ITV Player is now available as a beta on some Freesat HD boxes.


And finally: Apple now now richer than the US. It seems that Apple has over $76 billion dollars in the bank, and the US treasury has only $74 billion. Apple's debts? None. The US debt. $14 trillion. With the upcoming iPhone 5, they'll soon be able to buy the US, and still have change. Steve Jobs for president, anyone?
FOCUS: Home Technology Event 2011
At the end of June, Pete and Carl trekked to the Home Technology Event 2011 at London's Excel Centre. In Show 66, we featured extracts of a few interviews. The full versions of the interviews, plus transcripts are available here.
Hands-on: Speedo Aquabeat
Carl has completed his review of the underwater MP3 player, on his summer hols. Read Carl's full Speedo Aquabeat Review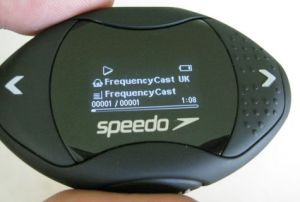 The Speedo Aquabeat 2 Waterproof MP3 Player
Hands-on: Kodak ZM1
Here's this beautiful, yet dirt-cheap waterproof camcorder: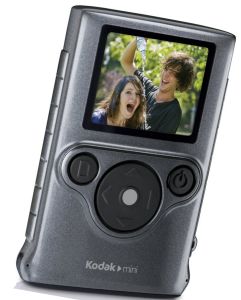 Kodak ZM1 - Available for around £25 from Dabs.com and Amazon
And as promised, here's us, captured on video... a Show 66 FrequencyCast Exclusive!!
Hands-on: Smart-i World's Smallest Wifi Camera
Look at the size of this little covert beauty!: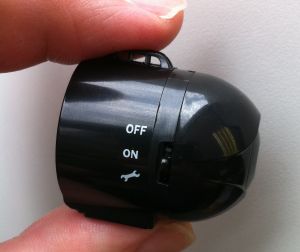 The Smart-i Wireless IP camera, from Maplin
Big Trak Bits
Got Yourself a classic retro Bigtrak, or a Bigtrak Junior? New add-ons just out!!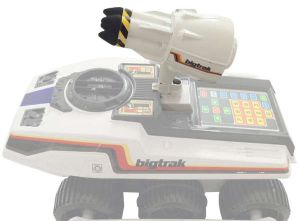 Bigtrak Rocket Launcher and Coke Can Carrier, available from I Want One of Those.com
Cast 66: Interactive
Thanks to everyone who got in touch. In this show, we respond to the following mails and calls:
4G Interference: We heard from Peter Howav, commenting on our last show. He says: "Just heard your show on G4 and Freeview. You didn't mention interference from the mobile device to the Freeview box, as the boxes are all made of plastic and MAY not have much in the way of screening. This interference could also come from your neighbour if like me you have your TV/Freeview box against the dividing wall. He also sent us a link to an article discussing Super Wi-fi service that uses the white space between TV channels. There's some tests going on in Cambridge. Link: Super Wi-fi Trials in Cambridge.


Nintendo Wii Infrared Extender: Next we has a podline call from Ranjit. He asked whether it's possible to use an Infrared extender, so he can re-position his Wii. Sadly not, as the Wii controller uses Bluetooth to talk to the main Wii unit, and not Infrared. The controllers have a range of up to 30 feet. The little IR window on the controllers is actually a receiver, not a transmitter, and it gets a signal from the 10 infrared transmitters on the Sensor Bar that fixes to your TV set


Real Digital Satellite TV: Next, we heard from Rogan Montgomery-Smith. He says "just reading my copy of ERT magazine and note that Real Digital are starting up a new satellite platform to rival Sky and Freesat. There's been talk of this service launch for the last 18 months, but the latest seems to be that the service may launch in September. Their website states that Real Digital is "finalising the carriage agreements with many of the British and Irish channel operators. Set top boxes will be available in both UK and Irish high street retail shops in the near future." We'll be keeping a careful eye on developments.


GiffGaff SIM Cards: We had a good tip from Andy Smith. "I just bought a Google Nexus S. I was hesitant as I thought it may be expensive to run, but I just switched to GiffGaff. They are a mobile phone carrier that are real CHEAP. Any monthly package from £10 you get free texts and Data. Great service."

Show us some love. Get a Giff Gaff SIM Card!!
Show Your Love for FrequencyCast!!
As reported in the show, get yourself a free GiffGaff SIM card for free texts and data services. We love the GiffGaff service, and ordering a SIM helps us too! Order yours here:

Apple TV to a non-HDTV TV Set: Steve K asks "What's the best way to link up an Apple TV 2 to a non-HDMI TV?" Well, sadly, you can't. The Apple TV only supports HDMI. To get it onto a TV with no HDMI socket, you'd need a Digital to Analogue converter. You can buy HDMI-to-Component or VGA converters. They're not exactly legal, as they decrypt HDCP, and they're more expensive than the Apple TV box.
Any questions for Carl and Pete? Call 020 8133 4567 and leave a message, send us an email, or ask in our listeners forum.
Want new shows as soon as they're released?
Get FrequencyCast shows automatically, as soon as we've finished them:
Got iTunes? Add FrequencyCast to iTunes


Otherwise, use Juice or another podcatcher to subscribe to our show feed.
Our feed address: https://feeds.feedburner.com/frequencycast