BT Vision Review Transcript
We looked at BT Vision for show 53 of our podcast. We discussed packages, content, the BT Vision v+ recorder, and compared the offering to Sky. Here's our transcript of the review.
Listen to FrequencyCast's BT Vision Audio Review (from Show 53). Take a listen!
BT Vision Feature Transcript:
Carl:
Well, I'm going to tell you what we're focusing in on this week, Pete - it's this lot. Right, these are loads and loads of responses from Interaction, and they're all asking us about BT Vision. Now, when was the last time we touched on that subject?
Pete:
The last time we actually covered BT Vision was way back in Show 12, three years ago, and it's showing to be one of our really popular back catalogue, so it's time to have a look at that service they call BT Vision.
Carl:
And we may as well, because I don't remember Show 12, what was that? - three years ago, did you say?
Pete:
You don't even remember yesterday, do you?
Carl:
Sorry - who are you?
Pete:
The other important reason to mention BT Vision again is because from August 2010, they're going to be broadcasting Sky Sports for the first time, and they've got some other new developments up coming, so it's well worth another look at BT Vision.

Latest BT Offer: Get cheaper Sky Sports with BT Vision
Carl:
Good, right, well we may as well start from the basics. Now, BT Vision - that was like Sky, wasn't it, as a satellite service or something?
Pete:
Well, it's a combination service, it uses Freeview for its live TV, and the rest of it it gets over the internet. So you need a BT broadband connection and a connection to a TV aerial for your live TV. What you get is a set top box, holds 80 hours of TV content, 14 day electronic programme guide, and the on demand service gives you films, TV shows, kids' programmes, sport and music.
Carl:
So there's quite a lot on offer there, but I am right in saying that Sky is the one to get normally, isn't it? - that's the popular one, isn't it?
Pete:
Sky is undoubtedly the most popular one out there. They've got nearly 10 million subscribers, which makes them certainly way in advance of everybody else, number one for TV.
Carl:
So how many people are using BT?
Pete:
Just under half a million, so they're quite a way off yet.
Carl:
It's all about price though, isn't it, you see? I bet you Sky are doing a better deal. What's Sky's deal?
Pete:
Well, the basic price, if you wanted to get Sky for the first time, it's going to be £18 a month, and that gives you one of their channel variety packs.
Carl:
That doesn't sound too bad, yeah - I can see why people are going for Sky.
Pete:
Except when you consider that there are actually six packs in the group, if you want all six of those channel packs, then you're up to about £27. Add in your movies, and add in your sport, that gets you to £48.50 a month.
Carl:
£48.50 a month?
Pete:
Then if you want HD, that's another tenner on top of that, and if you want the ESPN Sport, that's another £9 a month - £67.50 a month for the full Sky.
Carl:
£67 a month? - what's BT, £90 a month?
Pete:
Well BT's actually a lot cheaper, so the basic price is a £15 one-off fee for the box, and then £14.99 a month for the basic package, or £19.99 a month for the top. (Update: Box now costs from £45)
Carl:
Sorry - £19.99 for the top package? And that has sort of the equivalent of Sky's top package?
Pete:
It doesn't have the equivalent of Sky - Sky does have some advantages. Sky will give you things like Sky1, which you certainly can't get on BT Vision. Also Sky gives you 40 channels of HD.
Carl:
You're having a laugh - let's just all go buy BT Vision.
Pete:
I do need to be a bit more transparent on the pricing, though - for a start you have to have BT Broadband, so you have to pay your broadband line fees. Also, you have to have a BT phone line, so you've got your £11, £12 a month line rental. So it's not just the £19.99 a month charge, you have to have your broadband and your phone from BT as well.
Carl:
So come on then - spill the beans, what are the details? Tell me exactly what I get for BT Vision, because I'm looking for the loophole here.
Pete:
Okey dokey, so what you get is free access to all the TV shows that are available on the TV service; free access to Catch Up TV. Now, BT Vision is the only one that gives you a seven day catch up service for the BBC, ITV, Channel 4 and 5, no other broadcaster does that.
Carl:
Right.
Pete:
If you sign up to this £15 a month package, you also get free ESPN Sports, which is £9 on Sky.
Carl:
OK.
Pete:
And you pick from two packages for your basic £15 a month, which is made up of Film Club, Sports, Kids or Music, and that's all on demand content.
Carl:
OK.
Pete:
There actually is a handy little alternative, though. If you're not the kind of person that likes signing up to a long contract, you can actually do this on a non-contract, pay to view basis. For that, you buy a box, £90 one-off fee, and then everything you watch, you have to pay for.
Carl:
Oh, that's an interesting way round it. I'm a pay-as-you-go man, it's all Orange to me.
Pete:
Which is actually quite a nice way of doing it - £90 for the box gets you a high spec Freeview recorder, and if every now and then you want to watch a movie, you just pay £3 or £4 to watch that particular movie whenever you want, and that's billed to you, direct debit to your credit or debit card.
Carl:
OK, so let me make this absolutely clear - what I need to get is a BT Vision box, I need a broadband connection and I need a phone line, and once I've got that, I'm ready to rock'n'roll?
Pete:
Pretty much so, yes. There is one other tiny little thing that you need, which is you need a decent speed broadband connection. You need to have two megs or more on your internet connection, otherwise the video won't work.
Carl:
So, let's say I'm going to sign up for this - what happens?
Pete:

OK, BT will send you a kit, which is a self-install kit. They send you the box and all the stuff that you need to connect. You need to connect to the BT Home Hub, which is the internet router, and the Home Hub in turn needs to connect to your phone line, then you need to connect the BT Vision box to the Home Hub and to your TV set.
Now, a lot of people find that their Home Hub isn't in the same room as their TV, so BT bundle in these things called HomePlugs, you plug one end into your telly, one end into your broadband router, and it uses the home's mains wiring to get the data from the router to the TV.
Carl:
Oh, that's really cool, because some people have got them in the bedroom, and then you've got the TV downstairs - I like that idea, but there is an incy-wincy problem, isn't there? - because if you like your AM radio, ain't no more AM radio going on, is there? Or is that only whilst it's in use?
Pete:
It's all the time, unfortunately. So there is a big controversy about these HomePlugs, which is that they broadcast out a signal which can interfere with AM radio, and as was proved in our recent update, it can also interfere with things like DAB and FM. So you have to decide how moral you really want to be about using these things.
Carl:
So what about the BT Vision box itself - have you got one for me?
Pete:
Unfortunately not, because in the studio here we don't have a BT line, so I have one at home, I used it all the time. Here's a picture of it.

Carl:
Well, isn't that nice and black? It's about the size of a DVD player really, isn't it?
Pete:
Yeah, a fairly standard size. As I say, it's a fairly high spec recorder, two SCARTs, HDMI for your high definition, digital audio output - it's a nice bit of kit. This is the second generation one, coloured black. What I've brought in as well, the only thing I could actually bring in is the remote control - there you go, look at that.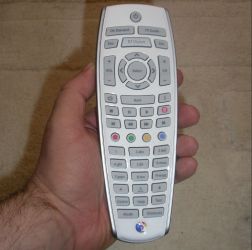 Carl:
That's very nice - can I press the buttons? Oh, look at that - the BT Vision thing flashes in the centre there, isn't that nice? Oh, I like that, I'll just have this please, thanks. You don't need it, do you?
Pete:
It's a bit of a chunky remote, I must admit, but it's pretty functional.
Carl:
I don't mind.
Pete:
I guess the key thing on this remote happens to be this little button here, called ...
Carl:
"On Demand" - is that when waitress service appears? So talk on demand to me.
Pete:
OK, so with BT Vision, you get Freeview for your live TV, which you can also record, but the big thing behind BT Vision is the On Demand content. So On Demand movies, to start off with - there's hundreds of films that you can watch on demand, it takes a few seconds to call them up. You watch over broadband, prices start from £1.99 for a film, for a 24 hour rental of that film.
Carl:
Well, that sounds alright, as long as they're not old films - are they old films?
Pete:
To be honest, yes, there are a few old films. However, there's also quite a lot of more modern films. BT Vision, when it started, had a fairly old back catalogue. They've really made some inroads with some decent studios, and there's some fairly decent modern stuff on there now. So we looked just before this recording, things like Alice in Wonderland, Avatar, Alvin and the Chipmunks, 2012, It's Complicated, Man Who Stares at Goats, Sherlock Holmes - they're all newer films, they're all fairly recently out. They are a bit more expensive - £3.49, but for a 24 hour rental.
Carl:
Yeah, they're good films as well.
Pete:
There's also a service called BT Vision Film Club, which is ... I'm not entirely convinced about this one. For that, you get 60 films a month, which are brand new, so every month you get a brand new set of 60 films that you can watch. It combines a service called PictureBox, which has been around for a while, together with Warner Films, and also some stuff from Film 4 On Demand.
Carl:
OK - it sounds like an old age pensioners' club. What's on that?
Pete:
Yeah, the films aren't actually the hottest films out there, so we had a look - things like Batman Begins, Bridget Jones, Miss Congeniality 1 and 2, Outbreak, that sort of thing.
Carl:
They're not quite classics yet, but they certainly have seen their day. How much?
Pete:
If you want to buy this standalone, it's £7 a month, but if you go for the £15 a month deal, you can get it as one of the free packages, so it could actually be free.
Carl:
Yeah, so - it's workable.
Pete:
There you go.
Carl:
That's films - what about telly?
Pete:
That's the biggie - live TV you get from Freeview, but there's over 1,500 TV shows available on this service. Prices start from about 80p upwards, typically it's something like 99p an episode for something like Peep Show or Outnumbered or something along those lines, or a one-off £6 a month for the entire lot.
Carl:
Wooh!
Pete:
Which of course is also included in that £15 a month as well.
Carl:
Nice.
Pete:
There's content from people like Warner, Sony, National Geographic, Discovery, HBO, Comedy Central, CBS, MTV, Adult Swim, and there's a pretty decent back catalogue of TV shows there.
Carl:
Fantastic, I'm looking forward to watching them now. Shall we go back to yours?
Pete:
We've also got the catch up TV, as we mentioned. Then you've got kids' content, so you've got Cartoon Network, Disney, Disney Playhouse, Baby TV, Nickelodeon - about 800 TV shows for kids, priced about 50p each, or you can get them in one of these value packs.
Carl:
OK, so what about the sports?
Pete:
Of course the big one is ESPN for the sport, which comes in free if you take out any of these value packs. There's also something called BT Vision Sport that gives you a back catalogue of on demand stuff. We had a quick look at the most recently watched, and we found it's the UFC Boxing fighting stuff, classic World Cup, Football Funnies, ICC Cricket Weekly, that kind of thing, and from August 2010 we get Sky Sports.
Carl:
This really is the sportsman's package, isn't it?
Pete:
It's not as comprehensive as going with Sky, and it's not really as comprehensive as going with Virgin Media, but it's a heck of a lot better than something like Freeview or Top Up TV, that sort of thing.
Carl:
Okey dokey, and what about those specialist subjects ... you know?
Pete:
Wink wink, nudge nudge - yes?
Carl:
I meant Bollywood.
Pete:
Yeah, you're looking at my notes here, aren't you? So there's a service called Bolly and Beyond, £7 a month, which is various sort of music and Bollywood type things. You can also get your adult content, before you ask - you can get on demand adult movies, should you wish.
Carl:
And why would that interest me? - I'm totally satisfied.
Pete:
You might be more interested in the interactive games - things like Sudoku, Pub Quiz, Hangman, Solitaire, Patience - 50 pence for a 60 minute rental, or for a pound you can get a day pass to most of these games.
Carl:
Oh dear - Tetris for the day? - I don't think I could stand that. So what's BT Vision like to use?
Pete:
Because we haven't actually got BT Vision in the studio ...
Carl:
Here's one you prepared earlier.
Pete:
So here I am in front of BT Vision, about to test out how quick and easy the playback of On Demand content is. So with the BT Vision controller in my hand, the first thing I do is press the On Demand button, which brings up a menu. Along the top, we have current rentals, downloads, film, TV, sports, kids, music, more, replay and help and tips.
So let's try replay - this is the Catch Up TV service, and BT Vision's unique in that it's the only service that offers access to all of the main catch up services. So that's BBC, ITV Netplayer, 4OnDemand and Demand Five. Also on this list I have Last Chance to See, Sport Weeklies and Free Trailers, but let's pick the BBC, always a good one to try. Press select on the control, and I have a list of all shows, children's, drama, entertainment and comedy, factual and news. Now, this isn't the full BBC iPlayer experience, it's a selection of the best BBC shows, but it has to be said, it has the majority of the TV programmes that you'll find on the iPlayer.
Let's just scroll to entertainment and comedy, so here we have 15 items - Mary Queen of Shops, the BAFTA awards, Friday Night with Jonathan Ross, Michael McIntyre, Have I Got News for You.
Let's try this one - Junior Apprentice, so I'm going to press select, and it's confirming whether I really want the Junior Apprentice. Press select again, it gives me the programme information, with the length of the programme; the cost, which is free on this occasion; and a programme description. Press select, the screen goes blank ...
Narrator:
"It's an education, like no other ...."
Pete:
... and there we go, within about two seconds, we've got a very smooth playback of a show from the BBC service there, very smooth.
Carl:
Yeah, so that sounds pretty straightforward, and you've got some screenshots here, which I'm liking - nice jet black background, which is always good, it makes it stand out.
Pete:
Yeah, this one is the electronic programme guide, so we're looking at the TV listings there.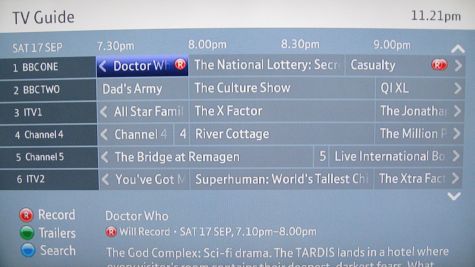 Carl:
OK, and it looks quite straightforward to follow, you've got Tales From Beyond the Grave, whatever that is; The Bill, Ten Years Younger - yeah, that's obvious, it's the three... ITV 1, Channel 4, 5 - all clearly listed on the left-hand side what the programmes are, but what's that little red thing - is that a letter R? It's a double R, isn't it?
Pete:
It's an R with a little bit of a shadow, which indicates series link, so that programme's on series link.
Carl:
Oh right - that's fair enough, and the rest of it's straightforward - it highlights in blue on a grey background - yeah, cool, I like that. And then the screenshot you've got below here is, what is this? - Red Dwarf, Red Dwarf, Red Dwarf - what's all that about?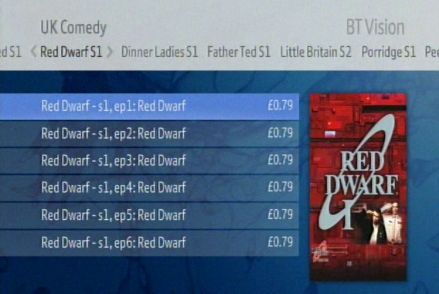 Pete:
So what we're looking at here is, I'm about to press play on a TV series. So I've gone through to some of the classic archives, I've gone into the UK comedy section, I've picked series two of Red Dwarf, just for the sake of the screen shot.
Carl:
And I like the way at the top there, you've got UK Comedy for the title, and underneath it you've got loads of headings, like Red Dwarf, dinnerladies, Father Ted, Little Britain, Porridge, etc and so forth.
Pete:
Yep, and you just use the left and right here on the remote to shuffle along these particular menus, and then, when you find something you want, you hit select, and it'll start off the programme.
Carl:
That's both straightforward and self-explanatory, cool.
Pete:
The one I really want to show you is this search, which is, I think, the best thing about BT Vision; I love this search feature. Use the little blue button on the remote to get into search, and you can put in either the TV show, or you can put in an actor or a director or a member of the crew in a TV programme, or in a film, and it will just give you a full listing. So here I've typed the word "star" in using the remote, and you can see I've got Star Trek, Start the Week ...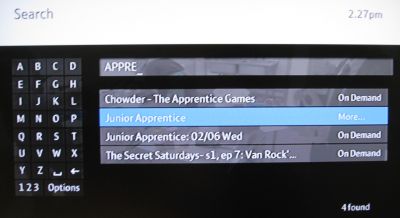 Carl:
I see - so what it actually does here is, it actually takes the letters, and it searches for anything that starts off with star, so it's not just Star Trek, Star Wars and those sort of things; you've actually got Start the Week, as you said, which is just finishing off the word, so if you've misspelt it or something, I think this is a good idea, and I love it, you've got Teen Stars Day, that's a nice little sort of touch, so it's not even starting with the word star, it's actually anything with star within it. I like that idea, and I also like the idea that you can actually type in an actor, or even part of the crew - that's great, because how many times do you sort of know the film's by a certain director, and you just know you'll know the title when you see it, but you just can't think.
Pete:
What I really like about this though, that's all good stuff, but I like the fact that you can search 14 days of Freeview, anything you've already got recorded, plus their entire On Demand library.
Carl:
Excellent. Now here's a question for you - does BT Vision do HD?
Pete:
Yeah, well ... that's an odd one. It does have an HDMI socket, so it upscales your Freeview, but it doesn't actually show live Freeview HD. A lot of new boxes coming out do support Freeview HD, but BT Vision doesn't. They may in the future; however, they do offer some movies and TV shows in HD. For instance, the most recent one is the film 2012, they're offering that in HD, but you can't actually watch it in real time, because there's just not enough bandwidth over the internet to do it, so you actually have to download it to the set top box first and then watch it.
Carl:
So is there anything new in store? You've already mentioned Sky Sports coming - what else?
Pete:
Well, the boss of BT, Ian Livingston, is really keen to kick this service into high gear, and they're talking about BT Vision 2.0. The other big thing that's been announced is a service called On Live, which is a new gaming service that's going to be coming to BT Vision. It's just launched in the US, and the idea is, you effectively use your TV as a dumb terminal, and all the game play is on these huge servers. That's going to be around in the second half of next year, 2011 - one to watch.
Carl:
Great - thanks. So I guess that's everything I need to know about BT Vision now?
Pete:
And anything you've missed, we'll have some pics and links up on our show notes.
Listen to FrequencyCast's BT Vision Audio Review (from Show 53). Take a listen!
More information: