TouchscreenKleen Reviewed
Looking for a way to keep your TV, computer, camera, tablet device or smartphone screen clean and static-free? We interview the man behind Touchscreen Kleen and review the product
What is TouchscreenKleen?
It's a rather impressive cleaning product that our team discovered at a trade show in London. There's nothing new able screen and cleaning products - indeed we've covered them in recent shows (see Brasso GadgetCare and Cyber Clean).
This product stands out from the other though, as not only does it do the job you'd expect well, but it comes with a cloth big enough to do the job, it's anti-static, and has an antibacterial cleaning action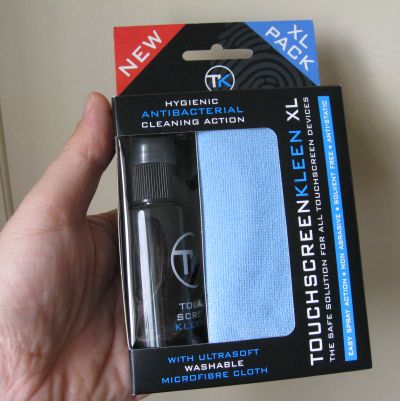 An unopened TouchscreenKleen Packet
Safe, and suitable for cleaning TV screens, camera lenses, tablet computers, laptop screens, mobile phone screens, glass clock faces, sunglasses and spectacles, ScreenKleen is available from a growing number of stockists in the UK, or you can order online from www.screen-kleen.com
TouchscreenKleen Interview
Our podcast team, Carl and Pete, were out and about at the Home Technology Event in London, where we bumped into Bill Doherty and the team, who were at the show demonstrating their cleaning product by doing very unpleasant things to a plasma TV. Here's out interview, where Bill explains all:
We interview Bill Doherty, Director of Screen-Kleen Ltd (6 minutes)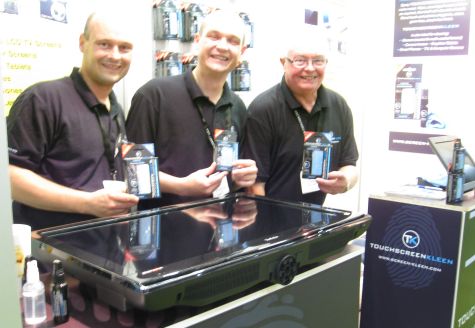 The guys from ScreenKleen at their Home Technology Event stand in 2011
The Demo
A couple of pictures taken during the demo. They don't do the product justice, as you can't see just how clean the screen is after a single squirt-and-wipe!
| | |
| --- | --- |
| Before: Screen, with baby oil and water | After: A clean screen! |
Our Review
Our Pete has gone a little crazy with his bottle of Touchscreen Kleen. He's done his LCD TV (twice), his office computer monitors (two, for some reason), anything with a screen in this home office, our studio laptop screen, his camera, his sunglasses, and even the inside of his car windscreen, which he tells us, suffers from severe smearing - We think it's best not to ask!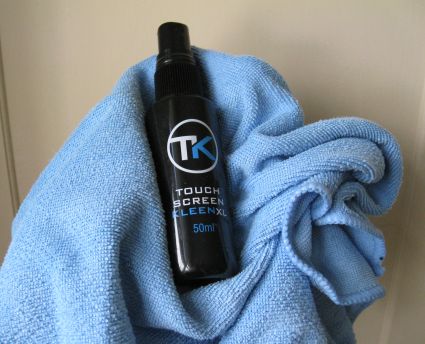 A bottle of TouchscreenKleen with the ample cloth
The product is very easy to use - it's a case of a single squirt onto the supplied washable cloth, then a good wipe on the glass or plastic screen. The non-flammable, non-toxic liquid needs to be sprayed onto the cloth, and not direct onto the thing you're cleaning, and it does the job you'd expect quickly and easily. It's also cheaper than a number of other proprietary cleaning products we've come across. We're happy to recommend this product as a great way to keep your screens sparkling, and to make sure Pete can see out of his car window!
Touchscreenkleen is available in standard (15ml) or XL (50ml), and both are small enough to accompany your laptop through airport security.
Interview with the Screen-Kleen Team:
We interviewed Bill Doherty from Screen-Kleen at the show, and featured a short extract in Show 66. Here's a transcript of the full interview:
We interview Bill Doherty, Director of Screen-Kleen Ltd (6 minutes)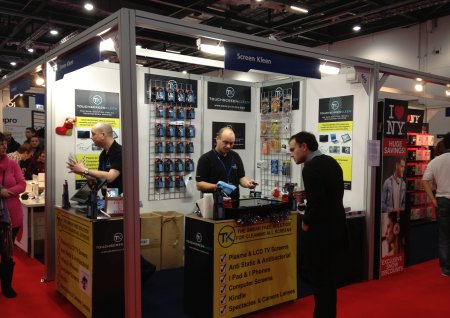 The guys from Screen Kleen at Gadget Show Live London
Bill:
We're producing this brand-new product, and launching it here at the last couple of shows, which was the Gadget Show and this Home Technology Event. The product is a smear-free, grease-free product, and when you clean with it, you're left with an absolutely smear-free unit with no residual smears anywhere. Also, the product is anti-bacterial, as well as being anti-static. So it's absolutely great for cleaning your laptops and televisions, including plasma screens. You could also clean the framework of your TV to keep the static off, and if your TV stands on a glass top table, for example, clean the glass top table, (a) that becomes anti-static, and (b) that's smear free too.
Carl:
Fantastic. Now, I was actually at the Gadget Show, and we did see a product by Brasso. How does yours compare to theirs? Is it better?
Bill:
Basically, Brasso, the product works very well. It's a gel that goes onto the screen; our product, you spray onto the cloth. The difference between our product and their product is that their product does contain silicone, so it actually polishes and builds up on the screen. When you use our product, which is with a microfibre cloth which is much larger, so you can clean a 42 inch TV with it, the product will always bring you back to how the manufacturer presented it to you, not forgetting obviously that we can't get rid of scratches.
Carl:
So you're bigging it up, but I'd like to see some old technology made to look brand new. Can you take me over to one of your glamorous assistants to show us it working?
Bill:
Well, he's not very glamorous - he's only my son.
Bill's son:
What I've got here today is a solution of water and baby oil, so what I'm going to do is put this onto the screen so it'll make it nice and greasy. As I do put it on the screen, I'll just let you know that you should never spray anything directly onto a screen. This is a demonstration only. I'm just going to get rid of the excess water out. As I do, as you can see that leaves a lovely, greasy, smeary screen now.
Carl:
So what we're looking at is a touch screen that has some very nasty-looking smears all over it. Okay - and you reckon you can make this better for us, do you?
Bill's son:
Most definitely. We get our cloth, we'll get the touch screen clean. One squirt onto the cloth - that one squirt will do a 32 inch TV quite comfortably. As I start to take this baby oil off the screen, I also mentioned to you that it is anti-static as well. So once you have cleaned the TV, if you go round the outside as well, it makes the whole unit totally anti-static. Also, it's anti-bacterial as well, so it gets rid of all the germs on your phones, on your iPads. I'm just going to turn the cloth over - just give it a final buff up, and then the time that I've told you them few bits and pieces, there you go - that's totally grease-free, smear-free, and now totally anti-static unit.
Carl:
That was actually really impressive. Look how clean that is? - it's incredible. Now, tell me - what do I get in a pack?
Bill:
Basically, we do two packs: we do a large pack, which is like 50ml, and bearing in mind it's only one squirt cleaning a 42 inch TV, and at the same time you get the cloth with it, which is 32 x 32, so it's a good size cloth. The cloth is microfibre, which is machine-washable. The only thing you mustn't do with it is put fabric conditioner with it - just give it a rinse, and it'll be fine, used hundreds of times. The smaller product, which is 15ml, with a smaller cloth which is much more ideal for carrying around in your laptop case, or your iPad case, and also very suitable for your pocket, so it's also great for cleaning your glasses, which is just an added bonus.
Carl:
Brilliant. And what's the secret ingredient?
Bill:
The secret ingredient - it's a really great product, it's totally safe on all systems including the plasma, and as for the ingredients, well I have to keep some of that to myself.
Carl:
Fair enough. And how much will I have to pay for one of these great packets?
Bill:
The large one, the XL pack, will retail at £8.99, and that's half the price of a lot of the major products that you'll see there. Also the small one is £5.99, which is again very low priced.
Carl:
Very reasonably priced indeed. And whereabouts can I get these from at the moment?
Bill:
You can come onto our website, which is www.screen-kleen.com.
Related links: