Destination Star Trek London 2012
FrequencyCast beamed down to London's Excel for the major sci-fi of the year. We look at the Trekker Mecca that is Destination Star Trek London.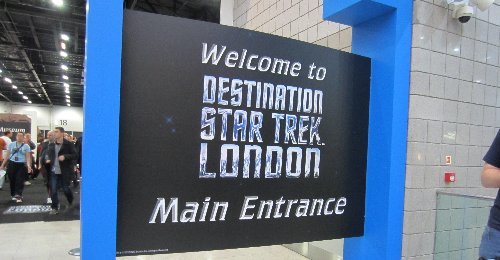 What is DSTL?
Put simply, it's the place for any self-respecting Star Trek fan to flock. It took place at London's Excel Centre between the 19th and the 21st of October 2012, and was an awesome place to be for lovers of the cult sci-fi franchise. Here's what was on offer:
All five captains in one place at the same time
A real, legal, Klingon wedding
A record-breaking gathering of Trek fans
The place for autographs and photos with the actors
FrequencyCast was there to soak up the atmosphere, and our 17 minute audio special gives you a flavour of what was in store for lovers of all things Trek.
DSTL 2012 Audio Review:
Here's what you'll hear in our 16 minute special from the convention:
Sam and Carole a.k.a The Trekkie Girls two top Trek Bloggers
CBS Transporter Effects (Dave from Realise Digital)
John de Lancie - "Q"
Ronald D Moore - Star Trek Screenwriter and Producer
Fans from the Czech Republic
The Official Star Trek Collection - Magazine
Fans from the Croatia
Jon Harrison from Forbidden Planet
Listen to our feature on Destination Star Trek London 2012 (17 mins)
The Trekkie Girls
First stop on our audio tour were Sam and Carole, better know to their fans as The Trekkie Girls. Check out their comprehensive website for news on all things Trek, opinions, guides on how to survive conventions, and plenty of pictures of the young ladies loving Star Trek. Check them out at trekkiegirls.com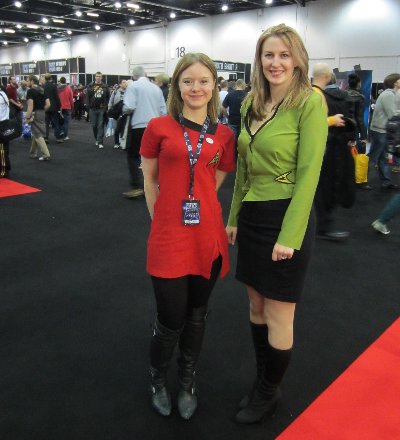 The Trekkie Girls, in their TOS uniforms
Writer Ronald D. Moore
We were able to catch up with Ronald D. Moore, one of the best-known writers for Star Trek: Next Generation, Star Trek:Deep Space 9 and Star Trek: Voyager. He later went on to work on the reboot of Battlestar Galactica.
We asked Ronald to explain just how hard it is to get the science right in TV sci-fi, and how much of a challenge getting the Star Trek Tech actually is...
John de Lancie - "Q"
Although only appearing in 9 episodes, the character "Q" is immensely popular (as well as powerful). Hear a couple of words from John de Lancie in our Star Trek special:
Trek Character Photocall
A huge number of Trek actors were in London in October to meet fans and sign autographs. Here are a few pics snapped at the press photo call:
| | |
| --- | --- |
| Odo, a.k.a René Auberjonois | DS('s Leeta, played by Chase Masterson |
| Gul Dukat a.k.a. Marc Alaimo | Malcolm Reed, a.k.a Dominic Keating |
Transporter Effects
In our update, we spoke to Dave Ward from Realise Digital. Here's a video clip of their impressive live Star Trek Transporter demo:

Beam me up from Realise Digital.
The Costumes
We caught up with some of the fans that made the effort to travel to the show in costume. Here are the pictures of the Trekkers from Europe that we caught up with...
| | |
| --- | --- |
| Trekkers from the Czech Republic | The Girls from Croatia |
Some of the other costumes we saw at the show: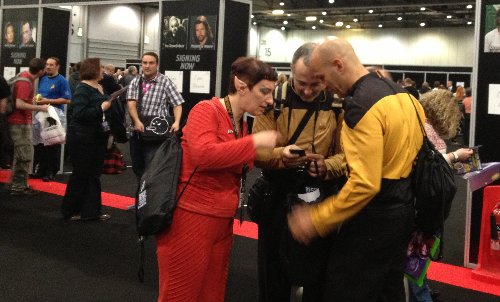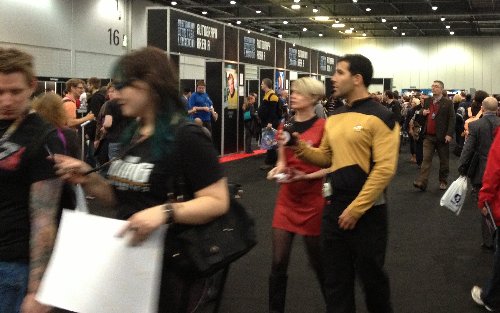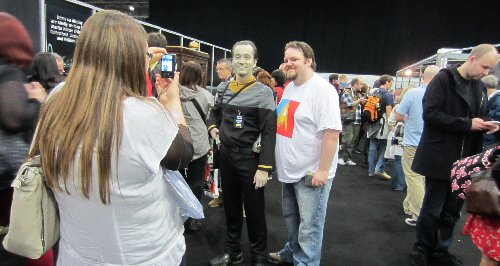 ... and our favourite costumes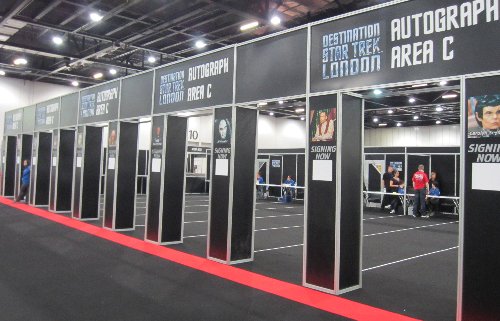 The Autograph lines, before the convention opened
A great day for lovers of Star Trek, and our Pete had a great Trek. More on the event can be found here: www.startreklondon.com
Related Content: