Gadget Show Live Xmas 2012 - Transcript Part 1
The FrequencyCast Technology Podcast visited Gadget Show Live at London's Excel in November 2012. Here is the first part of our audio review transcript.
Listen to FrequencyCast Show 82 - We're at Gadget Show Live London 2012
Heading to Gadget Show Live in London:
The first part of our audio transcript....
Pete:
For today's show, Kelly and I are out and about. We're actually in London. Where are we, Kelly?
Kelly:
We're at the Gadget Show Live at Christmas in London.
Pete:
And how are you finding it so far?
Kelly:
I'm quite excited so far. It's been fun.
Pete:
We've had an interesting day. We've been here about an hour so far. We've had a quick spin around, bumped into Jason Bradbury, which is always good fun, and having a mooch around at some of the amazing kit that's here. So have you seen anything that's impressed you so far today?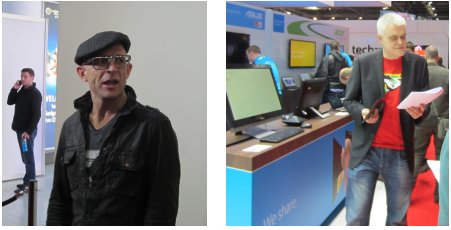 Snapped - Jason Bradbury and Jon Bentley at the opening day
Kelly:
I'm really looking forward to going and seeing the cat litter tray. I feel like I've gone for a whole cat theme here, but I just like the idea that I would never have to change a litter tray again.
Pete:
OK, I must admit that's not the most impressive gadget I've managed to find here today, but we'll continue our little stroll around, and see what we shall find.
Kelly:
We're at the launch of the new Wii U, and Pete's having a little go at the moment. So Pete, what are you getting up to?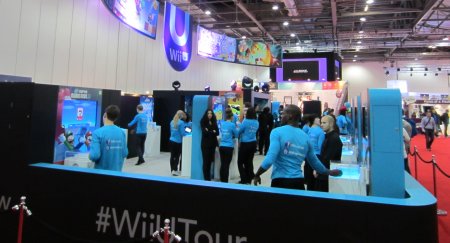 Wii U stand just before launch!
Pete:
This is great. I have been looking forward to seeing the Wii U. I've been a Wii user ever since they came out. This is the new Wii U, and it's got a rather odd controller. When I've looked at this, it looked a bit like a tablet device with the controls, and I thought it was going to be incredibly cumbersome, but actually, playing Super Mario Bros here, it's not bad - it's a nice, comfy hand hold. The weird thing is, though, is you've got a touch screen tablet in your hand, so I can look at the big screen, where I'm watching the game play at the moment, but if I get distracted, or I'm in two-player mode, I can look at the smaller screen, which is bigger than an iPhone screen, smaller than an iPad screen, and actually it's not bad. A front-facing camera, so you can use it for webcam and to take pictures and everything else, and also it's in HD, so you get a high-quality version of the play here. It's a comfy hold - you've had a hold, haven't you?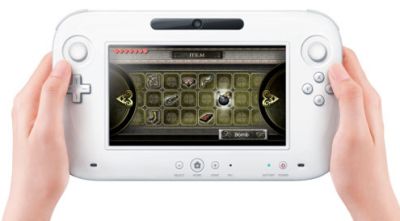 The all-net Wii U controller, launched at Gadget Show Live
Kelly:
I have had a hold. It's actually not that bad, it's quite light. I don't know if I'm as convinced as you are though Pete, I have to say.
Pete:
Where you've got a game where there's activity on the screen, but maybe you need a map in front of you, you can actually kind of have dual screen.
Kelly:
OK, so how are you actually getting on with, I believe you're playing Mario Bros, no?
Pete:
I am playing Super Mario Bros for the Wii U, and doing very, very badly. I think I'll have to take this one home, and get some practice.
Pete:
OK, Gadget Show Live, this time in London, and Kelly, you look gorgeous - what have you got on your head?
Kelly:
Thank you. Well, I have some brainwave cat ears on at the moment.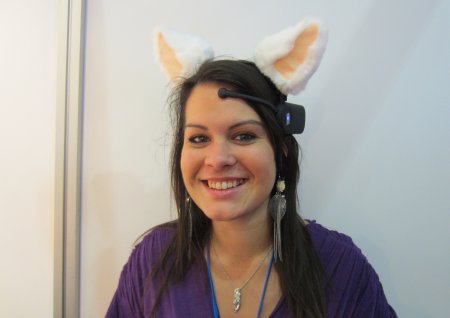 Kelly, using the power of thought to make her ears wiggle
Pete:
You've basically got a headset on that's giving you a pair of white, fluffy ears, an they're getting very excited. The more you talk to me, the more your ears wiggle. Is that a good thing?
Kelly:
Apparently it means I'm very alert.
Pete:
I'm glad to hear it, excellent, and there'll be a nice little video clip of you having a wiggle up on our website.
Kelly:
That is true.
Pete:
And who's stand are we with today?
Kelly:
We're back with Neurosky today, one of my old favourites.
Pete:
And of course, we met David and Boris a couple of years ago up in Birmingham, if I remember.
Kelly:
We did, and now we've got the young kids, the new team.
Pete:
Excellent. I look forward to seeing the video of your ears wiggling on our website.
Kelly:
Me too!
Pete:
I'm here at the Echostar stand, talking to Mark. Mark, just tell me what I'm looking at here.
Echostar:
Well, it's actually the smallest or slimmest PVR in the world. It's about the size of an iPad, and it was designed specifically to reduce the amount of clutter that you've got around your television set. So it's a Freeview + HD box, so it gives you all the Freeview HD channels. You can also record, pause, rewind live TV, but it's also got Ethernet and internet capabilities, so you can connect to the internet for things like iPlayer.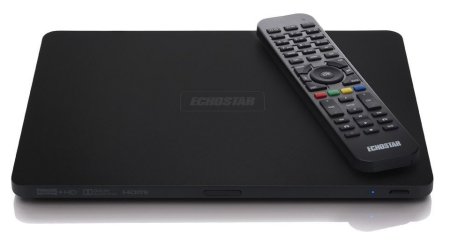 EchoStar HDT 610R Ultra Slim Freeview+ HD Digital TV Recorder
Pete:
So looking at this thickness, it can't have a hard drive and a fan in it for that kind of thickness?
Echostar:
Well, it doesn't have a fan in it, because it doesn't need one. It's been specifically designed so that the top is an aluminium case, so it actually dissipates the heat that way, so you don't need a noisy fan. Also obviously, it's super slim, but it is actually a small hard disk drive in there, so it's not solid state. It's 500 gig, which gives you ample space there for recording HD or standard definition programmes, but you can currently get it through a wide variety of retailers for around £199. Typical partners are Amazon, JLP, also Maplins and a range of independent stores as well.
Transcript continues here: Gadget Show Live Xmas 2012 - Transcript Part 2
Listen to FrequencyCast Show 82 - We're at Gadget Show Live London 2012
More information: