Google G1 - The First Android Phone
The first phone powered by the Google Android Operating System, the Google G1, was launched in the UK in October 2008. We got our hands on this phone, also known as the HTC Dream. Here's our initial review.
Listen to FrequencyCast Show 38 - Google G1 Phone
Google G1 Review - Transcript:
Carl:
Now let's move on to something that's sleek, it's white, and it's very sexy. What is it?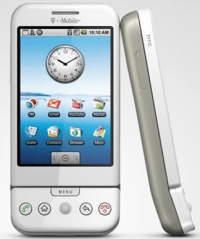 Pete:
OK, now this admittedly has been out for at least six months, so we're cutting edge ...
Carl:
Oh, it's old news, great, throw it away.
Pete:
Yes, so we're cutting edge. Hold that.
Carl:
Well, it's ... what, who's bent the bottom? Get a new one!
Pete:
Yes, any idea what this is?
Carl:
It looks like a mobile phone to me. Oh, hold on a minute - it's got Google written on the back.
Pete:
Yeah, so funnily enough, this is a Google Android phone, it's the G1, it's been out for a little while now, G2 on its way, but let's just fire this thing up, shall we? What does that say on the screen?
Carl:
G1 - TMobile.
Pete:
It's going to take a few seconds to boot in, and you'll see a nice little graphic in a minute of a little green thing.
Carl:
Oh look - there's a nice little green thing. It's a little android.
Pete:
So do you know what Android is, just remind us?
Carl:
That's Andrew-oid.
Pete:
So Android is Google's operating system for mobile phones.
Carl:
Excellent! So this is Google on your phone, I'm assuming?
Pete:
Absolutely.
Carl:
Wow.
Pete:
Can you give us a description?
Carl:
Well yes, it's white, it has a large screen, it has some function buttons down the bottom, which are at a slight angle to the rest of the device, and actually, if you do this - let me show you, you'll like this - look at that, wasn't that sleek? Slid up, see? I knew that was going to happen because I saw you doing it earlier.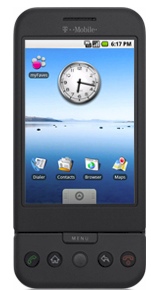 Pete:
So yes, it has a nice little slide out keyboard, which is off to the left, so we're not sliding anything down, we're sliding the screen off to the left, sliding out the keyboard, when you tilt to get the screen into landscape mode, the user interface changes.
Carl:
A bit like the iPhone?
Pete:
A little bit like the iPhone, yeah. So if we just press this here, let's have a quick run through of the menu items here, we've got alarm clock, browser, calculator, calendar ...
Carl:
Camera, contacts, dialer, email ...
Pete:
Google Mail, IM, maps, market ...
Carl:
Messaging, music, pictures and settings, of course.
Pete:
Which would you like us to explore first?
Carl:
Let's have a look at browser, just for a change.
Pete:
OK, so let's click on the browser icon, I'm going to slide the keyboard out here, you see it's already started up in Google mode. Let's just be clever here, shall we? Shall we type in FREQUENCYCAST.
Carl:
What does that spell - caterpillar?
Pete:
Frequency caterpillar - search Google, so it's doing a searchy searchy at the moment.
Carl:
Let me just point out that this is actually touch screen as well as a qwerty keyboard below it, and I do actually like the look of it. It's a real show off device, isn't it?
Pete:
I'm rather impressed with it actually, obviously I'm an iPhone person myself, so I was a little bit ... I wasn't expecting too much from this phone, but I am actually rather impressed with it.
Carl:
Fantastic.
Pete:
OK, here we go. So we've got to Google, top entry of course is FrequencyCast, so here is our website - look at that, not bad.
Carl:
That's very nice, it sort of rolls around the screen very nicely actually, and you've got a little zoom in and a zoom out icon down at the bottom of the screen for speed.
Pete:
Yep, you can drag around. It's not quite a sensitive a touch screen as the iPhone screen, but nonetheless, fairly smooth.
Carl:
It's certainly an alternative option, isn't it?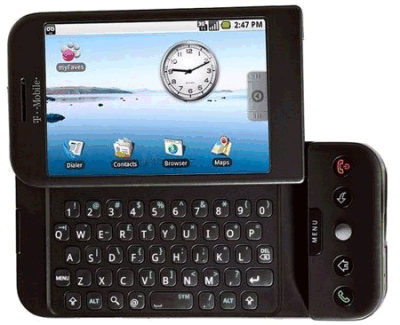 Pete:
Let's have quick look at some of the other features here, shall we? Let's have a look at ... I do like this nice clear desktop with a big clock in the middle.
Carl:
Yeah, that's nice, a good layout. I'm assuming you can change your screen like that though?
Pete:
You can change the wallpaper, you see the nice clock there on the screen, that's showing that you were 25 minutes late tonight?
Carl:
It depends how you look at that really, for next month's show I'm almost three weeks early.
Pete:
Good point! - well made. I did notice, when I put a SIM in this for the first time, it actually asked me for my Google account, which is a bit odd, so this is really fairly tightly tied into my Google account, I don't quite know why. While I've been talking, we've just got ... look, there's a map.
Carl:
Ooh, that's a nice map, I can see places and things that I'd like to go and see.
Pete:
So yep, Google Maps built in, you can do My Location, so this has got a GPS receiver built in, you can do satellite/traffic/street view - what does street view do? - OK, street view, it's a view of a street, you see.
Carl:
Shocking! - who'd have thought they'd come up with such a creative name for it?
Pete:
What else have we got? - we've got email, look, FrequencyCast email, inbox, there you go - mostly spam, thank you everyone for spamming us, lovely.
Carl:
Who's this Livingstone bloke?
Pete:
I don't know, no idea. What else have we got here? Pictures, the pictures are lovely actually, the pictures are really crisp, look, isn't that nice?
Carl:
They're lovely, look at that - the images are really sharp.
Pete:
I'm not so sure about the nipple though.
Carl:
Oh, I like a nipple on my phone.
Pete:
Have a feel of that.
Carl:
Let me just play with your nipple anyway. Oh, it's a bit grainy, isn't it? Yes, it's a textured nipple, isn't it, which isn't the done thing.
Pete:
It's a little odd, it is a little odd, there we go, but it does, if you've got a web page, it's actually quite good at scrolling up and down a web page.
Carl:
Oh yes, it is, it's quite effective, isn't it? Maybe it's better, it just doesn't seem so fluid as some others.
Pete:
Yes, it's got its pros and cons, going down this email list is quite good, flicking through a web page is quite good. You're still very tempted to use the old iPhone interaction and flick. Oh, two new emails, hmm.
Carl:
None of them are your friends, are they?
Pete:
No, welcome to TMobile.
Carl:
Oh, that's as close as you get to a friend.
Pete:
Oh, TMobile love me, look - open the ... there you go, type your little messages in there, that's quite nice. This keyboard's actually not too bad, is it?
Carl:
I think it's fantastic, and it's white.
Pete:
So this compared with ... let me get my good old faithful iPhone out over here in my jacket.
Carl:
That's a long way away, you know.
Pete:
I know, it's on the hatstand. So go on then, hold the two of them.
Carl:
I think your iPhone's a little lighter, not much in it though. I don't know, you see the iPhone's so easy to operate, and smooth, but then I like the look of the G1, it almost feels like it's a different device altogether.
Pete:
Yes, one final thing I just want to have a quick look at, I haven't even got so far as looking at this yet, so this is what all the fuss is about with applications, so this market here lets you get access to a whole bunch of applications, so on my iPhone here you've got Apps Store, here you've got Android Market, which gives you access to all of these applications, so this is where you can download all the third party applications, so OK, that's quite easy to use, so search my downloads, games, I see, there you go, apparently I'm under 18 so I can't do that.

Available now - The FrequencyCast Podcast App - hear the FileSaveAs team discuss today's tech.
The FrequencyCast UK Podcast is a free download from the Google Android Market (Search for "FrequencyCast")
Carl:
You reckon? - under 18 inches, under 18 foot, under 18 what?
Pete:
Under an IQ of 18.
Carl:
Oh I see, under 18 QI, if you were saying that correctly.
Pete:
So anyway, there you go - that is the Google G1 Android phone, qwerty keyboard, 3G, GPRS, built-in camera, no flash, and it's only 3 megapixels.
Carl:
Good images.
Pete:
Good images, as you say. How much?
Carl:
£197.
Pete:
OK, let's assume we're buying this on a contract, and you can get this free on a contract, and of course you can get the iPhone free on a contract - how much would your monthly contract be, would you reckon?
Carl:
£30.
Pete:
Oh, sorry - "activity home in process, android.process.acore is not responding, force close" - nice error.
Carl:
Interesting.
Pete:
I thought you'd like that.
Carl:
How much is it per month though? - let me know!
Pete:
£36.50 a month.
Carl:
I wasn't far off, was I? - £6.50 out. OK then, what's the iPhone at the moment?
Pete:
Ah, you'll be getting the iPhone for free if you're prepared to pay £44 a month, so there's, what's that? - this is £7.50 a month cheaper to get the Android over the iPhone.
Carl:
I do like its name though, Android. "Destroy all humans!"
You can get the Google G1 direct from www.t-mobile.co.uk
Listen to FrequencyCast Show 38 - Google G1 Phone