Audio Review of the UK Apple iPhone
50% of our podcasting team loves the Apple iPhone. FrequencyCast got hold of a UK iPhone on launch day in November 2007 and put together an audio podcast that explores the iPhone in depth! We've since been hands-on with the 3G version and the iPhone 3GS.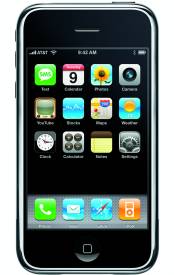 Apple's much-hyped iPhone launched in the UK on the 9th of November 2007, exclusively on the o2 network. An updated version, the 3G iPhone, appeared in July 2008, and an enhanced iPhone 3GS appear in June 2009. Here are the highlights of what the phone offers:
Amazing web browsing with the built-in Safari browser (the best handheld web experience we've ever seen)


Great sync with Outlook and iTunes


Great email and MP3 functionality


The updated iPhone has faster Internet connectivity (3G), plus a built-in GPS receiver


Available on o2 with an unlimited mobile data tariff package as standard
We put the phone through its paces, and look closely at the pro's and the con's of Apple's new creation. Our podcast lads, Pete and Carl sat in a room, just after the UK launch, and played with the iPhone, going through each app, one by one. We then looked at how to activate one (it's different to how you get connected with other mobiles), then compared Apple's UK iPhone with some of the other leading handsets out on the market when the iPhone launched.
Take a listen to our Unofficial Guide to the iPhone to hear more...
The 3G version and the newer 3GS version of the Apple iPhone are available on contract in the UK from o2 online.
iPhone 3G and 3GS are also available on Pay-as-you-go at o2 online.
UK iPhone - Audio review and Guide
Just after the phone's UK launch in 2007, we released our 33 minute audio review - the Unofficial Audio Guide to the Apple iPhone".
You can download our iPhone guide as an MP3 file, or listen to the guide over the Internet, using our pop-up player.
Web Browsing on the iPhone
As we discuss in our audio guide, surfing the web on an iPhone is a dream. For a start, you can use the iPhone's motion detector to switch between landscape and portrait easily. Landscape-mode obviously works best for browsing. See a pic of this site on an iPhone below: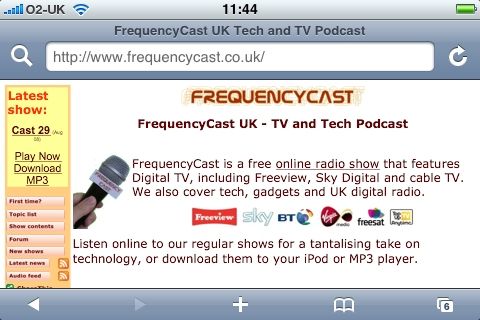 Browsing the FrequencyCast website on a UK iPhone
Navigation works very well, and you can use your finger to whoosh around a web page. For sites with columns, one nice feature is that a screen-tap will zoom in on a particular area of the screen - handy for reading a specific area of the screen without having to zoom in the hard way.
The browser on the iPhone is actually the fully-featured Safari browser, the browser supplied with Apple Mac computers. Unlike the browser you'll find on a Windows Mobile or Symbian OS smartphone, the iPhone's browser is fully featured, and the majority of sites we've visited (including secure banking sites and ecommerce sites) just work. Cookies are well supported, and a number of sites now have iPhone-specific landing pages, for an even better browsing experience (Facebook and Amazon being two key examples).
Just like other mobile browsers, note that iPhone Safari browser doesn't support the Adobe Flash plug-in (SWF files), nor Java applications. Apart from that, it's as close to the desktop web experience as you can expect to find on a mobile, and the best handset mobile experience we've ever seen. For more, listen to our iPhone special.
iPhone Guide - Notes
Hotmail: Get Hotmail on your iPhone. Sign up to www.izymail.com- they will allow you to access your personal Hotmail account using the IMAP protocol, which you can set up on the iPhone via Settings > Mail > Add account > Other


Headphones: The iPhone headphone adapter mentioned in the show that allows you to plug in standard 3.5mm headphones into the iPhone headphone socket, is made by Griffin. At the time of recording, these are available online from Carphone Warehouse in their Accessories section, for £9.99.
iPhone tips
Tapping an address from Phone > Contacts opens up the address in Google Maps (thanks to the Bearded Buffalo for that tip)
Your iPhone Questions:
Calendar: "Does the iPhone have a diary/organiser? I presently have an XDA and want to change for a smaller lighter mobile phone, but need one with an organiser." (Sandra Allen)
Oh yes - the iPhone has a Calendar application with a List view, Day view and Month view. It supports event notification, repeating entries, and can sync to Microsoft Outlook.
Other links
Got a question on the Apple iPhone that we can answer in the next show? Call 020 8133 4567 or send us a message