London Film & Comic Con 2012 - Transcript
For Show 78, Kelly and Pete boldly trekked to this top sci-fi convention in London. Here is the transcript of our feature on LFCC 2012, from Show 78.
Listen to FrequencyCast Show 77 - London Film and Comic Con 2012
Note that we have a longer version of the feature, plus plenty of pictures, here: Review of London Film & Comic Con 2012
LFCC Day One Transcript:
Here's the edited version of what we featured in Show 78 for FrequencyCast (Full version here!):
Transcript continues from British Gas RHC Install
Pete:
Just to remind you that coming up later in the show, a look at a special Olympic radio station, plus 3D printers. First off, though, something a little different.
Now, as well as covering tech, we also cover TV topics, and that gave us an excuse to visit the London Film and Comic Con last month. It's a mecca for all things Star Wars, Star Trek, Firefly and Dr Who. Subscribers to our audio feed will have already received our review of LFCC 2012, but if you haven't heard the full report yet, here are some highlights. To get you in the mood, we first spoke to Andy in the rather long queue.


The Queue - on the Friday night Press and Preview session
Andy:
I'm wearing the costume worn by the tenth doctor in Dr Who.
Pete:
OK, and I think you're being very brave, being one of the few people in costume here. I'm sure everyone will be changed when we get inside the building, but well done, Andy, and from your friends, a big round of applause, I think. So we moved inside the convention, into the Olympia Grand Hall in London, no less, and with me was one rather scared-looking Kelly.
Kelly:
Well, there's a lot of people here dressed up as, I think super heroes. I don't really know who they are. I've seen a lot of people with very crazy hair.
Pete:
We're in what's called the signing hall at the moment, and just paint a picture for me, Kelly.
Kelly:
Well, at the moment there's a lot of people here in a lot of queues, with a lot of pictures waiting for quite a lot of autographs.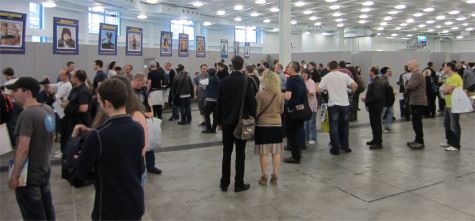 The signing area, at London Film and Comic Con 2012
Pete:
And let's just have a look around here - I've picked out some people I would love to go and see if we can go and have a chat to - over there, somebody you wouldn't have heard of, Jane Badler from V - ring any bells?
Kelly:
No, I'm afraid not.
Pete:
1980s' sci-fi film, where she had to eat a hamster.
Kelly:
I don't know how I feel about watching anybody eat a hamster, though.
Pete:
Over there, to my right, two people I would love to go and see, both from Firefly - we have Adam Baldwin, of course who played the man they called Jayne, and Jewel Staite, who was the engineer Kaylee. We've also just bumped into Gates McFadden, who is, of course, Dr Beverley Crusher from the Enterprise.
Kelly:
The other side of the exhibition, there's a lot of different stalls selling lots of different geeky memorabilia.
Pete:
More on the hall later, but first, an extract of our interview with the lizard lady herself, Jane Badler.
Jane:
Hi, it's so nice to be here, in London at the London Comic Con.
Pete:
So obviously, we saw you in your red outfit back in the Eighties. How was it to film V?
Jane:
Well, it was incredibly exciting. It was my first big series. I was doing soap operas in New York, so I was incredibly excited when I got V.
Pete:
And of course, more recently we've had the revival, which has hit the UK. Is there any chance of seeing V coming back in any form, do you think?
Jane:
You know, I think it's fantastic that people want us back, but everyone's moved onto other projects. It's going to be very difficult to get the same team. They'd have to almost move into another generation of Vs. Who knows, though? - you never know.
Pete:
There's a full version of our interview with the lovely Jane Badler up on our website.
Listen to our interview with V leader Diana a.k.a. Jane Badler (6 mins)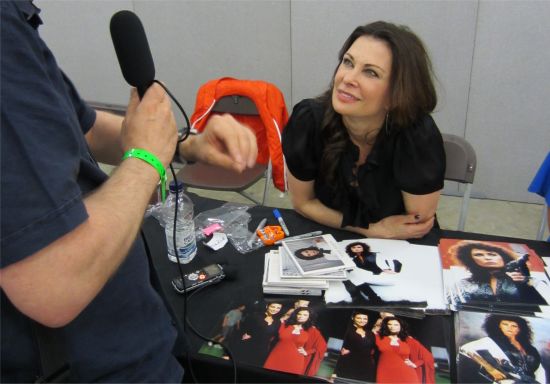 The arm of Pete from FrequencyCast, interviewing sci-fi legend Jane Badler
Pete:
Now, as we're a tech radio show, it's only right that we track down the best tech we can when we're out and about, and this was courtesy of our friends at Firebox.com. We were surprised to see them at the convention, so we had a chat. Here's Paul with a rather unusual job title.
Paul:
I'm the Head of Personalised Products. I actually invent, or come up with the ideas, of anything you can personalise yourself, so if you can put your name on it, or add a photo or upload a photo, we'll turn it into a product, and it'll be amazing.
Pete:
Now, what we've got here is some rather unusual heads on spikes, which I wasn't quite expecting, and some super hero figurines. Tell me what's going on here.
Paul:
We've come up with a product where the customer uploads two photos of themselves, sort of passport style, one head shot, both side and straight on. We then turn that into a 3D render, and print it on a fancy 3D printer, which then allows the customer to pop it onto any actual figure they want to be, so they can be Superman, or Wonder Woman or Spiderman.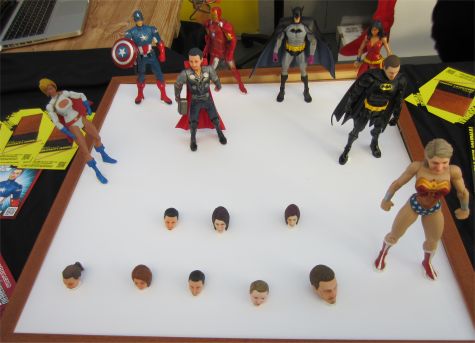 Get your 3D head on the superhero of your choice with a Firebox Superhero
Pete:
And how are these done? - you say, on a printer. Now obviously, these are three-dimensional. My printer is only two-dimensional. How are doing that, then?
Paul:
There's this amazing technology that's been around for a little while called 3D printing, which is just like a desktop printer you get at home, which is like an inkjet, but instead of printing on the paper, it builds up layers of ink, and this kind of powdered material in different colours as well, and we turn it into full colour heads. It's quite amazing - even NASA are looking into this, for putting into the orbiting space stations, so if NASA loses a spanner, NASA can email them a new spanner, which just blows my mind, every time I think about it.
Pete:
Oh, I like the idea of that. I'm assuming these printers aren't £99 at PC World though, are they?
Paul:
No, they're a little bit more expensive. Their price range is on how many colours you want. If you want colour, then they can go up to any sort of amount you can imagine really, but they're designed to work in the office. They're the size of a couple of filing cabinets, right down to actually desktop ones, which will just sit there and do three colours, three basic colours. But yes, they're not cheap, but they are amazing.
Pete:
Presumably, you send these photos, and you get a head and a body - is that right?
Paul:
Yeah, and you can actually pick any body you want as well, so we offer a range of bodies on Firebox.com, and you can just choose whoever you want, and if you get bored of the body that you actually get sent, because of the size of the head, it'll actually fit onto any six inch character, so you can just pop your head off, Blu-Tack it or superglue it onto another person. So Monday, you could be Wonder Woman; Tuesday, you could be Batgirl; Wednesday, you could be Spiderman.
Pete:
Wonderful. Right, I'm going to turn to Kelly now - you've been looking longingly, is it Wonder Woman you're after there - have I got that right?
Kelly:
No! - I want to be Catwoman!
Paul:
I'm sure if you ask nicely, I could get you a Catwoman.
Pete:
Can you miaow for us?
Kelly:
Miaow!
Pete:
Very good! And do we get the ears with Catwoman?
Paul:
I'm sure we can arrange something!
Pete:
Wow, a truly personalised present. Can you see this taking off?
Kelly:
I think it's going to be absolutely fantastic.
Pete:
Go on then - who would you see me as, out of this little collection?
Kelly:
I reckon you'd make a good Wonder Woman.
Pete:
Yeah, thanks a bunch, Kelly! And just for that, we'll be putting up that picture of you waving a light sabre about up on our show notes. We'll also be putting up a picture of the Firebox Kelly Catwoman creation as soon as it arrives, so keep an eye on frequencycast.co.uk/lfcc.
Now, an extra-special interview - we were lucky enough to speak to Dave Prowse, the man in black himself. First of all, we wanted to know how Dave got the part of Darth Vader, and it transpires that George Lucas saw Dave in the film, "A Clockwork Orange".
Dave:
Lucas saw the film in California, and remembered me, and he came over to London in '76, and said to the managing director of 20th Century, he said, "Do me a favour, can you find this guy, Dave Prowse, for me?" And so I got called into see George, and I said, "Well, if you don't mind me asking, how did you know of me?" He said, "Oh, I saw you in Stanley Kubrick's Clockwork Orange. If you're good enough for Stanley Kubrick, you're good enough for me", and that was it. I didn't have to act, I didn't have to do anything. He said, "I'd like to offer you one of two parts in this movie I'm doing", and I said, "What are the two parts?" He said, "Well, the first one's a character called Chewbacca". I said, "What the hell's Chewbacca?", and he said, "It's like a hairy gorilla that goes through the film on the Goodies", and I said, "No, I don't fancy that at all. What's the other part?", and he said, "Well, the other one's the big villain of the film, a character called Darth Vader". I said, "George - don't say any more, I'll take the villain's part." He said, "Dave, I think you've made a great decision, because nobody will ever forget Darth Vader", and here we are, 30-oddy years later, travelling round the world on the back of Darth, as it were.
Pete:
Absolutely, although I'm not entirely sure that the costume would be more comfortable than the Chewbacca outfit.
Dave:
Oh, I don't know - I think they were both as bad as each other actually.
Pete:
So obviously, we're here today at the London Film and Comic Con 2012. Do you enjoy getting out to meet the fans?
Dave:
Yeah, I do actually. Well, I practically do nothing else but this now. I travel all over the world. I'm somewhere in the world, I won't say every weekend, but most weekends.
Pete:
And do you still watch any science fiction, either films or TV?
Dave:
I think I've only ever seen Star Wars once or twice. I've never been one for going to see it time and time and time again, like a lot of people do. I'm not a huge sci-fi fan. I don't think I've ever seen an episode of Star Trek. I've met all the Star Trek people, and I get on very very well with them all, but I'd hate to admit to them that I've never actually seen an episode of it.
Pete:
I think even Kelly's seen one episode of Star Trek. When we'd finished our interview, we pointed Dave at a stand selling Next Generation boxed sets, so you never know. There's a longer version of our interview with Dave Prowse up on our website - go and have a listen. That wraps up our coverage of London Film and Comic Con 2012 - a final few words from Kelly on what she thought of the show.
Kelly:
I have actually thoroughly enjoyed myself.
Pete:
You're looking slightly less confused than you were earlier. I think secretly we could convert you, you know.
Kelly:
I quite like the commitment they put in, you know. That could make me convert, and I love fancy dress.
Pete:
Well, there's a Wonder Woman outfit you wouldn't mind trying on for me over there, if I could - no, no.
Kelly:
It's not happening - sorry.
Pete:
More details, and some photos, up on our website. The address is: www.frequencycast.co.uk/lfc.
Transcript Continues: 2o12L Ham Radio Callsign
Listen to our review of London Film and Comic Con 2012 (23 mins)
Related Pages: