Cult sci-fi Series V - Jane Badler Interview
Remember the 1980s sci-fi series V? Or perhaps the 2009 "next generation" V series? We look at the series that is "V", and talk to Jane Badler, who played Visitor Leader Diana in both the 80s and 21st century versions of the classic alien encounter series.
sci-fi Classic "V":
Back in 1983, a TV mini-series took to the air showing us what the world would be like if aliens came to visit. The visitors from a distant star turned up in nice red uniforms, and were hiding a dark secret.
In 2009, US TV firm ABC tried to 'reboot' the series, casting actors from Firefly, Lost and Smallville. The reboot survived two short seasons before being axed. The series, of course, is "V".
Jane Badler Interview
Pete and Kelly visited London Film and Comic Con 2012 gathering material for our regular radio show. While we were there, we were lucky enough to be able to get an interview with one of Pete's favourite sci-fi stars. We're so pleased to get this interview, that we've released it ahead of our next full-length show.
If you recall the 1983 version of "V", you'll no doubt remember Diana - commander of the Los Angeles mother ship, and the head baddie. The scene that's most memorable, is the moment that Diana snacks on a hamster. The two "V" mini-series led to a follow-on series and several books. Diana was played by Jane Badler, and the fans were lining up to catch a word, get a photo and collect an autograph.
Pete caught up with Jane during a short break in autograph signing to talk about V, Project Alice (the plan to revive V again), and to find out the one piece of V technology that would change her life. We're hoping that our fellow "V" fans will enjoying hearing our short interview with the cult sci-fi legend Diana!
Listen to our interview with V leader Diana a.k.a. Jane Badler (6 mins)

The queue to meet Jane Badler at London Film and Comic Con 2012
For the 21st century re-imaging of "V", Jane's back. She appears in Series 2. In the new series, the Visitor leader Anna (played by Firefly's Morena Baccarin). Jane Badler plays a very different Visitor - Anna's mum... also called Diana.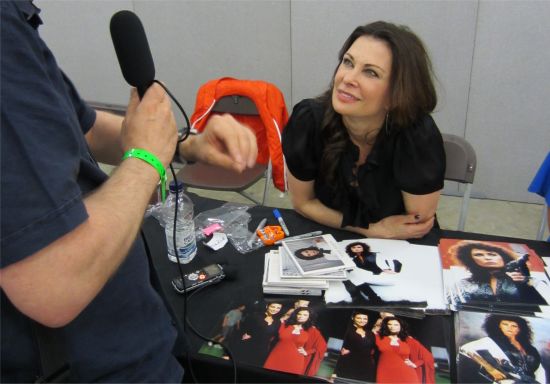 The arm of Pete from FrequencyCast, interviewing sci-fi legend Jane Badler
We'd like to thanks Jane Badler for taking time to talk to us. For details of Jane's career, her music, and what she's up to, at her official site www.janebadler.com
Listen to our interview with V leader Diana a.k.a. Jane Badler (6 mins)
Related Pages: