Sanyo Massage Chair Review
As part of our feature on the Ideal Home Show 2012, our Sarah tried out the Zero-Gravity Massage Chair made by Sanyo. We spoke to Kelvin from Sasaki Bodycare to find out more.
Sanyo's Therapeutic Massage Chair:
At the Ideal Home Show 2012, our Sarah tried out a pretty impressive massage chair. It was the Sanyo Therapeutic Massage Chair, and it's a very clever product.
Whereas most massage chairs run a single programme with some minor variations, this chair is the only one to detect your tension spots to give you a personalised massage, to ease away the aches and pains of the day.
The chair's display shows you your stress and stiffness points, and gives you control over the massage: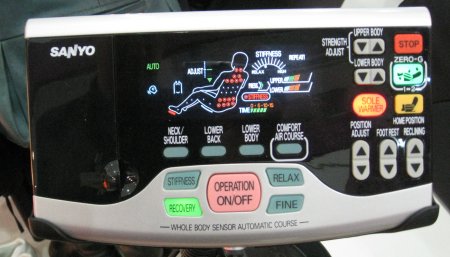 There are three models of chair available, the 7 Series, 5 Series and 3 Series, and if you're interested, you can arrange for a free home demonstration. For more information on the Sanyo Zero Gravity massage chairs, contact UK distributors www.sasaki.co.uk.
At the show, we spoke to Kelvin from Sasaki, to find out how the chair works its magic:
Sarah gets an awesome massage from the Sanyo Zero Gravity Massage Chair (4 mins)
Here are a couple of pictures of our Sarah, relaxing and relieving stiffness in the Sanyo Zero-Gravity Massage Chair:
Related links: