Ideal Home Show 2012 - Interviews and Round-Up
FrequencyCast was at the Ideal Home Show 2012. Here's a summary of our day and a collection of interviews with show exhibitors showing their innovative products.
Listen to FrequencyCast Show 74 - Ideal Home Show 2012 Roundup
Ideal Home Show 2012 Transcript:
We hit the Ideal Home Show on the first day of the show. Here's a look at what we discovered.
Carl:
So it's Focus time, and what are we going to talk about today, Pete?
Pete:
Well, lots to talk about today - free audio books, how to power a radio station from a ship, killer zombies and more. To help us out with the first part of today's Focus though, here's our Sarah.
Sarah:
Hello.
Pete:
Now Sarah, you've been out and about this month - where have you been?
Sarah:
Well, we've been to the Ideal Home Show in London.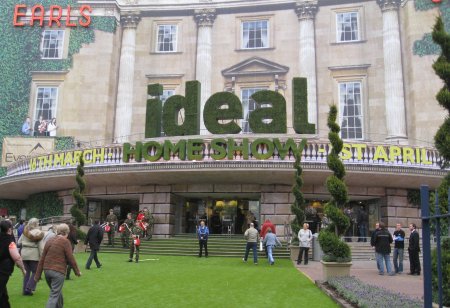 Pete:
Yes, we went up to the first day of the show up in Earl's Court, and hopefully out listeners caught our two audio updates released after the first day. As we're recording this, the show's coming to an end, but while we were there, we picked up some great interviews.
Sarah:
We did, and first we spoke to Paul Grosvenor from the Smart Homes team at British Gas.
Pete:
Their new range of products are designed to help keep your fuel bills down, and what Paul handed us first looked like a high tech sat nav device.
Paul:
Yes, so this is our new smart meter, and smart energy monitor that comes along with that, so this device really will help customers understand their energy use for the first time in pounds and pence as they use it. So it's a real step forward in helping customers see their energy differently as they use it, and to help them make decisions, change their behaviour, and save some money.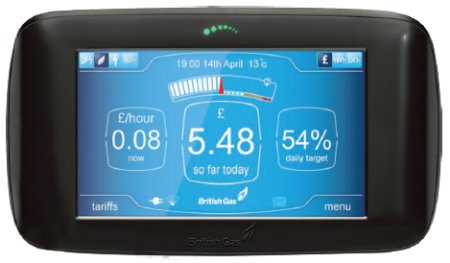 Pete:
OK. Now, we've looked at these in the past on previous shows, and we've had these devices that you stick in your meter cupboard hidden away, a little clamp to go round your electricity cables, and displays that you can put in the house. It's along those lines, but this is slightly more clever than that - is that correct?\
Paul:
Yeah, I think that's right, so you're referring there to an electricity monitor which has been around for a few years now, and does, as you say, work with a clamp that sits near the electricity meter, and transmits a signal to a monitor in a house, but that just gives you part of the picture, so that just tells you about the electricity, which is about a third of a typical customer's bill. So having gas as well as electricity for the first time with a smart meter is a real step forward, so it gives you the full picture, and explains in pounds and pence, as I say, how customers are using their electricity; when they use it as well - so it captures a meter read every 30 minutes, so it gives a whole new level of understanding for customers, and you can then use that information to help them understand how they use that energy, how they can do things a bit differently, and change their behaviour and save some real money.
Pete:
Looking at the display, what do I see here? So that's presumably the amount in the middle on this touchscreen device is the amount I would have spent so far, combined gas and electricity, is that right?
Paul:
That's right, so you can see what you're using now so far today, for example, but you can also use it to compare previous days, hours, weeks and months. You can set targets on you, so say you wanted to spend just £30 this month versus £32 last, you can set yourself a target and this smart energy monitor will tell you how you're doing against that target, so again it helps you budget, understand and save.
Pete:
Now clearly I can't just put a clamp around my gas meter in the same way as I can with my electricity meter, so how is this installed?
Paul:
Yeah, so it is a meter swap out, so by 2019 the government has mandated that all British homes will have a new smart meter in it, so British Gas is leading the way in that installation, and we've done over 420,000 now to businesses and homes across the UK. So we're really keen to get this to customers early, so they can start to understand and see the benefits of that. So it would be a meter swap out, and it'll be gradually rolled out now through to 2019, as and when the customer's old meter becomes ready for swapping out.
Pete:
So is there a cost to the consumer for having that meter swap out, or is this something that the government has committed to by this date?
Paul:
Absolutely right, so it's free to the consumer. The government has committed to it, and there's no cost to the customer for this roll out, and there's going to be some real benefits to the nation and to customers, really to see, understanding for the first time, and actually the ability to save some energy, so there's some real consumer benefits in there as well. It also captures meter reads automatically for the customer, and sends those to us, so no more hassle for meter readers or capture - you can meter read yourself.
Pete:
Does it connect to the mobile network, or to internet or something, to send off its data?
Paul:
There's a couple of different ways it works, so at the moment a text message, a simple SMS, is sent overnight, but there's also options around doing it through GPRS, so various solutions out there.
Pete:
So here at the show today I can see lots of talk of the smart home of the future - could you just fill me in on what that might look like?
Paul:
Yeah, so for British Gas we see that the smart meter is just the start of the story really, and it's about developing a house that really helps customers live more conveniently and efficiently. So it's not just a smart meter - it's also a heating control, for example. So you can take control when you're on the move from smartphone app or online to control your heating. Also things like wireless home security systems, which again are connected through your smartphone app and online, and also electric vehicle charging and solar generation. So we see it really as the smart home of the future story, with smart meters at the core of that.
Pete:
And there's a longer version of that up on our show notes. (British Gas Smart Homes Feature)
Sarah:
The next stand was an odd one. It looked a bit like the FrequencyCast studio after you and Carl have finished.
Pete:
So are you saying me and Carl are messy?
Sarah:
Have you seen this place today?
Pete:
Normally the stands we see here at the show have got lots of shining boxes and nice-looking bits of technology. What we have here is a takeaway pizza box, some old polystyrene boxes, cardboard boxes and old tins. Now, this doesn't look as professional as some other stands here - what is it you're doing, exactly?
Man:
What we're doing is, we're taking our products and transferring the music from our products onto these strange objects we've got on the table here.
Pete:
So what I can see here is a small white box, about the size of an Apple TV box, sort of fits in the palm of the hand, with what looks like (what's the best way of describing that?) ... a small mouse, I suppose?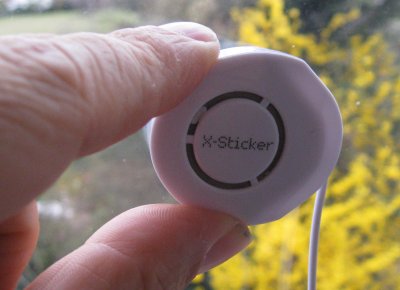 Sarah:
A small mouse, maybe even an old headphone?
Pete:
Yes, it's one ear of a headphone, that's exactly what it is, and this is a clever bit of speaker technology called ...?
Man:
The Boombox.
Pete:
The Boombox, right - go on, then, put this through its paces. We've plugged it in. One end plugs into my iPhone 4 here. If I press this button, that should play the theme. Now this is going to sound a bit tinny. Now you see, that doesn't sound particularly good to me, but you're going to do something magic, aren't you?
Man:
Yes, indeed.
Pete:
Wow, so what you've done is, you've stuck this on a cardboard box, and it's producing a different sound. Let's just try this on a different device - can you stick that on the old tin of biscuits there? OK, rather nice. I've got to try it on a pizza box - go on then, let's hear this one. Okey-dokey, and this is an old polystyrene packing crate of some kind?
Man:
Indeed.
Pete:
That is sensational, isn't it? So what do you think of the sound of that?
Sarah:
I just think that's amazing, that it's just ... it sounds like you've turned it up, and we haven't touched the volume once, and it's great - so plausible, take it anywhere.
Pete:
So I have to ask, could you use this on something like, I don't know - a pane of glass?
Man:
You could use it on any sort of material - car windows are really good, glass coffee tables, coffee cups, polystyrene and you've seen here, cardboard boxes - pretty much any material that it can vibrate through.
Pete:
And it's just a 3.5 ml ...?
Man:
Just a standard headphone jack that you can plug into iPod, mp3 player - anything that takes the standard headphone jack.
Pete:
OK, and battery-powered?
Man:
Two triple AA batteries, or you get a USB cable as well, so you can play that through your computer to save your battery on your phone or whatever.
Pete:
So that's the Boombox. We've got one of these to play with, and you'll find pics, links and a review up on our site.
Sarah:
Next, Pete spoke to one of his gadget heroes.
Pete:
Ooh, indeed I did, and we've got the full interview up on our site, and many of you will already have heard this. In case you didn't, here's Suzi telling us about the gadget she can't live without.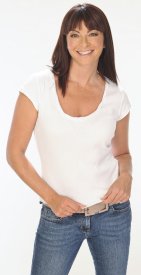 Suzi:
It's one that three years ago I wouldn't have been saying. It's the one gadget that I thought, what do we need that for? - we've got phones and we've got laptops. It's a tablet - it's the iPad. It's the one thing I always have in my bag, take it everywhere, and I think it's the world of apps, really, that keeps it at the forefront of its market that it actually created, I guess.
Pete:
Absolutely, that makes sense. Have you caressed an iPad 3 yet?
Suzi:
I might have done, yes. I have, I do a lot of watching films and TVs with my travel, so the Retina display is fantastic. You do get a really, really good picture.
Pete:
I must admit, I am slightly envious. They are hot stuff, those iPad 3s.
Sarah:
Red hot, so we're hearing.
Pete:
Yes, we're hearing all sorts of problems about the iPad 3 overheating, and burning people's pinkies - not good. But the burning question, though, is what's next for Suzi Perry, now that her, Jon and Ortis have been dropped as part of Channel 5's rebranding of The Gadget Show.
Suzi:
I have to tell you, I've known that I'm not doing The Gadget Show since two days before Christmas, so I've had a little bit of time to adjust to what was quite a shock. So it's helped an awful lot; I've actually never been busier with work. So it's quite interesting that I've had the chance to do lots of different things that I would never have had the time to do, things like, Let's Dance for Sport Relief; presenting a BAFTA tonight at the Gaming Awards - loads of different, unusual stuff. I haven't made any long-term decisions - long-term decisions take a long time, by definition of what they are. If you're looking at a new show, it will generally take about 12 months from concept to getting it on screen, so I'm not looking at doing anything particularly regularly until probably the end of the year/beginning of next year, but I'm loving the chance to do lots of different things, and panel shows, and all that sort of stuff, so lots of fun right now.
Sarah:
And of course, Suzi was on The Wright Stuff last month, looking great.
Pete: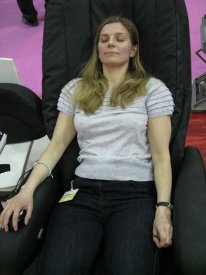 Talking of looking great, you in that zero-gravity massage chair.
Sarah:
It's basically massaging, but also putting different pressure on different parts of my body, so at the moment it's working on my back, but before it was working on my legs.
Pete:
OK, looking at the display here, you have a stiffness measurement of what looks like about four out of ten. Do you feel fairly stiff?
Sarah:
I do have problems with my shoulders and my neck, so yeah, that's always a problem for me. I do sometimes get quite stiff legs after my running.
Pete:
So Kelvin, if I can just ask you to explain what's going on here?
Kelvin:
This shows scanning from the body, as we can see. The red dot is where her stiffness is now, from shoulder, your chest, your lower back and then your feet - the scan is slowly coming down. The first thing that you can see, the head and shoulder, the shoulder, neck, have stiffness. Where the stiffness disappears, the red light will disappear. So this chair is so intelligent, when different people sit on this chair, they've got different massages, because their stiffness is different. The other massager you can have is only massage, every day the same programme. After one month, two months, you feel boring, and you don't use it any more, but this chair, before you go to bed, you massage it, you feel you sleep better.
Pete:
Superb, so these are available in the UK now?
Kelvin:
Yes, yes.
Pete:
And the people listening to this at home, where would they find out more about this, or where can they buy these in the UK?
Kelvin:
They can buy from our website, which is Sasaki.co.uk.
Sarah:
It's a lovely chair - much more invasive than a lot of massage chairs that I have, and you do actually feel like it's properly massaging you, rather than just rubbing over the back, which a lot of the others do, and because it's total body, it's a whole body experience.
Pete:
Are you sold?
Sarah:
Definitely. Can I take it home?
Pete:
Now, what about that cycling safety device we looked at?
Robert from Bicygnals:
It's a cycling helmet with a built-in illuminated light pipe, so you've got lights at the back, with a rechargeable battery, and you get a whole halo light. This can be seen from all angles, and you can have constant or flashing, and with the rechargeable battery, you can charge it on your USB socket, so you're always seen, irrespective of where your head is, and always as you're riding, you're always seen from the side, and that's where you're most vulnerable, and you're in the eye-height of the car drivers, so it's a fantastic new product incorporating the safety of a helmet with being illuminated all 360 degrees.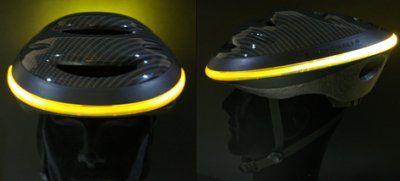 Pete:
If I've got it right, it's either permanently on, or it flashes to get the attention?
Robert from Bicygnals:
That's correct. You can have either mode, and obviously you can then just charge it up from your USB socket, so when you go to work, put it on your PC, charge it up and you're ready to roll. It comes, as I say, fully-adjustable - strap it, and it's got a carbon fibre-effect finish, and it's a fantastic new product, and every cyclist should have one.
Pete:
Absolutely. Now of course, you can't put a price on safety, but if you have to put a price on these helmets, what would we be talking?
Robert from Bicygnals:
Well, their normal price is £60, but £40 is the price of a normal helmet, and with that you're also getting the extra safety features that lighting can give you.
Pete:
And your web address is?
Robert from Bicygnals:
More on the Angel from Bicygnals, here: Bicygnals Angel Review
Sarah:
Oh, and finally, Pete, you found a couple of power products.
Pete:
I did, yes. As you know, I have an iShiny, and unless I charge it about twice a day, it has the habit of running out of juice, but now I have the solution. Here's Jeff from PowerPackSales.
Jeff:
We've got a beautiful product. It's a 1450 milliamp battery. It comes in a white or a black plastic case. The great advantage with it is, you can keep the case on the phone - no need to remove it. It gives you about 80% more battery life, and three mil across the back of the phone.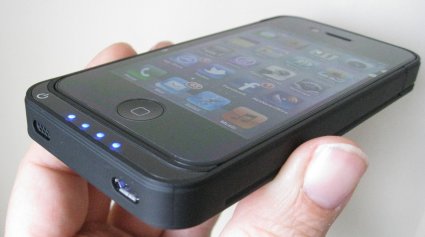 Pete:
So that'll be enough charge to full charge an iPhone from flat, is that about right?
Jeff:
It'll give you about 70 to 80% to charge the phone. It's the same battery in the iPhone as in the pack.
Pete:
Does it actually offer any protection to the phone as well?
Jeff:
It's as much protection as you're going to get for an iPhone - don't drop them.
Pete:
And I see some LEDs on the bottom, you've got some power indicators there?
Jeff:
The full indication is the four LEDs along the bottom, and that'll deplete as you're using up the battery.
Pete:
And I must admit, it doesn't add any bulk to the phone. That is surprising, to see that size of battery in something that doesn't add a lot of bulk there. Now, if I've got this right as well, you have a solution for those that don't quite have an iShiny yet, so the Android users out there?
Jeff:
Yeah, we carry another product, which is a black, it looks like an mp3 player. It's got a 2,000 milliamp battery. It'll charge practically anything you want to charge, as long as it's got a USB: PlayStation, Gameboy, phone. It'll keep the charge also for about a month. If you're lucky enough to have some sun, you can charge the solar charger up, and that also will then add extra power to the pack.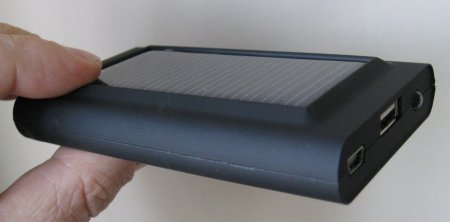 Pete:
Superb, OK. We'll be having a little play with these when we get back to base and putting them through their paces. We'll also put some photos up on the website, and a merciless plug for your web address, please?
Jeff:
PowerPackSales.com - come and see us!
Sarah:
Yeah, they're two great products, and you really like those, don't you?
Pete:
Ooh, I sure do, and we'll be mentioning one of those again later in the show.
Transcript Continues: Zombies Run Transcript and LV18 Transcript
Listen to FrequencyCast Show 74 - Ideal Home Show 2012 Roundup
More information: