Navigon 8410 Sat Nav Interview
We got hands-on with the impressive 3D sat nav device, the Navigon 8410. We looked at the amazing maps and also discussed live travel services.
Listen to our FrequencyCast Special from Dabs.com Live 2010
Navigon starts around 15 minutes into the show
We caught up with Navigon at the March 2010 Dabs.com Live Gadget show at Wembley Stadium. Their 3D Sat Nav products, the 84 Series, caught our eye, and Carl recorded an interview with Navigon's Peter Blampied. Here's a transcript of our interview:
Hands-on with the Navigon 8410 3D Sat Nav:
Carl:
So I'm at Dabs Live, and I'm here with Peter from Navigon. Peter has a fantastic new product, you'll never guess what they do, they actually do some sort of, well, navigation system. This looks sleek, what can I say? - this is a 3D image, it's like watching telly as you're driving. Tell me all about it.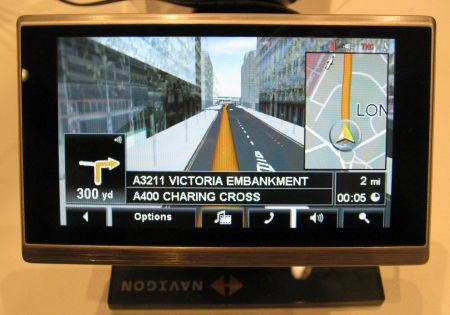 Peter:
This is the new Navigon 84 Series, which is showcasing Navigon's latest 3D implementation, so it's taking digitised images of buildings, and putting that into the map, so that when you're looking at the sat nav screen, it's as close as possible to what you're actually looking at through the windscreen.
Carl:
Now, I'm just going to throw in here, I'm just passing Big Ben on this demo, and it's even got the clock on it. You'd be surprised how helpful this actually is, I mean I know that when I'm driving, especially in London, in the inner city, sometimes you're looking at buildings, and you could quite literally have gone onto the wrong road without realising, but here you've got clear stylings of buildings, you've got Gothic, you've got 1970s' sort of architecture, and you can see that on the screen, so this really is a bigger bonus than you think. Also the road markings are very clear on this.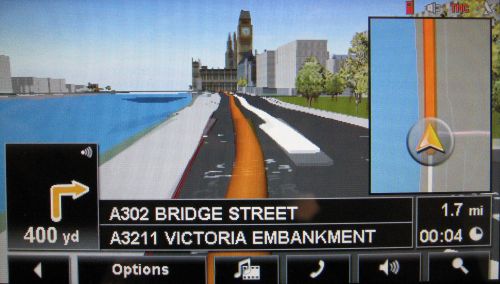 Peter:
And we've noticed with people who've looked and watched this demo that they can recognise buildings that they've worked in, so the graphics are good enough to be able to say, ah yes, that's the door I used to be in, that's the pub I used to go to, that's the place they used to be.
Carl:
We've just gone past a bus lane, I think that's phenomenal, on the left-hand side you've got water, so you've got other surrounding elements that really help. Now, the only thing is, how do we upload this? - because obviously these images are going to change, so how does that happen?
Peter:
The 84 Series product comes with a map update service as standard, so you get two years' worth of map updates within the price of the product, and that's inclusive of the city maps coming down with these digital images. I think it's important to say, though, that we can't digitise everywhere at this point, so we are able to do central London, central Manchester, central Birmingham, and the centre zones, like the congestion charging zone. When you drop out of that particular zone, you lose some of the quality of information on the graphic of the building.
Carl:
I see, and we just dropped out now, so this is just block images, but we still know that there are structures there, so whilst it's not as detailed, we don't get the feel for architecture, etc, and so forth; we do get a layout of the actual city.
Peter:
You still get the layout of the city and the building, and also integrated into that you'll start to see landmarks, so certain landmarks will still come up as a full digital image, but the buildings themselves, as you say, become more of a kind of grey block style, but even then it still comes back to this question of saying, well, am I turning at this junction? - or am I turning at the end of this next building? - and it's again easy to see that, so again you're still getting away from this issue of, is it 100 yards or 400 yards.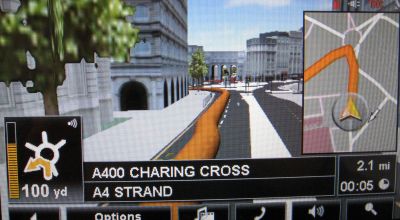 Carl:
Excellent. What about road accidents and traffic problems? - how does that update itself there?
Peter:
The 84 Series comes as standard with TMC Traffic, which is the free broadcast-to-air service that you get over commercial radio, and it gives you back traffic problems as they get broadcast to it, so it works them out, tells you where the problem is, and tells you what the problem is using TMC. Now the benefit of TMC ... you're looking at me slightly confused there, Carl?
Carl:
I am, I was just going to say, what is TMC? - being the idiot I am.
Peter:
The Traffic Message Channel.
Carl:
Obviously I knew that, I was pretending to know. What does that mean again?
Peter:
Essentially the commercial radio is broadcasting a little packet of data that says, I've got a traffic problem here, and this is what it is, so it's like roadworks, or it's an accident, or it's some other problem, maybe a short-term issue like an average speed camera or something like that, there's a problem at a particular point.
Carl:
Right, so this is a real time, live radio link, as it were, to the device?
Peter:
Yes, so it'll give you that information back using the traffic channel, but traffic channel over commercial radio can take maybe 20 minutes to give you sufficient information to be useful to your journey.
Carl:
So if I was on a half an hour journey, this may not be the perfect choice?
Peter:
No, so then you have an alternative, which you want to, which is then to use Live Services. Live Services has a subscription cost of roughly £5 a month, that includes a live traffic update, and then the live traffic will give you that full-blown information within five to seven minutes, so now on a 30 minute journey, actually it becomes useful information.
Carl:
Fantastic, and this is second generation, isn't it, this device? -
Peter:
Yes.
Carl:
So does that mean we're looking for third generation - what's that going to hold for us?
Peter:
I think for us, the third generation is going to really take two directions: one is just increasing the number of cities and the total area covered with the full digital mapping, and then the second thing is enabling using Live Services, enabling real-time map updates, so as map changes and things come in, that actually would be fed to the unit over air, and it will change.
Carl:
Especially in London, when they knock buildings down and put up new ones overnight.
Peter:
Exactly, or where you've got diversions, and things like that. So I think that's where it's going, but still Carl, that's still probably a few years away just yet.
Carl:
Well, I'm looking forward to it, but I would like this in the meantime, if you don't mind. I'll put this in my back pocket. Before I do, should I give you some money for it? - how much would I be expecting to pay?
Peter:
The 84 Series starts at £349, but £349 is giving you full European maps, TMC Traffic, the 3D graphics, it's a really beautiful glass screen, as you can tell, and the graphics are really nice.
Carl:
Yes, lovely.
Peter:
And also it's a multimedia device, so there are options I can do here to add things like digital television, which it can be digital television if you want it to be; you can also add an option around truck navigation, which should mean I could load a profile in here that says, my vehicle is this heavy, this long, this wide, this high.
Carl:
Very helpful, so good for bridges and going under things, etc, so bus drivers might want to use one of these?
Peter:
Right.
Carl:
Especially if they hire a vehicle that's not their regular vehicle, it gives them a chance to update the profile of the vehicle.
Peter:
Absolutely, and if you're driving a big HGV kind of vehicle, and particularly if you're having to drive it in a city, for example, then again that's where the 3D imaging can help, because by being able to see in real life what a turn is going to look like, it's going to help you to position your truck better to make that turn. So Carl, when would you like to hand over the cash?
Carl:
Well, I'll just go and take it out of my friend's bank account, I won't be a minute. Thank you very much Peter, thanks for your time, excellent.
Peter:
Thanks, cheers.
There are a range of Navigon devices. We were playing with the Navigon 8410, which comes with Europe maps and 3D cities. It's available from Dabs.com and Amazon.co.uk
Listen to our FrequencyCast Special from Dabs.com Live 2010
More information: