Satellite Navigation Explored by FrequencyCast
In our fourth show, we took a look at Satellite Navigation, and toured some of the features of one of the more popular in-car satnav systems. This page contains information on using Sat Nav.
We featured SatNav in Show 37 of our online radio show.
What is Sat Nav?

Satellite Navigation is a system that uses orbiting satellites, known as GPS (Global Positioning System). A Sat Nav unit receives signals from these satellites, and combines the signals with map information and other data. The practical upshot is that if you have a Sat Nav unit, you will be able to use the SatNav to work out where you are, and find the most convenient route to your destination.
In-car satellite navigation was, until recently, fairly expensive and needed to be professionally installed. Today, there's a range of portable satellite navigation units that can now be carried around in your pocket, and then fixed to a removable cradle in your car. These handy units can be moved from car to car, they're very easy-to-use, and they provide you with spoken and visual prompts (which you'll sample in Show 04).
Getting Sat Nav
There are several different makes and models of in-car Sat Nav units around. They include models from Garmin, Navman and Magellan. We're particularly fond of the TomTom range (for styling, features and price)...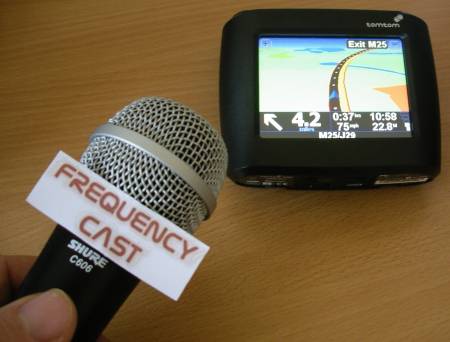 Us, interviewing Yoda on the TomTom One, for show 04
Pictured here is a screenshot of the TomTom One , which is a portable in-car navigation system. This is the unit we demo'ed in our fourth show, and is a truly impressive unit. Since recording Show 04, two new versions of the TomTom One have been released, and now look pretty sleek and stylish.
As well as supplying vocal instructions and a moving map, the TomTom One it has UK street address and postcode lookup, supports Points of Interest (such as hotels, petrol stations, cash machines, etc) and it can use different voices (we tried John Cleese and Yoda in Show 4).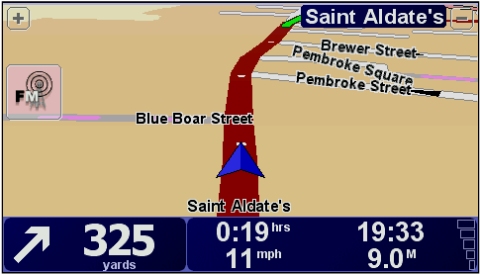 Navigating with the TomTom Go
The TomTom One can be upgraded with new versions of software and data over the Internet. You can also add a speed camera database and subscribe to an optional live travel news data service (using Bluetooth to connect to your mobile phone).
Below is a list of online suppliers of the One:
The TomTom One is available online from:
TomTom Go 940
In Show 37, we took a look at the latest Sat Nav from TomTom, the TomTom 940. The newer devices from TomTom have a Vodafone SIM card built-in, to get live HD Traffic data over the mobile phone network.
The Go 940 has an FM transmitter for getting your MP3 and instructions on your car stereo. Other features include hands-free address input, IQ routes, lane guidance and hands-free calling.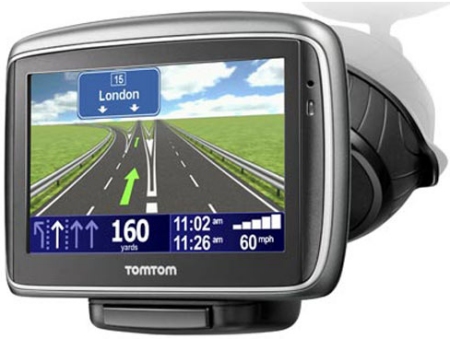 The TomTom Go range is available from PC World and Halfords, as well as direct from TomTom
SatNav on a mobile?

How's about this as an option - you can now buy mobile phones with a built-in GPS receiver. We're fans of the XDA Orbit, from o2.
This phone combines a phone and Windows Mobile PDA, with a GPS receiver, so you have a one-box phone, organiser, Internet and email device, that's capable of satellite navigation with no extra hardware. If you're into your power phones, and fancy being able to navigate in your car or on foot with just a phone, this could be what you're looking for. It works with TomTom's navigation software, and with some suppliers, comes bundled with TomTom or CoPilot.
There's also the Nokia N95, released in 2007 that does just about everything it's possible for a mobile phone to do, including GPS, 5 Meg camera, wi-fi and stereo speakers. More on the N95
Sat Nav on your mobile?
If your existing mobile doesn't have a built-in GPS receiver, there are some other options. If your phone supports Java applications and has Bluetooth, you may be able to get Sat Nav or on-device using some mapping software and a GPS receiver.
For software, take a look at software packages Nav4All and Google Maps for Mobile.
To get satellite signals, you'll need a handheld Bluetooth GPS receiver. You can find these at Dabs.com.

Sat Nav on the iPhone
In Show 43 of our tech podcast, we looked at the three satellite navigation applications that are now available for the Apple iPhone. These are the TomTom, CoPilot Live and MobileNavigator. Listen to our review, or read the transcript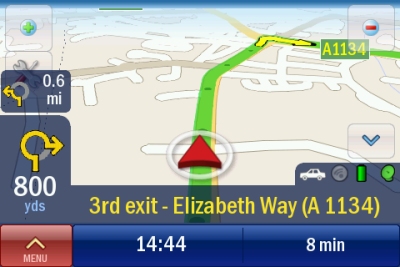 CoPilot Live, for Apple iPhone
Listen to FrequencyCast Show 43 - iPhone Sat Nav Apps Reviewed
Handy Sat Nav Links:
Got a question on SatNav that we can answer in our next podcast?
Call 020 8133 4567 or send us a message