o2 Joggler - Hands-on Review
In our July 2009 podcast, Show 41, we got hands-on with the o2 Joggler - a cross between a family diary, digital picture frame and an information device.
On this page, you'll find a link to the show and a full transcript.
Listen to FrequencyCast Show 41 - Hands on with Joggler
Transcript of FrequencyCast's review of the o2 Joggler:
Pete:
So what do you think this is?
Carl:
Oh, I know what it is - it's clock. No it's not, oh ... it's one of those picture frames, isn't it? Has it got revolving photographs? I love it when you do this. No?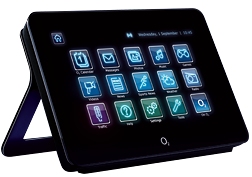 Pete:
Just give it a quick description.
Carl:
Well, it looks like one of those electronic picture frames, you know, the ones where you put multiple images on, and you put them up in your bedroom or whatever, and pictures of all your friends and family change, or you can have a static one, or alternatively it's just a clock.
Pete:
OK, let's tell the listener what this is, this is actually something that's a new product from O2, you may have seen the TV ad which is basically Post-It notes on the fridge, no FrequencyCast fridge magnet, I have to say, stuck up on the fridge and kind of sticking notes into this thing called a Joggler.
Carl:
Oh, it's the Joggler, yes, I've seen this, yeah, great, this is the whole family's .... oh it's like a calendar and everything, isn't it? So what have we got? - let's have a look. Interface, no no, let me touch. Right, so it starts off, it looks like a clock, it's got big digits, it tells you the time and the date and the month and the year and all that rubbish, I'm just tapping the screen, and now it's just turned into a user interface, it has - how many's that? - 15 icons?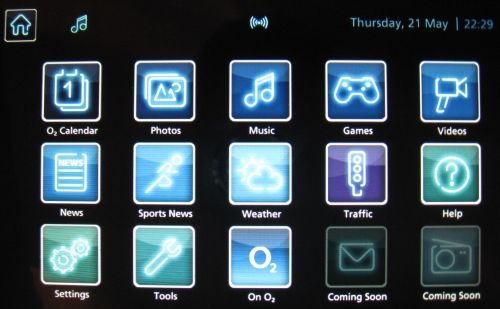 Pete:
Go on then, read them through.
Carl:
We've got a calendar, 02 calendar in fact, photos, music, games, videos, news, sports news, weather (oh that's hand), traffic, help settings, tools, on 02, messages, coming soon - what's coming soon then?
Pete:
They're going to be supporting internet radio, but it's not actually working yet, so it's going to be an over the year download, so at the moment the coming soon doesn't do anything. Let me just run through what this is, so basically O2 are promoting this as a sort replacement for your fridge door, so families can leave each other messages, on the way out you can just tap and get a quick status on the travel or the weather or the news headlines, and set up calendars, and you can set up a fairly large number of calendars. Let me just tap on calendars for you.
Carl:
Oh, that's very impressive, that's a nice little screen. So what we've got is, it's laid out like a standard calendar, it's got 18, 19, 20, 21, 22, 23, 24, and above that has the days, so it's Sunday, Monday, Tuesday, Wednesday, Thursday, etc and so forth, and then we've got some little icons down the bottom saying day, week and month, so you can have it showing just a day, or a whole month, or a whole week, and you've got little colour tabs on the top left, and they seem to have names on them - oh right, so they're the people that reside at your residence, aren't they?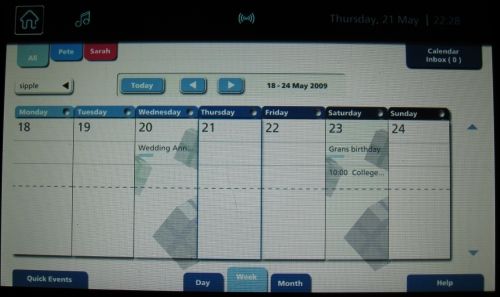 Pete:
Exactly, so what you do is, you set yourself up an account, you do it on the O2 website, you don't have to be an O2 subscriber, which is good, so you set up one for each member of the family, and they're all colour-coded, and when you look at the actual ...
Carl:
Yeah, but in your case, you've got no family, so what's that? - a cat and you?
Pete:
No family, no friends, aah.
Carl:
You've got your cat's name and your name, how loner is that?
Pete:
Aah, but you haven't got a cat? I've got plants.
Carl:
I haven't got one of these pieces of technology though, so it doesn't matter.
Pete:
Oh, there you go. So you set up one of these colour codes for each member of your family, and you can see there's a little red underline under that one, which is person one is doing this particular thing, you can have these little backgrounds, so you can see on the next page, that's it, there's presence floating around.
Carl:
Oh I see, is that because it's someone's birthday?
Pete:
Yeah, there you go. So it's a really clever little idea, and the intention is, everyone puts their own stuff in their own diary, updates it whenever they want, and then from the Joggler itself you can just look at the screen, and see what the whole family's up to. You can also, if you are with O2, you can get text message alerts, so if something's come in, whether it's yours or somebody else's event, you'll get a text message, if you're with O2, telling you what's coming up, which is really cool.
Carl:
Can be handy.
Pete:
So let's back up ... what else have we got here? So photos, music and games, what I'm going to do is, I'm going to plug in a, see the USB stick here, on the side.
Carl:
Ooh, clever!
Pete:
... plug this in, hopefully this will let us check out some photos and some music, so I'm going to press the USB there, look - there's a friend of yours there.
Carl:
A couple of my friends there.
Pete:
There you go, so we're looking at photos here, I'm just flicking through, I loaded these up on the memory stick before we came out ... look, aren't you lovely, look at that? - look, ain't that cute, there you go.
Carl:
That really isn't doing our listeners any good.
Pete:
No, it isn't doing them at all. This is our FrequencyCast Christmas party that we had - was it last year, or the year before?
Carl:
I didn't go.
Pete:
No, no - I did, I was taking the photos.
Carl:
Oh, all right, I see.
Pete:
You'd been naughty, you weren't allowed. There you go.
Carl:
Oh, oh!
Pete:
Do you want to say hello to her?
Carl:
What - right now?
Pete:
Yeah.
Carl:
Go on then - hello.
Pete:
So that's photos, if we go back a couple of pages, we get to music, I've been clever, I've loaded up what we always do, what do we always do if we're doing a preview of anything audio-related?
Carl:
Will we be playing some FrequencyCast music?
Pete:
We'll be playing some music from FrequencyCast, because it's all we're allowed to play for copyright reasons, so here I've got a couple of music tracks, the last one on the list is FrequencyCast show 40 ...
Lady:
"FrequencyCast ... start up in progress."
Carl:
Hi, and welcome to FrequencyCast number 40, the UK's online digital TV and technology show.
Pete:
There you go, so it can play mp3 files, which is pretty cool. Impressed?
Carl:
I'm very impressed. What about this movies thing?
Pete:
OK, movies, so games, at the moment all there is is Sudoku, which I've spelt wrong, but never mind; videos - again for copyright reasons we can't play a lot of the audio, but there's one on here you'll appreciate.
Actor:
"Yeah, I was standing here, and this guy came hairing ..."
Pete:
There you go, so that's a video clip. Now this actually supports a whole bucketload of formats, this supports mp2, mp4, WMV9, DivX, VC-1 and flv, which is pretty cool. Audio, it supports mp3, wav and wma, and photos, you've obviously got your jpegs and gifs and the like, so it's actually fairly powerful at viewing media. They've actually hidden a little feature here, if you go into tools, down the bottom you have something called "connect and play", which is tucked away, because it's slightly teccy. Unfortunately it won't work here, because my PC isn't in range of this particular receiver, but what it will do is, it will connect to my PC using my wireless connection, and let me play video or look at photos or play music from my hard disc. To do that, it uses something called UPnP, which you have to have to have the Windows Media Player running for, but it is actually really good, you can just literally click on here, hit devices, and it will say, Pete's PC, and then you can see all the folders where all my music, photos and videos are, which is pretty cool.
Carl:
Phenomenal - that is quite handy actually. And I tell you what I like, it's got the weather, which is quite handy if you're on your way out, it tells you what the weather is, so imagine your busy day, you just get up, a Monday morning, you're not really ready to go, you're a bit bleary eyed, you're drinking your cup of tea, and you want to know what the weather's going to be like all day, so you'll want to know what coat to wear, or what car to drive - the convertible or the otherwise, and then of course, if you need to, you can look up the traffic, which I think's a nice little feature, it tells you how the roads are, how fast they're all actually going at the moment.
Pete:
Yes, so this actually uses something called Trafficmaster, which is those sensors that you have up and down A roads and motorways. You can see here there's a flashing 25, which means the speed on that particular road is 25 miles an hour.
Carl:
And that's very helpful, because you know which route to take to work. You've got some news, so you can find out whether there's anything you need to know about before you enter the office, there's sports news, well I don't think I'll be particularly looking at that today, and what else have we got? That's about it really that's instantaneously helpful, we've got messages though as well.
Pete:
So you can send and receive text messages to this thing, which is pretty cool, that's a rather nice feature, and in tools here you've also got alarm clock, calendar, memos, so you can write your family little notes, that sort of thing, and there's a little envelope there with unread messages, which is cool, and that's about it, apart from this internet radio thing that's due soon. So it's actually a really nice thing, at the moment we've only got this on loan, but at the moment it's sitting in my lounge, and it's kind of the centrepiece of the mantelpiece at the moment, and it's got a series of photos showing, and then I can just go in and check what the cat's diary's like for the week, that sort of thing.
Carl:
See whether he's got a busy cat nap day?
Pete:
Exactly. So there you, so that is the Joggler, a very silly name, that's the only thing they've done wrong is call it a Joggler. Do you know what a Joggler is, by the way?
Carl:
Is he like a conventional juggler, only he juggles jogs? - or is that jugs?
Pete:
It is a juggler that walks, walk while you're juggling, is a joggler - did you know that?
Carl:
No, I didn't. Do you know what a somnambulist is?
Pete:
(snores)
Carl:
Do you know what a funambulist is?
Pete:
No!
Carl:
A funambulist is a man that walks on tightropes, he's a tightrope walker in other words.
Pete:
I didn't know that.
Carl:
Yeah, you thought you were clever, didn't you? All right, that's enough of that.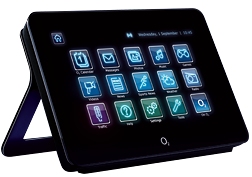 The o2 Joggler is available direct from o2 at: shop.o2.co.uk/joggler
Listen to FrequencyCast Show 41 - Hands on with Joggler
Handy Links: