Pinterest - What You Need To Know
In Show 78, Kelly explains to Pete just what the Pinterest Photo-sharing service has to offer, and why it's a different proposition to other photo sharing services.
Listen to FrequencyCast Show 78 - Introduction to Pinterest
Pinterest - The Basics:
A transcript of our introduction to Pinterest, taken from FrequencyCast Show 78:
Pete:
It's Focus time, and we've got quite a lot of things to get through. To help me out, I'm joined again by Kelly.
Kelly:
Hi, Pete.
Pete:
Now Kelly, you're going to help educate me today. I keep hearing things about this thing called Pinterest, which I must admit I don't know much about, but you're something of a Pinterest expert.
Kelly:
I am a Pinterest person - I'm quite surprised you're not.
Pete:
When I first heard about this Pinterest thing, I kind of got the impression it was just for girls, but I guess I'm wrong?
Kelly:
You're definitely wrong - everyone's using Pinterest. Where have you been?
Pete:
Well, every time anyone talks to me about it, it's either celebrity interviews or knitting patterns - not really my thing.
Kelly:
No, absolutely not. You're given different categories - you can pick which ones you want to follow, and which ones your Pins will actually go into.
Pete:
"Pins" - so is this some kind of social networking, Facebook-y kind of thing?
Kelly:
No, this is something different - still kind of on the social network page, but completely different.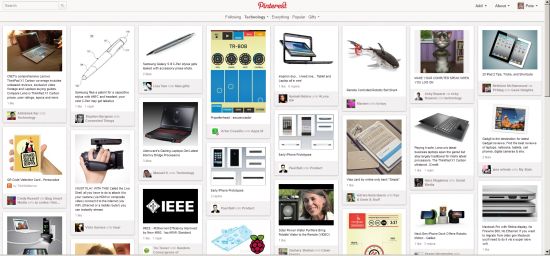 Pete:
Go on then - why would I want Pinterest?
Kelly:
Well, Pinterest is for uploading different pictures, different photographs, different things you've done via Photoshop. It's to kind of communicate with a broad audience really, I mean, I would say it's mainly for photographers and people like that to get themselves known.
Pete:
Well, hang on - if I've already got Facebook for sharing photos, and I've got things like Picasso for spreading my photos if I want to, why would I want Pinterest?
Kelly:
Well, Pinterest literally gets your photos and your Pins out to a broader audience.
Pete:
But I can already do that on Facebook.
Kelly:
So you don't keep your Facebook private?
Pete:
I get it - so this is sharing photos to everyone, not just my friends?
Kelly:
This is to everybody.
Pete:
Right, so this is a way of promoting photos, so a bit like MySpace as for musicians, this is the same, but for photos?
Kelly:
Yep, and then people can choose to follow you, so if they like your images, after a certain amount of time they will come up in the same way that you can kind of favourite friends on Facebook.
Pete:
So a bit like YouTube is to videos, then this is the same for photos. So how do you use Pinterest?
Kelly:
Well, I tend to use it for my clients at the moment, so any new images and bits and pieces that come through, or that I take for them, I upload those onto Pinterest, and then that goes out to a broader audience, and I'm trying to attract more people to look at us on different social networks, like Facebook and Twitter.
Pete:
And of course, it is all about the social networking at the moment. Now, you say clients there - when you're not helping to present a radio show, you're in the PR game, is that right?
Kelly:
Well, I work in food and drink PR.
Pete:
So in the PR game, what sort of social networking tools do you use to get a client's message out there?
Kelly:
The main things we tend to use are Facebook and Twitter, as well as doing different guest blogs and linking to them really.
Pete:
And of course, you're linking to FrequencyCast as much as possible, aren't you?
Kelly:
Absolutely - 100%, mainly on my personal page though, that one.
Pete:
That's what I like to hear, and of course we'd love it if you could link to us on Facebook too, and help spread the word.
Transcript Continues: British Gas Remote Heating Control
Listen to FrequencyCast Show 78 - Introduction to Pinterest
More information: