Plus Deck 2c PC Cassette Deck
Child of the eighties? Stacks of old cassettes gathering dust in the loft? Now, you can give those old audio cassette recordings a new lease of life, with this product. The Plus Deck adds a cassette player to your PC, so you can get a copy of those old recordings onto your MP3 player.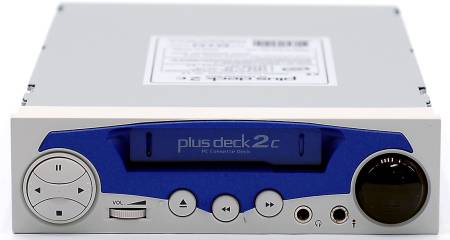 Plus Deck 2c Cassette Drive
We mentioned the Plus Deck 2C PC Cassette Deck in Show 11 of our podcast. We also featured it in show 21, when we discussed archiving your old media. We thought that some extra info would be useful, so here goes:
What is the Plus Deck 2c?
The Plus Deck is a cassette drive that slots into your desktop PC. It's the same size as a CD drive, so fits into a spare 5.25" bay. Once installed, you can use it to dub off cassettes easily, into either WAV or MP3 formats.
The Plus Drive has auto-reverse and comes with the required connectors and software. Once converted, you can transfer your audio to your MP3 player, and listen again to all those old memories, before your audio cassettes deteriorate with age.
Plus Deck Review
We featured mp3 files and the PlusDeck in Show 11.
After featuring the Plus Deck 2c for Show 11, we got hold of one from our friends at Firebox and installed it, as we were keen to start copying over some of our old classic radio recordings.
Installation was fairly straightforward - you have to install the Plus Deck inside your PC, and also install a special PC card to get it working. If you're familiar with installing a CD drive, this is a piece of cake. Here are the basics:
The Plus Deck Cassette Drive has to be installed in a spare 5.25" bay inside your PC. Instructions are supplied
Next, you need to install the supplied controller card into a spare PC expansion slot. The controller card doesn't actually plug into anything on the motherboard so doesn't need an ISA or PCI slot.
You next have to connect the supplied lead from the PlusDeck drive to the controller card
Then, you connect a power lead from the PC's power supply to the PlusDeck (as you would with an Internal CD ROM)
Time to put the case back on, and run a lead to your sound card and a spare serial port
Finally, install the software, and you're on your way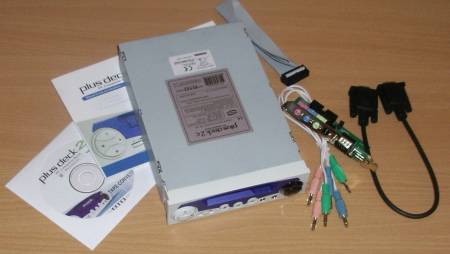 Contents of the Plus Deck box
Once installed, using Plus Deck is pretty straightforward. Insert a cassette, start up the application, and you're ready to go. It's a case of selecting the format (WAV or MP3) and the sample rate, then entering a filename for the recording, and starting the transfer. Here's a shot of the Plus Deck in action...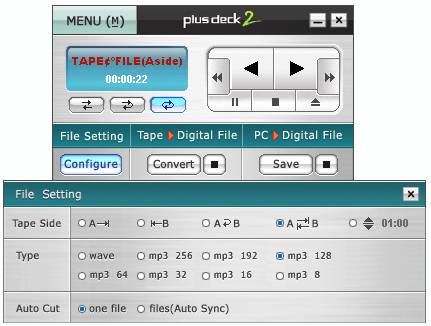 Copying to MP3 with the Plus Deck
The cassette drive supports single play and auto reverse, and can record as a standard WAV file, or in MP3 format (with rates between mp3 (between 8 and 256 kbit/s). There's also 'Auto Cut', which, rather than copying the whole tape as one long file, can detect pauses and create a new file for each track on the cassette. Handy when copying music.
In our tests, the Plus Deck performs very well - the software plus the front panel controls can be used to do all those great things that we did before MP3 files - play, reverse, fast forward, eject.
In summary - we're impressed. A nice product that certainly fills a gap for us, and beats playing around with hooking up a cassette deck just to listen to snippets from old cassettes. One niggle? Shame it has to be installed into a PC. For those that don't want to install into a PC, we've found a different product that connects via USB - see below
Getting the Plus Deck
As of July 2009, Plus Decks are hard to find. Originally available for £80 to £100 at Maplin and Firebox, we're struggling to find a supplier.

Know of an online supplier? Please let us know

ALTERNATIVE: We have found an external cassette deck for a PC that works over USB - This costs around £80 and is a lot easier to connect. The twin cassette USB ION is available from Firebox, Argos and Maplin.

Also, we think you should take a look at the ION USB Express tape archiver, which is a Walkman-sized drive that can connect to a PC via USB, is small, and can be found for under £50 at Firebox and Maplin.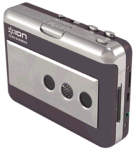 As mentioned in Show 15, the days of the audio cassette are numbered, so time to get those recordings transferred to mp3.
Archiving your media: You might want to listen to Show 21, where we discuss copying cassettes, video and vinyl to digital formats
F.A.Q
Got a question on the PlusDeck? Ask in our forum and we'll try to help. Here's a summary of the questions we've had so far:
Serial port

The PlusDeck comes with a little computer PCI card that slots into a spare expansion slot inside a PC. This card has a 9-Pin serial socket, and comes with a lead to connect it to an existing 9-pin serial plug at the back of your computer.

Serial ports are normally identified as COM1, COM2, COM3 or COM4, and you can check out your PC's serial ports from Settings > Control panel > System > Hardware > Device Manager > Ports

But what happens if your PC doesn't have a spare serial 9-Pin socket?

Answer: You can buy a PCI card that adds two com ports to your PC - These are available from computer suppliers - We recommend the 2-port card available from Maplin. You can also try pcworld.co.uk or Dabs.com



Software and manual
Need to download the latest version of the Plusdeck 2 software, or looking for an online manual? You can download this from the manufacturer's support site: http://plusdeck.co.kr/eng/support_2c.html

USB Version

If you don't fancy taking the back off your computer to install a cassette drive, then you might want to consider getting a USB cassette drive. We've seen a mention that a USB version of the Plusdeck may become available in the future, but have no information on when this will become available.. Sadly we have no information on when this could become available. When we hear anything, we'll mention it in the show and update this page. Perhaps sign up to our mailing list?

We have, however, heard of another USB cassette drive that can be used on your PC without having to remove your PC's case - The USB Twin Tape Deck is made by ION (makers of the USB Turntable), and is available from Firebox, Maplin and Argos.






Speed
The Plus Deck cassette drive only plays at standard speed, so cassettes have to be dubbed to WAV or MP3 in real-time, so copying a C60 cassette will take an hour.


No Serial port

We were contacted by site visitor Raymond Buttery with the following plea: "I have only 1 Serial Port (Used for UPS) Will the Plusdeck work with a Belkin USB to Serial converter, as I don't have any PCI slots available for Serial Cards?"

We didn't know the answer, and suggested he try the external USB cassette recorder mentioned elsewhere in the FAQ. Raymond tried the Plusdeck Internal option anyway, and reported back that the PlusDeck could be connected with a USB-to-Serial converter. We're guessing he used the Belkin USB to Serial converter available from Dabs.com.



Problem recording

Duncan Gray's mailed in with a problem: "Have just bought and installed the Plus deck 2c. I have connected it all up and cannot get any sound from it. I have tried recording tape to mp3 but no sound from file when playing. I have it plugged in to com port 1 and system manager says device working OK"

Some suggestions:

Make sure you have connected the audio lead to the Line In of your soundcard.
Check that your PC is set to record from the soundcard Line In. Check the settings in your Accessories > Entertainment > Volume Control > Options > Properties > Recording



Muffled

A question from a site visitor: "I have a Plusdeck2c PC cassette Deck which has worked fine for about 18 months. I now find if I play a cassette for recording on the A side, it has a muffled base tone on the saved recorded file, and while listening. B side is OK. Do you think the magnetic pickup is faulty?" Brian Walters, Nov 2008

Cassettes sounding muffled, or lacking in treble is a common sign that the playback head needs a clean. We'd suggest trying a head cleaner first - such as the Cassette Head Cleaner. from Maplin.

If you suspect that the head itself is damaged, consider returning to the place of purchase, or contacting the manufacturers via plusdeck.com



Quality

A question from a site visitor: "I want to convert cassette to CD, and I also want to remove the crackle and hiss from poor quality recording as it is copying to the PC. Is there any Graphics Equalisers built in to the software?" Robert Williamson, Mar 2008

The standard software simply records audio from cassette to a digital format - when copying, it does not alter the quality. However, once you have the raw audio copied, there's a lot you can do to change the quality. We recommend getting the audio editing software Audacity, which allows you to edit audio and make a lot of changes to the audio you've recorded.

Features of Audacity include the ability to: amplify, remove clicks, remove noise, normalise, fade, compress, change speed, and make use of a powerful equaliser.

Best of all, Audacity is free, and it's a small download. You can get Audacity from audacity.sourceforge.net - download a free copy and give it a try to see how powerful it is.


Got a question on the Plus Deck that we can answer in our next podcast?
Call 020 8133 4567 or ask in our forum