RedLaser Barcode Scanner for iPhone Reviewed
In a recent audio update, we had a play with a top iPhone gadget, the RedLaser barcode scanner from Occipital.
On this page, you'll find a link to the show and a full transcript.
Listen to FrequencyCast's Mid October Update - RedLaser for iPhone
Transcript of FrequencyCast's Update - RedLaser App:
Pete:
Talking of the iPhone, do you want to see the best gadget in the world ever?
Carl:
Well naturally, of course, I'd love to, it's something I've been looking out for all my life. What are you doing over there?
Pete:
I'm just getting my phone. I'm back now, hello. My iPhone, there's this little application here, and we've actually blogged about this, if you want to go to our blog, www.frequencycast.co.uk/blog, you'll see us talking about RedLaser - this is lovely. Now, what this is, I'm just going to fire this up ... you may remember, when we came into the studio, I said, bring some props, and we went to the office kitchen and got a couple of little bits and bobs in, didn't we?
Carl:
Yep.
Pete:
Now, what's that?
Carl:
Well, it's a Brita water filter packet, with a Brita water filter in it.
Pete:
OK, let's turn it over - it's got a barcode, right, now, you get this, point it at the barcode ... OK, so what it's done is it's now said, that is a Brita Classic Cartridge One Pack, and it's found eight results, here we go - cheapest price, Boots £4.50, Goodness Direct £4.84, so it's basically looked up the barcode, pretty instantaneously, and found all of these suppliers, all of these supermarkets, and their current prices.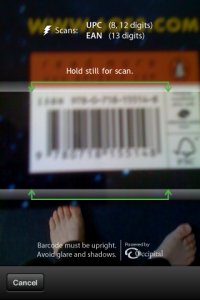 Carl:
Well, that's actually very handy, that's a very good application.
Pete:
So why could this be useful then?
Carl:
Well, if you were at home, and you've run out of something, and you haven't bought one for a long time, you might want to know where to get them from and how much they're going to cost, before you send your husband down the shops to do the shopping.
Pete:
No no, this is where it's really good, so here I've got a DVD, I don't know why our producer has given us this, Irving Berlin's White Christmas on DVD, but you're in a supermarket, you think, 'Oh great, I want to buy that DVD", so you hold this to the DVD, and you press the button ... so that's now doing a search, it's doing a search on Amazon and Google, OK, so there we go, this has come up there, and it's given you a price on five or six different retailers, so let's say you're in, I don't know, Sainsbury's, and you pick up a DVD or a CD, you can just do a very quick scan, and see if it's cheaper to buy it online or in store.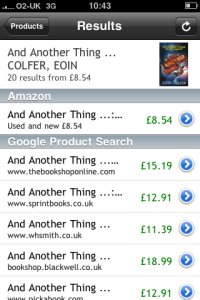 Carl:
That's actually very handy, very handy indeed.
Pete:
Just one other thing I want to say on this - I've tried this before with a Nokia phone, and a big problem has always been the camera isn't actually good enough to recognise it. Now, the new 3GS iPhone devices have an autofocus camera, but this is actually working on an old phone, an old 3G phone, and it works absolutely fine, it's very good, and it's also a very cheap application, so I would highly recommend popping over to our blog, having a look at a screen cap of this in use, and if you have an iPhone, snap it up.
RedLaser
for the iPhone - Available on iTunes.

Carl:
Fantastic. Here you are, I tell you what - scan this box.
Pete:
OK, what is it? - let's have a go, let's see if this one will scan in. The barcode's on the bottom, let's have a look. It's gone beep, it's got a number, it's looking it up - that is an Olympus N - oh, aha, this is this little thing, is it? So this is the Olympus LS11 voice recorder, there's a little picture of it, it can't find it on Amazon, but it has found it on a site called LambdaTek.
Carl:
And that is what we will be reviewing in our next show.
Listen to FrequencyCast's Mid October Update - RedLaser for iPhone
More Update Transcripts:
More information:
Handy Links: