Olympus LS-10 and LS-11 Recorders Reviewed
The Olympus LS-10 is a small hand held lightweight stereo linear PCM (digital) high quality sound recorder sold as a studio in your pocket. The LS-11 is the same and more. Here's our overview and review of both of these powerful devices
Olympus LS-11 - Audio Review
You can download our 18 minute audio review of the Olympus LS-10 and LS-11 as an MP3 file, or listen over the Internet, using our pop-up player.
What are the Olympus LS-10 and LS-11?
The Olympus LS-10 and LS-11 although a little larger than products like the Olympus DS-30 voice recorder, are far superior products. Whilst they can be used as a mere Dictaphone, the high quality audio recorded by this device is suitable for the professional user such as the broadcast journalist, podcaster or musician. The specification of these pieces of kit puts them leagues above many other handheld audio recording devices.
Both units have a built-in stereo microphone array, but can also accept other microphones via a 3.5mm microphone socket. They also support direct input via a 3.5mm line-in socket.
Playback can be easily monitored via two speakers located on the back side of the recorder or with headphones via the 3.5mm stereo headphone output.
They can be connected to the PC via USB for file transfer, but also have an SD card slot for additional memory and ease of file transfer without the need to use a USB cable. They are powered by 2 x standard AA batteries.
These two devices from Olympus are high-quality audio recorders. They are perfect for live recording, as each has a built in stereo microphone, and uses linear PCM recording for compression-free recording.
Ideal for bands, artists, musicians, broadcasters and podcasters (like us), this is a top quality audio recorder with a lot of killer features. The recorders are also supplied with CUBASE Le4 software for 48 track audio editing and multi-tracking.
The Olympus LS-10 and LS-11 are easy to use, have long battery operation, a large onboard memory and a clear backlit 1.8" display. It also has some convenient recording functions options like a low frequency cut switch and a microphone sensitivity switch as well as the obvious automatic/manual record level and controls.
UK Availability:
The Olympus LS-11 is available from:
Olympus LS-10 and LS-11 Reviewed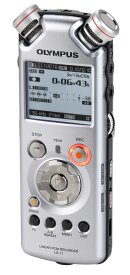 These little devices are really all about quality audio, and boy do they perform. They are ideal for busy journalists who require recordings of broadcast quality that can be quite literally taken from device to airwaves with the use of one of the relevant options: USB, line or SD card transfer. Of course that also makes them ideal for the podcaster on location for a high quality on-the-spot recording, but more importantly, the quality that these are capable of capturing makes them a musician's dream especially when the muse makes that unexpected visit. With these products from Olympus, you can capture to the highest quality, in stereo, in seconds.
The process of recording with this device is so straightforward, it requires little to no previous product research. Having said that for your convenience, as well as the 84 page instructional manual, you also get a folded Quick Start guide approximately credit card size, which would give the busy professional the opportunity to familiarize themselves with some of the handier functions while on the move.
Having bought one of these products straight out of the box you're quite literally ready to record. Put the batteries (supplied) in, turn on, wait a moment. Now, although on the screen folder information is displayed by pressing the record button this will automatically create a file and the screen display changes to the appropriate information and shows record time, record levels, remaining time, battery life, sample frequency, bit rate, format, folder and file information. This is now in 'record-pause' mode. One more press and you're away. How cool is that?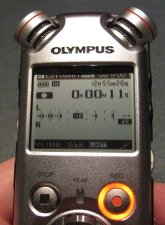 If you are using them to interview someone, this is lightweight with a comfortable handheld size. What we liked is that by placing your thumb lightly over the record and stop buttons you can apply pressure to the relevant button in order to start/stop the recording process with ease whilst still being able to visually monitor the screen.
The stereo microphones on the top mean both interviewer and interviewee have their own independent microphone so this saves the need to move the devices from a fixed position whilst conducting a one to one interview. Also the microphone sensitivity saves you from having to thrust it around in people's faces possibly inhabiting their responses.
Microphones: With the built-in stereo microphone array, the stereo technique appears to resemble one similar to the X,Y technique utilizing two cardioid microphones placed at a 90 degree angle to one another and by pointing the centre of the devices towards the sound this puts the microphone pick-ups at 45 degrees to the sound source. The microphone sensitivity switch gives the user the opportunity to get greater depth of field and broaden stereo images for larger sound sources (a whole band) for a more distant recording technique to capture a better balance of a variety of instruments as opposed to a less sensitivity for a close microphone technique on a solo instrument.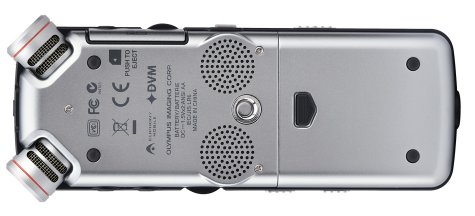 LS-11 underside, showing mics and speakers
We found that Olympus has thought through some of the more common practical problems one might experience on location by adding the low cut filter for low frequency boom than can have a detrimental effect on recordings when poor acoustics can not be easily avoided. Having said that, the frequency response of the built-in microphones does not go any lower than 70 Hertz on the LS-10 and 60 Hertz on the LS-11, but of course this need not be an issue because you can always plug in a microphone of a different specification via the microphone input.
Of course depending on what record mode format you are using (MP3, WMA or linear PCM WAV format), the frequency range of your recordings can vary from as narrow as 50Hz - 13kHz mono to as broad as 20Hz - 44kHz stereo. This means you can capture uncompressed audio to a standard higher than that of C.D. Having experimented with both devices, we found the sound quality to be reassuringly good. We were a little bit dubious about the in-built microphone frequency response (70Hz - 20kHz for the LS-10 and 60Hz - 20kHz for the LS-11) although this is not the only microphone audio input method, we rather hoped that these microphones would satisfy the majority of musicians without the requirement for additional equipment.
What was really good, was the ease with which we could put the audio onto the computer for editing, storage, and processing. Connect the Mini USB out of the device to a PC, and a few seconds later, use Windows to transfer the necessary files across. The recorder's dedicated folders for voice or music recording makes locating audio files easier.


LS-11 left-side with USB port
When testing the device, we found that a recording of a mini-grand piano made by placing the device on the floor underneath the piano sound board at a distance of approximately 1m using the in-built microphone, lacked the warmth of the lower harmonics but having said that it did capture a clarity and definition of each and every note that was most impressive. A different choice of external microphone may have captured a broader range of frequencies and of course this all possible with both devices.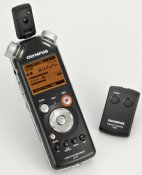 A rather handy little add-on is supplied with these recorders - remote control. Pictured here is an LS-10 with the infrared remote control attached. If you need to position the recorder some distance from where you're situated - perhaps at a conference or while recording music, you can control the recorder remotely. Nice touch!
The hardware
Front view: Two built-in microphones, a large back-lit screen, a series of functions buttons including the obvious Stop, Record, Play, Forward, Back etc.. and a row of four black short-cut style buttons including Function, A-B repeat, Menu and List.
Left Side: Headphone output, SD card housing, Volume control, USB port and Power switch.
Right Side: Line in, Microphone input, Record Input Level control, Microphone Sensitivity Hi/Lo switch and a Low Frequency cut off switch all very helpful recording functions.
Underside: Built-in playback speakers and the battery compartment.


LS-11 Right-side with USB port
Software: CuBase 4 LE
Both of the Olympus models reviewed here are supplied with the CuBase 4 LE software package. This is a cut-down 'lite' version of Steinberg's full CuBase music production tool. The package is relatively straightforward and easy to use, especially if you have experience of other similar audio packages.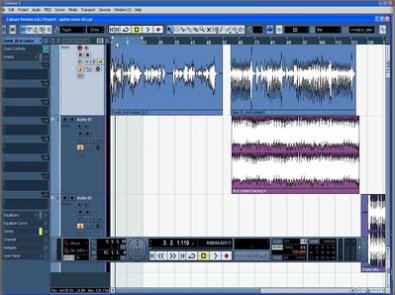 CuBase supports up to 48 audio tracks (24 bit, 96kHz), 64 MIDI tracks, VST plug-ins and full VSTi support. You can use this package to edit your recorded audio, create a multitrack mix, then master down your final recording for use on-air, as a podcast, or for distribution digitally or on CD.
You don't have to use CuBase - clips from the Olympus devices can be edited with most editing packages, such as Adobe Audition, or the free Audacity.
Summary
The Olympus LS-10 and LS11 offer excellent quality sound, quick and efficient functionality and have an informative logical display. They are easy-to-use, lightweight, a comfy hold, reasonably durable and aesthetically pleasing. These recorders are basically turn-on-and-go devices, offering the highest portable audio quality. Recommended!
Olympus LS-11 - Audio Review
You can download our 18 minute audio review of the Olympus LS-10 and LS-11 as an MP3 file, or listen over the Internet, using our pop-up player.
LS10 and LS11 sample audio recordings
The following audio files were recorded on Olympus LS-10 and LS-11 devices. These are the original recordings, uncompressed (except for the mp3 files) and unedited to allow you to hear the quality of a recording made on the machine using the built-in microphones.
Differences between the LS-10 & LS-11:
There are differences between the LS-10 and LS-11. The following highlights what the more expensive LS-11 can do that the LS-10 can't:
The ability to copy internal files to SD
The ability to edit and move files on the machine
An auto record (sound level activated) feature
Extended battery life
Gapless playback
4 times more internal memory (from 2GB to 8GB)
Colour (LS10 is black, LS11 is silver)
Olympus LS-10 and LS-11 Specifications
Olympus LS-10

Olympus LS-11

On-board memory:

2 GB

8 GB

Battery Life (Alkaline battery):

Recording: 8h - 12h
Playback : 13h - 26h

Recording: 13h 30m - 23h
Playback: 29h - 52h

Recording time (Built-in memory):

Up to 69h 35m

Up to 556 hours

Dimensions: (without protrusions)

131.5mm x 48mm x 22.4mm

Weight:

165 grams (with batteries)

Power:

2 x AA batteries

Sampling Frequency (linear PCM format)

44.1kHz / 48kHz / 88.2kHz / 96kHz

Operating System:

Windows and Mac OS

Frequency Response:

20Hz - 44kHz
Listen to Show 45, where we discuss the LS-10 and LS-11:
What's in the box?
Here's what's supplied with Olympus LS-10 and LS-11:
Two foam pop filters designed especially for the built-in microphones
Carry strap
Protective carry case
35mm stereo jack to jack lead
USB to USB mini cable
Remote sender and receiver (to start recordings by remote control)
Instruction manual
2 x AA batteries
A copy of "Cubase Le4" with Cubase training video.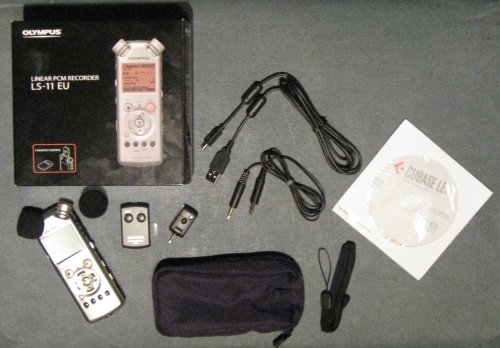 What's in the Olympus LS11 Box
Got a question? Contact us and we'll try to help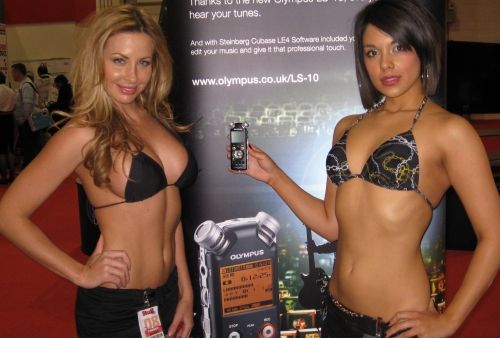 Olympus LS-10, beautifully modelled at a tradeshow in 2008!
Your questions
Q. Can I use the Olympus LS-11 with an Apple Mac?
Yes - These recorders are compatible with Mac OS 10.2/10.3/10.4/10.5. These recorders are provided by a Windows-only version of the editing package CuBase LE, but there are plenty of audio editing applications available for the Mac.

As for extracting files - this is straightforward. When you connect the recorder via USB, the recorder appears as a separate drive, and you can copy off the files, in WAV format, to your Mac to be edited with the Mac app of your choice.

You can also copy files from the recorder to SD card - if you own a computer that can read a WAV file from an SD card, you'll be fine.
Q. I use Windows 7. Is the LS-11 compatible with Windows 7?
Yes - you can connect the LS-10 and LS-11 to a Windows Vista and Windows 7 PC to extract recorded audio files
Q. Can the LS-11 be used as an MP3 Player?
Yes - The Olympus LS-10 and LS-11 support playback of MP3 files. There's a "Music" folder on the device, and when connected via USB, you can move MP3 files into this folder
More information